Esteli, Nicaragua
Alberto Gutierrez, an 80 year old hermit, might be one of the most interesting characters I've met during my travels.
Alberto spent 3 hours each day carving the cliffside on his farm. Since the carvings are etched onto the mountainside in his farm, it's not that he could sell them. Why would he do this?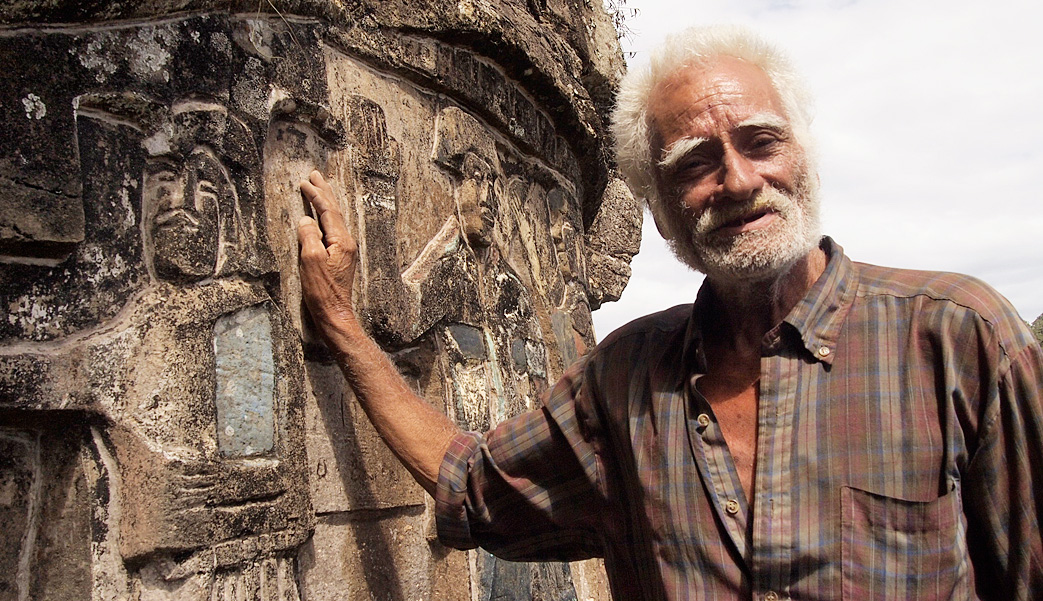 Why indeed
Legend has it Alberto was once an alcoholic. When the alcoholism started to go out of control, he went to a priest for guidance and was told that he should pick up a hobby. So he picked up a chisel and started carving.
35 years later, he was still carving.
If his carvings is not a good enough reason to convince you to come to visit, Alberto also happens to live in one of the most beautiful parts of Tisey Natural Reseve. There's a great view a lush valley below from the cliffside where he worked.
With his simple worktools: a hammer made out of rock, 2 chisels, and a file, it took him 1 year to carve a cave out of the hillside that he turned into a shrine.
His carvings consisted of mostly animals and famous people of Nicaragua. But I also saw a helicopter, an elephant, and a myriad of other things. He had a story for every piece of carving he had done. I wish I knew more Spanish so I could understand all of the stories he was telling me.
Orchids grow out of little notches he had carved out among his carvings. I've lost count of the many different types he had growing in his farm. He knew the name of every single one of them.
As we walked, he talked non-stop, pointing out different orchids and plants, his sculptures, and the surrounding natural beauty. "Es bonito, es?" I nooded. It was hard to disagree.
It was hard to imagine that up until 2004, this chatty old guy with bushy white hair and beard would run away and hide from visitors. He now seemed to delight in showing off his works and farm to visitors.
A parting gift
On our way out, he handed me a fresh pineapple as a gift. How do I know it's fresh? I saw him pluck it off one of trees on his farm. It was delicious!
Meeting Alberto Gutierrez was one of the unexpected highlights of Nicaragua. I'm glad I seeked him out as I really enjoyed getting to know this eccentric character, his carvings, and his farm. The journey to get to his farm is also an adventure in itself (see below). I hope that if you're in this part of Nicaragua, you stop by and see him. I really think it'll be worth your time.
Who's the most interesting character you've met during your travel?
How to visit Alberto Gutierrez, the Nicaraguan Hermit
How to visit Alberto Gutierrez from Esteli
From Esteli, take a bus to Tisey from COTRAN Sur (6:30 am and 1:30pm). Either ask to be dropped off at the the entrance to El Calejate or Eco Posada. If dropped off at Eco Posada (where you can get lunch/buy drinks, etc), walk for about 10 minutes until you see a wooden sign that says "El Calejate" – the name of Alberto's farm. Walk through the rickety wooden gate and keep following the trail downhill passing what feels like private farms. Soon you'll see a wooden sign, "Bienvenidos A Galeria Escultura en Pierdas". Cross over the wooden bar, and start calling out. If nobody answers, that means Alberto is showing off his sculptures to other guests. Keep following the trail towards the back, climb some steep steps, and you should see the carved rock soon enough.
Entrance fee of 10 Cordobas is weakly enforced.