I travel carry-on only. It's not out of any strong-held philosophy but simply out of laziness and necessity. I don't have that many clothes to begin with. I have a total of 4 pairs of shoes, 2 of which are climbing shoes. So I simply do not have a lot of stuff to choose from. My whole wardrobe will most likely fit in a medium-sized suitcase.
From the many years I've been traveling, I've developed what you might call a 'uniform': a set of clothes that layer well that form the bulk of my travel closet. The 'uniform' fits in a carry-on size bag, so there you have it.
(Ahem, that's why if you look closely, you might notice that I practically always wear the same thing in all of my photos.)
Bags and Electronics
I've been using Osprey bags for the past 10 years. I used to own a top-loading backpack that I've literally dragged up and down mountains, more suitable for days on backcountry trails than jet-setting between cities. But that was what I had and I made it work.
But now I travel with Osprey Farpoint 40. I love this bag so much I wrote to Osprey that if they ever discontinue this, I want to know so I can stock up. I've been traveling with Osprey Farpoint 40 exclusively for 5 years now and I've seen no signs of tears – so maybe I don't really need to stock up after all. I swear Osprey makes the best bags.
Things I love about Osprey Farpoint 40?
It opens flat like a suitcase. It has compression straps that helps stabilize the load. It has a wide and functional hipbelt (so many bags have flimsy belts that end up cutting into your flesh). It has a laptop sleeve. It's small enough to fit as a carry-on on budget airlines such as Easyjet and Ryanair. I can sing praises about this bag all day long.
On my recent trip to Japan, I brought this bag with me instead of a purse. I love how it's small enough to pass as a purse and it's lightweight enough that it doesn't weigh me down. Its strap is wide such that even with a camera and an extra lens (and my wallet, keys, etc… normal stuff I usually put in my purse) it really didn't feel much heavier than my regular purse.
I am a micro four third convert. I'm not a fancy enough photographer to require full on DSLR (although I used to have one) and I'm a firm believer that the best camera is the one that you have with you. There's no way I carry around a full on DSLR. It's too bulky and I'm just a hobbyist photographer. The PEN EP-2 is admittedly outdated and if I ever got an infusion of cash, I'd like to upgrade to a newer model with an articulated viewing window. But in the meantime, I've been upgrading my lenses instead (because a camera is only as good as your lenses). The 2 lenses I shoot almost exclusively?
I've been shooting mostly with prime in the past year and I really like it. My style has always been more street photography and this lens is perfect for taking stealth portraits. It's compact, sharp, and it doesn't break the bank (you can buy it used in Amazon for $200!).
For landscape and food photography, I've been using this pancake lens from Panasonic. Its super slim profile means that it's my default lens that I can just slip into my purse when I'm out and about and feeling creative. It takes great pictures indoors, has great bokeh, and all around a favorite.
The 1L is small enough to fit my phone and camera. After having my phone ruined in a freak storm in Moab, I promised that I'll never travel without a dry sack ever again. .
One of the many power banks on the market. I've had this for a year and it's been going strong. When shopping for a power bank, one thing to look for is how fast it charges your device. With Quick Charge 2.0, this charges my phone 5s from 10% to 75% in 35 mins.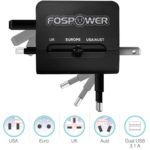 – This is what I have and have been using for the past 2 years. It doesn't come apart into many different pieces (which I like). Nothing fancy. It works.
Have you ever fought for an outlet in a hostel dorm? Yeah, we've all been there. This is why I love this power strip. I think others like it too because this is one of my most stolen items (I've lost 2 of these already).
Clothing and Toiletries
Listing every single piece of clothing I take with me sounds like a tedious chore, so I won't. But there are some of my favorite items and I often take with me.
If I'm traveling somewhere where it's winter/fall/spring time, I'll take a wool underlayer. If it's a winter destination, I'll also take a pants underlayer. I'm a fan of smartwool but I find that their stuff don't last long so I've been slowly converting to synthetic. I've found that Patagonia's Capilene series to be well worth the price tag. I've worn them skiing, winter camping, and even sight seeings.
These things live up to the hype. They're just as comfortable as good old cotton, and they don't stink after a long, sweaty day, doing whatever it is you do when you travel, and they do dry very quickly. I have 2 pairs and when I'm feeling super adventurous, that's all I'll take with me.
I don't wear cosmetics but I wear sunscreen religiously. I only wear mineral-based blocker such as Totlogic SPF 30 because regular sunscreen makes my skin horribly red and swollen. Totlogic sunscreen is water resistant, broad spectrum, cruelty-free and it doesn't leave white residue.
I'm quite picky about bug spray because I don't like Deets. I don't like the smell, and I don't want to worry about it eating into my clothes. It has been proven that eucalyptus oil based bug spray works just as well. And it smells so much better! I've tested this when I was went canoeing the waterways of Ontario, Canada. No bites! And mosquitoes usually LOVE me! So this is just super awesome news. I don't take bug spray with me all the time though, only when I know that I'm going somewhere 'buggy'. And only because I know it can be hard to find non-deets bug spray sometimes.