Cappadocia, Turkey
After seeing the crazy landscape of Cappadocia from a hot air balloon, I wanted to go explore the hiking trails around Cappadocia to see the formations up close.
My first attempt hiking in Cappadocia ended in a failure. I teamed up with an unlikely ally, an Arabic-speaking Japanese surgeon, who fortunately had a map of the area. Unfortunately the map was of such low resolution it might as well be a world atlas. We bushwhacked, followed meandering obscure trails into narrow canyons, crawled through tunnels, and even after all that we never got to see the valleys we wanted to see.
For my second attempt, I did the smart thing and got myself a guide. Monika from New Goreme Tour offered to take me on an itinerary she herself has come up. "All hiking" – she promised. All tour agencies in Cappadocia offer similar color coded tours with Red Tour and Green Tour being the most popular. But there's little hiking on these tours and with every single agency in town offering the same things I was afraid it would be a crowded affair.
Anyway, I got my no-crowd wish: I was the only one going on this tour. I guess the 16km hiking distance scared people off. It would've deterred me too if I had known beforehand. We were having 100 degree days when we were out there. It was brutal!
It sort of concerned me that neither of us were dressed the part. While all the other hikers we passed were wearing all-wicking clothes and Camelback,s Monika and I were dressed in cotton. Hatless. With purses to boot. Sigh. Well, it was too late to do anything about it then so off we went.
Our hike started in Pigeon Valley, one of the more popular valleys in Cappadocia. It's called Pigeon Valley because the inhabitants of the area carved little holes in the rocks for pigeons to nest. You'll see these rows of pigeon holes all over Cappadocia.
Farmers in this region believe that fertilizers made of pigeon dung are responsible for the sweet taste of the fruit from Cappadocia. Even now after chemical fertilizer is becoming more common, some farmers still keep pigeons around for their dung.
Exiting Pigeon Valley, we entered White Valley.
We passed many orchards with tons of apple trees and grape vines laden with fruit. Some seemed abandoned with grape vines crawling over the trails and rotting apples on the ground. I'd never seen so many wild grapes and apples before. It would be really hard for me to go back to San Francisco and pay $$ for them.
Then slowly the rock formations in White Valley start getting more and more… distinctive, from undulating soft hills to towering phalluses. This part is called Love Valley, which is probably my favorite valley in Cappadocia *grins*
(Watch out for the man in a van who sells fresh juice at the end of Love Valley- he overcharges.)
It was starting to get unbearably hot there in the desert like landscape. Fortunately this was where the first part of the tour ends. We went to lunch before promising to meet again at the office at 4 pm for the second part of the tour.
The second part of the tour started in Rose Valley, another popular valley in Cappadocia.
There were some rock churches in Rose Valley Monika took me to.
Kolonlu Kilise is my favorite rock church. With soaring columns and arches way high up there it truly felt like a church and not just a cave that somebody decided to use as a church. It was a lot more impressive than the cave churches I saw in Goreme Open Air. It reminded me of the underground churches in Ethiopia.
Cappadocia is a great place to hike with many trails within walking distance from Goreme. You can definitely do these hikes yourself armed with a good map and a good sense of adventure. There are small villages along the route where you can stop for food and water.
Having said that, public transportation in Cappadocia is just simply not tourist-friendly, they run about one per hour and stop running around 5 or 6pm. Having a van that picks you up after a long, hot hike was nice.
If Jack were here we'd probably go and explore these trails ourselves. Being on my own, having a guide just made sense.
Can't recommend enough to go out and explore Cappadocia on foot. Seeing Cappadocia from a hot air balloon is one thing, but to experience this landscape up close made me appreciate even more how special Cappadocia is.
We got back to Goreme shortly after sunset. Funnily enough I wasn't as exhausted as I thought I'd be after a hike of 16 km or so. It was probably a good thing too since tomorrow is going to be a long travel day. Northbound to Ankara then Safranbolu!
Hiking in Cappadocia
I was a guest of New Goreme Tour on this trip.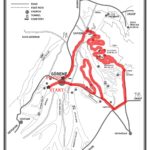 This is the map (click for full size) I used when attempting to explore Goreme on my own. You can see all of the valleys I went on the trip described on this post on the map and how Goreme is basically the center of them all. Pigeon Valley and Love Valley are pretty straightforward to hike. Rose Valley has more meandering trails that branch off to who-knows-where.
Sunrise in Rose Valley should not be missed. Many tour agencies offer this trip separately. You end up in a big group of 30 or so but if I remember correctly, the price was very cheap.
Golden Tour, the hiking trip I went on costs 80 TL ($40). More information.
Places I didn't get to explore: Pachabaga, Devrent Valley, Ihlara Valley