I was hesitant to put up a gift guide because I'm one of those people who don't need any more *stuff* and I absolutely hate the idea of buying things that quickly ends up in landfill. Christmas and I have a complicated relationship. I absolutely hate gift shopping – oh the stress of trying to find just the perfect gift. There's also the waste – a lot of it – involved in Christmas gift packaging and last-minute, thoughtless purchases (read: landfill materials). I know what you're thinking… so much grinch, right?
On the other hand, I love the spirit of wanting to do something nice to the people you love. It does give me all the warm, fuzzy, feeling to see the joy on people's face when they receive presents. I believe deep inside, everybody loves presents. Even the most curmudgeonly ones among us.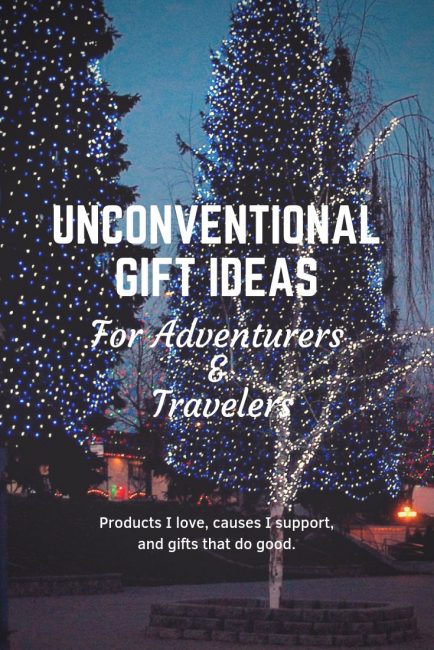 So I decided to create my own unconventional gift guide, a guide to gift giving with outdoor lovers and eco-conscious travelers in mind. Even though this slightly unconventional gift guide has few regular *stuff*, I try to focus on giving the gift of experience, or thoughtful gifts that support local artists and communities. I promise you won't find gag gifts, single-use items, or "fad" items. Instead you'll find products I truly love (and have bought with my own money), causes I support, and gifts that do good.
I've divided the gift guide into sections based on interests.
For The Active (or Activist) Adventurers in Your Life
For climbers: Give the climber in your life a membership to of American Alpine Club or Access Fund.
For environmentalists: (i.e. everyone who likes  clean air, fresh water, and polar bears). A donation to NRDC, which is an organization I've supported for years. Wall Street Journal calls them "the most effective lobbying and litigating group on environmental issues."
For hikers: A membership to American Hiking Society that includes a subscription to Backpacker Magazine.
A gift of safety: most outdoor lovers I know are gung-ho about getting outside, but less so about learning how to keep themselves safe in case of emergency. So sign someone up for a self-rescue class (climbers) or Wilderness First Aid class. Sierra Rescue (Truckee, CA) offers gift cards that can be used for their safety courses.
Yosemite Enamel Mug or any of ParksProject vintage-inspired goods. Some of the proceeds help fund projects in National Parks through over 30 park conservancies. And yeah, I'm going old school with these enamel mugs. Move over titanium.
ClassPass membership, because however much we want to, we can't always head outdoors to exercise. I've used Classpass to try out all sorts of classes from inversion yoga, trapeze class, and just recently: pole dancing, which was super fun and way harder than it looks – and it doesn't look that easy to begin with. A perfect gift for those who get bored easily going to the same gym over and over again. Use this link to get $50 off.
Rumpl blanket: I'm just a little – maybe too much – in love with this lightweight and warm blanket. Our cat sheds like there's no tomorrow and has ruined so many blankets. Not this one. With a little shake, the hair falls off our Rumpl. Winning! If your giftee loves car camping and/or has furry animals, this will make a perfect gift.
For the coffee lovers: Aeropress, so they can make great coffee anywhere (a friend of ours swears by this), or for those who value instant gratification (like me) a dozen packs of Kuju Coffee Pocket PourOver. I love the latter, but it produces more waste than I like so I only take them when weight is an issue.
National Park Pass is always a good gift idea for outdoor lovers.
Bring the outdoors inside. Is your giftee a plant lover? Do you know that Etsy sells plants, including air-plants, succulents, and cacti? It's almost too easy. Herbs such as basil and rosemary in terracota pots, wrapped in butcher paper and twine makes perfectly edible green gifts that happen to score practical points.
For the World Wanderers
Go Local + Stuff That Do Good
There are so many good reasons to support your local farmers, artists, and makers. I want to live in a community that's creative, healthy, and inclusive so I'll make sure that my money goes towards supporting this vision. If you live in the Bay Area, here are my favorite places to buy from:
Stuff that do good. Below are a list of gift ideas that are *stuff* with good cause attached to it. When you buy from the list, your giftee and the cause receives something. It's a win, win!
For the readers in your life, you can find travel related books (by destination) here, and my general all-time favorite books here.
Eco-Friendly Packaging Ideas
Butcher paper (my personal favorite), Amazon boxes, Trader Joe's paper bags, old maps and calendars. And twine. Because in the end, nobody remembers how pretty the wrapping paper is.
Did I miss anything? What's the best gift you've ever received?