The Amphitheater is the most famous geographic feature of the ​​​​​​​​​​​​Okhahlamba-Drakensberg World Heritage Site. It's located in Royal Natal National Park, about 4 hour drive from Durban, South Africa. It's 5km long and its precipitous cliff face rises almost 1 km from the floor. Tugela Falls, the world's second tallest waterfall, plunges from Amphitheatre's cliff tops – creating one of the most impressive cliff faces on Earth, comparable to El Capitan in Yosemite.
The Tugela Falls Hike, South Africa
The Details
Overview of the Hike: 12km roundtrip
Location: Royal Natal National Park
Trailhead: Sentinel Parking Lot (requires 4×4 vehicle OR a shuttle from Witsieshoek Lodge)
Highest Point: 3254 m
Elevation Gain: 700 m
Time to do the hike: 4-6 hrs
Difficulty: easy-moderate (you have to climb 2 sets of chain ladders in one section).
The Tugela Falls Hike – also called the Amphitheater or the Sentinel Peak hike, takes you to the top of this formation in 4-6 hrs on a well-defined, straight-forward trail. It's often said to be the most scenic hike in South Africa. Considering its relatively short distance and ease, it's definitely one of the best value hike IMO. If there was only one hike you do in Drakensberg, make it this one. Totally recommended.
When I was planning my South Africa 2 week itinerary, I made sure to leave enough extra days to hike Tugela Falls anticipating bad weather. I was so glad I did. My first day was a complete washout – it was rainy and foggy, we're talking 5ft visibility. On my 2nd day, I woke up to a wall of white out of my window. Bummed, thinking that it would be yet another wasted day I packed my daypack anyway, just in case. And sure enough, the sun came out and burned the fog out.
Now let's get walking!
Getting to the Trailhead
The trailhead is located at Sentinel Parking Lot. The last 4 miles to the Sentinel Parking Lot requires a 4×4 vehicle. I wouldn't even attempt taking a regular car on this road unless you have mad skillz and awesome insurance coverage. Having said that, we did see a regular Toyota Corolla parked there – much to our astonishment. We couldn't get over that someone managed to take a Corolla through that road that we spent 10 minutes going around the Toyota looking for damages and hanging parts (didn't see any – so amazing!)
If you don't have a 4×4 vehicle: Witsieshoek Lodge offers a transfer service. A roundtrip transfer costs R135 per person. This is what I did. You don't need to stay at the lodge to use their transfer service.
If you don't have a rental car: Amphitheatre Backpackers is your only option. It is a Baz Bus stop and they do a guided hike to the Amphitheater daily (weather dependent). They depart at 7am, and it's a 3 hour drive to the trailhead.
Tugela Falls Hike Cost
Park fees:
Dayhike Fee: R80 (payable in cash at Sentinel Parking Lot)
National Park Fee: R50
Optional:
Guide: R650 per day (up to 4 people) – available from Witsieshoek
Transfer from Witsieshoek: R135
Guided hike from Amphitheatre Backpackers: R750 (includes all park fees above)
The Trail
The trail climbs at a steady pace, but it wasn't too steep. There were some sections where the trail petered out, but maps.me helped me figure out where to go. Recent rain made parts where the trail crosses slick-rocks a little dicey. Look around – there was always a safer way.
I was one of the first people on the trail that day. I shared the shuttle with another couple who offered to hike with me – seeing I was by myself. But having always been a slow starter on the trail, I waved them on – not wanting to slow them down. Eventually I picked up my pace and finally joined Marcella and Steve at the base of the chain-ladder. They're semi-retired and have been everywhere in the world it seems like. Turned out that they're climbers too, so we passed the time chatting about places we've climbed at.
Going hiking alone is against my rules of solo-travel so I was glad that I ran into them and that they let me tag along. (I broke my own rule on this hike because I knew how popular the Tugela Falls Hike is and I was bound to meet others).
The Chain Ladder
Chain ladders: After we skirted around the cliff, we had to climb up a set of chain-ladders. I think we all built up the chain ladders in our mind to be more than they were. They're very straightforward. There are 2 sections, each has 2 sets of ladders. I don't know if one is supposed to be the other's replacement but they just hadn't gotten around taking apart the old one.
Gully alternative: If chain ladders with questionable maintenance status is not your vibe, you can go up a gully instead. You'll pass this gully on your way to the chain-ladders. It looked do-able enough if a little slippery from the recent rain.
Safety note: At a different hotel, a few days after the hike, I found a notice with Witshieshoek letterhead that states the ladders were in the process of being replaced. They have been deemed unsafe and a replacement project has been scheduled. Nobody at Witshieshoek Lodge seemed to know about it – has it been completed? Is that why there were 2 sets of ladders? No other hikers seemed to be aware of it either. Do as you will with that information.
Top of Tugela Falls
One of the highlights of this hike is to stand on top of Tugela Falls, the tallest waterfall in Africa. The exposure is giddy-ing. One wrong step and you plunge 1000m down the cliff-face of the Amphitheatre. It's an impressive cliff, but definitely keep away from the edge.
From up here you can see how the Amphitheatre cliff wall stretches away and foot of the Drakensberg mountain range lies like a crumpled green carpet down below. What a majestic view! I felt really lucky to be there, especially considering that this morning when I woke up to a total whiteout, I didn't think I would be doing the hike.
Most people stop at the top of Tugela Falls, but I recommend going a little further to the outcrop that juts outward – a further 30 minute cross-country hike. When you turn around, you'll be able to see Tugela Falls plunging almost 1000m down.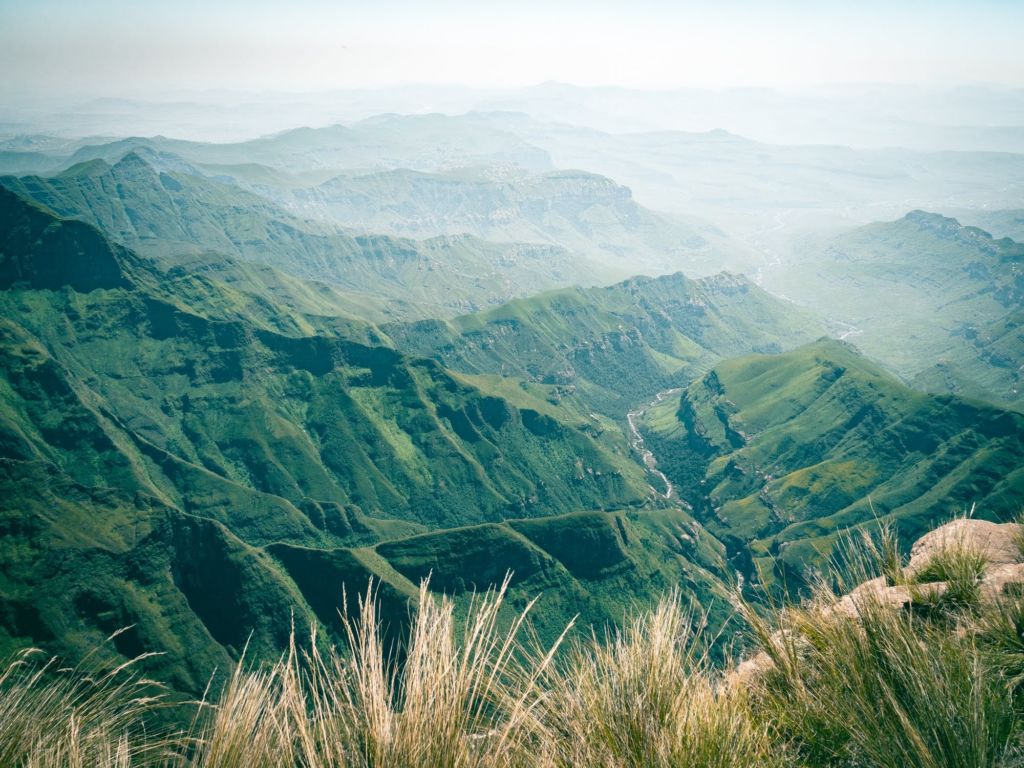 We met 3 Lesotho shepherd boys at the top of the Amphitheatre. For up to 3 summer months at a time, they live up here on the grassy plateau surviving on pap while keeping an eye over their herds of grazing sheep. Marcella offered them some of her lychees. They looked at the fruit with intense suspicion and would only take a bite after much coaxing. I couldn't tell what they thought of it – but who wouldn't like lychees, right?
We didn't see other hikers until we were on our way back. It ended up being quite a crowd too, I was glad to have that extra hour to ourselves. We met more Lesotho shepherds along the way, including a group of kids hanging out by the chain ladder chatting up hikers and asking for food. Dark clouds were forming on the horizon and we hastened our steps, wanting to be off the trail before the storm came in earnest.
Watchout for Weather
I was there in early February (their summer), and it rained every day. Most times thunderstorms roll in the afternoon around 2-3pm. I recommend an early start because you really don't want to be stuck up there if there's a thunderstorm.
The first shuttle from Witsieshoek leaves at 8am, but I figured that if I hung around reception early enough I could get a ride. Sure enough, I met Marcella and Steve and the three of us convinced the Lodge to run an earlier shuttle. We left at 7am and we were back at the lodge – beer in hand – around 2pm.
Amphitheatre Hike Maps
If you're planning to do more hikes in Drakensberg, I recommend Cicerone guide. They make the best hiking guides.
Maps.me app has trails for the area as well and it's available for free offline.
Lightweight drybag – this never left my daypack while in South Africa.
Where to Stay
Witsieshoek Lodge – Very convenient since it's the closest accommodation to the trailhead. I stayed in the hiker's cabin and it's really good value. Buffet breakfast is included. The food from the restaurant is pretty good as well.
Amphitheatre Backpackers Lodge – Budget accommodation 2-3 hours away from the Amphitheater trailhead. Good for those without own transport since they offer daily guided hike. It's also a Baz Bus stop between Durban and Johannesburg.
Ledges Retreat – Beautiful setting, newly renovated accommodation close to the OTHER entrance to Royal Natal National Park. It's 2 hr away from Amphitheatre trailhead.