The following is my two-week South Africa itinerary which showcases the best South Africa has to offer in a relatively short amount of time. In 2 weeks in South Africa, I managed to explore Cape Town, go wine tasting in Stellenbosch, drive the length of the Garden Route, had lunch at the highest pub in Africa (in Lesotho), and hiked the Drakensburg.
For this South Africa road trip itinerary, you'll need a rental car. I also took 2 domestic flights. Fortunately domestic flights and one-way rental cars in South Africa are pretty cheap compared to the States. This was aggressive itinerary that left me completely exhausted. I'd never been happier to return the rental car on my last day, I was practically skipping out of the lot. But this 2 week South Africa itinerary fits my restless energy and travel style, so it worked out well. Your mileage might vary.
The idea of going on a South Africa road trip has always been on the back of my mind, one of those "maybe someday" type of things. "Someday" turned out to be the day I found an amazing flight deal: less than $600 from San Francisco to Cape Town (I'm a member of Scott's Cheap Flight – I love them!). I couldn't say no and snagged the flight right away. And here we are.
Highlights of this 2 week South Africa itinerary
Everything Cape Town – I love this city!
Chapman's Peak Drive (Cape Town)*
Playing with penguins on Boulder Beach
Wine tasting in Stellenbosch
Birds of Eden, Plettenberg Bay*
Walking with cheetah, Plettenberg Bay
Seeing wild elephants and zebras in Addo National Park
Sani Pass daytrip to Lesotho
Tugela Falls Hike in Royal Natal*
* Not to miss!
[google_maps id="15798″]
An Example of a Two-Week South Africa Itinerary
Obviously the above is just a sample itinerary. 2 weeks in South Africa is simply not enough.
But I hope that it will provide a starting point for all of you just who are planning their South Africa itinerary.
Day 1: Cape Town (The Winelands)
Cape Town is surrounded by wine tasting towns, where you can find the world's prettiest wine estates. The most known wine regions around Cape Town are: Stellenbosch (arguably the country's leading wine producing region), Franschhoek, and Paarl each with its own micro-climate and specialties. If you're a wine enthusiast, a day in the South Africa wine country can't be missed!
There are various ways to visit the wine country:
1. Rent your own car. Easiest and cheapest especially if you're at least 2 people.
2. Hop On Hop Off bus has a route that includes a few wineries in Konstantia wine region. See prices.
3. Day tour from Cape Town. As a solo traveler, this made the most sense to me. You can do a Full-day South African Wine Tour with African Story that came recommended by fellow travelers. I went for a more boutique experience with the guys from Wine Flies and ended up having a lovely time.
The nice thing about visiting South Africa in the summer is that sunset doesn't happen until around 8:30pm. So after I got dropped off at my hostel, there was still plenty of daylight left. I wanted to hike up Lion's Head for sunset, but the trail was closed for construction.
I ended up walking up and down Long Street – the hipster part of Cape Town, checking out the restaurants and bars. Alternative: the colorful Bo-Kaap, Cape Town's historic muslim neighborhood, which is only a short walk from Long Street.
Day 2: Cape Town (Cape Peninsula + Penguins!)
I joined a day tour on the second day to visit all of the attractions that lie around Cape Town. Highlights included Cape of Good Hope, the penguins at Boulder Beach, and the sunset drive along Chapman Peak back to Cape Town. Totally blew my expectation and I ended the day with a huge crush on Cape Town.
I got dropped off at the V&A waterfront where I spent the evening wandering around the harbor under the shadow of Table Mountain before Uber-ing back to town.
You could rent a car yourself and visit all of the above on your own. But if you don't want to drive, take a
Full-Day Cape Peninsula Tour
from Cape Town like I did.
Alternative: The popular Hop On Hop Off bus runs 4 different routes in and around Cape Town, including some wineries in Konstatia wine region. This is a great, cheaper alternative to see a lot of what Cape Town has to offer efficiently. See Hop On Hop Off routes and prices.
On both days, I came back to Cape Town in the afternoon with enough time to go up to Table Mountain. Just my luck though, there was a huge fluffy cloud umbrella sitting on top of Table Mountains on both afternoons. I've been told it's really only worth going up there when the view is clear so I refunded my cable car ticket. Bummer!
I really liked Cape Town and thought it was a good place to chill for a bit. There are so many things to do here and I could've easily stayed longer. Unfortunately when you only have 2 weeks in South Africa, lingering isn't an option (gosh, I do miss long term travels).
Food: Mama Africa for the live music, great atmosphere, and wild game menu (crocodile, ostrich, springbok, kudu & venison). Don't worry, they also have regular things like chicken, fish, and vegetarian items. Reservation recommended. Very popular with tourists. Eastern Food Bazaar for heaping plates of Indian curries and dosas. So much food for a fraction of what you pay at Mama Africa. Molten Toffee for coffee and delicious breakfast and wraps (try the halloumi wrap!)
Accommodation: 91Loop Hostel. I love the location and I love, LOVE the capsule dorm. It's clean, spacious, and it includes hot breakfast. They even arranged an airport pickup for me since my flight arrived at 11pm.
Day 3: Swellendam, Wine and Penguins
I picked up the rental car and started driving eastward. But instead of heading on the most direct route towards Mossel Bay, the unofficial start of Garden Route, I took R44 passing small coastal communities such as Gordon's Bay and Pringle Bay. It was a beautiful stretch of road and I took a gazillion stops for photos.
Worthwhile detour: Stony Point Nature Reserve. There are two African penguin colonies on mainland South Africa. One is at the popular Boulder Beach I went to see on the day tour, and the other is here in Stony Point Nature Reserve. You're not allowed to get too close to these penguins, which I like. The setting felt more wild despite being so close to the road and houses. Fun fact: African penguins are also called jackass penguins. You'll know why when you hear them.
As the road heads inland from Hermanus towards Caledon, I was passing one winery after another. This stretch of valley is known as Hermanus wine region. It's not as known of a wine-growing region as Stellenbosch, but they produce some of the finest wines in the country. It was mid-afternoon and I was in the mood for some wine, I stopped for at Creation Wines and ended up having sharing the communal table with a lovely couple from England, sharing great wines over this scenery.
Food: KabelJoe's at Kleimond has the most amazing seafood boullabaise. Try the curry version. The "appetizer" size is big enough. My mouth waters just thinking about it.
Accommodation: Impangele B&B. What a lovely B&B run by the loveliest family from Pretoria. It's just down the road from Marloth Nature Reserve. Swellendam was yet another spot in South Africa I wish I could linger.
Day 4-5: Plettenburg Bay, See All the Animals
Unfortunately bad weather prevented me from crossing off one of my South African bucket list items: diving with seals off the coast of Plett (Pro Dive). Because of strong wind, the boats weren't going out. Thankfully there are a lot of other things you can do in and around Plettenberg Bay even in shitty weather.
Birds of Eden was an unexpected highlight. It's the world's largest free-flight aviary. Multi-level elevated boardwalk has been built under a giant net where the birds are free to fly, nest, and do whatever it is birds do. I highly recommend a visit here even if your only knowledge of birds is limited to "pigeon" vs "not-a-pigeon". They have over 200+ species of birds, I'm pretty sure they're all of the "not-a-pigeon" types.
Monkeyland is just right next door to Birds of Eden. You can save $ by buying combined tickets. Monkeyland takes in rescued primates (ex-pets and ex-zoo animals) and instead of putting them in cages, they all live in a huge, protected swath of forest.
Robberg Nature Preserve a lot of people rave about this coastal hike. I thought it was just fine.
Food: La Fernill for coffee/breakfast. Palm Cafe for Asian inpsired noodle bowls (so much food, so good!).
Accommodation: Nothando Backpackers Lodge, walking distance to the main street where all the shops and restaurants are. Friendly staff. Good value.
Day 6: Tsitsikamma, Kayaking and Walking with Cheetah
Tenikwa Wildlife Awareness Center (Website), twice a day the cheetahs at this center are taken out for a walk as part of an enrichment program and you could join in during their daily walks. It was such a privilege to be able to observe these majestic animals up close. No touching of any kind is allowed. No bottle feeding of cubs. No staged photo shoots. The money goes to fund their wildlife rehab center and hospital. It's always a fine line when it comes to ethical wildlife tourism, so do your own research and make your own judgement call.
Update: following a new guideline, guests must now remain behind waist-high barrier during the walk.
Kayaking + Lilo the Stormsrivier with Untouched Adventures is a very popular activity in Tsitsikamma National Park. I personally thought this was overpriced for what was basically a short kayaking ride and a 100 m float down a river gorge. But after a few days of driving, it was nice to be out and active on a beautiful day.
Food: Tsitsikamma Micro Brewery for decent ales (tasting flight!) and food from the attached Elvis-themed diner.
Accommodation: Tsitsikamma Backpackers, a perfectly fine backpacker-friendly hostel.
Day 7: Addo National Park
I spent the day at Addo National Park doing self-drive safari. I was debating if I should join a game drive but found out that they only cover the northern part of the park – the same part of the park that I just spent many hours driving around. I saw wild elephants. I almost ran over a herd of zebras. I rescued 3 tortoises who were trying to cross the road. I saw animals whose names I didn't know. All and all a productive safari day.
If you decide to join on a guided game drive, reservation is recommended.
Accommodation: Kraal Addo – the single room is a little cell-like, but the property was clean and the bar/restaurant was lively at night.
Day 8: Travel Day (Port Elizabeth to Durban to Pietermaritzburg)
I dropped the car rental off in Port Elizabeth airport and flew to Durban where I picked up another rental. As soon as I drove out of the airport, I was amazed at the difference in the air and scenery. It's hotter, more humid, and so much more green. The various shades of green that scream tropical. Mountain peaks loom in the distance beyond small villages with dirt roads.
I never really know what I look for on a trip, but I always know when I come across it. I knew then that this was the South Africa I was looking for.
Accommodation: Airbnb in Pietermaritzburg.
Day 9: Sani Pass (Lesotho)
I arranged my South Africa itinerary to accommodate the trip up Sani Pass to Lesotho. It's supposed to be a very beautiful drive. And it so was. They're slowly improving the road, but as of right now it's a rough, bumpy ride only do-able with a 4×4. Daytrips up Sani Pass include a stop at Sani Pass Lodge in Lesotho, that has the honorary title of being the highest pub in Africa.
Most organized day trips to Sani Pass (Lesotho) start from Himeville. I didn't stay in Himeville, but instead I made the 2 hour drive in and out from Pietermaritzburg on N3 to break up the long drive to Royal Natal NP the next day.
Because I didn't have a 4×4, I did the Sani Pass Tour from Himeville. You can also start from Durban (tour detail), but it's going to be more expensive.
Worthy Sidetrip: Howick Waterfall. If you still have the energy after the lightning-quick visit to Lesotho, you can visit this waterfall in Howick (north of Pietermaritzburg) either this evening or tomorrow.
Day 10-11: Royal Natal National Park
I came to Royal Natal to do the Tugela Falls Hike (often called the Sentinel Ladder Hike or Amphitheater Hike), often said to be the best hike in South Africa. It goes up to the top of the Drakensburg Mountain range where the Tegula Falls begins its 980 m plunge. The exposure is mind-numbing. It ended up being one of my best top 10 hikes, EVER. Considering its length (5-7 hrs roundtrip), it's very high value.
Food: I ate the Witsieshoek Lodge most of the times. Breakfast is included. For a taste of what the locals eat, Shoprite at Mandela Park has a ready-made food counter at the back. Vegetable stews, rice, pap, fried fish and chips, and more.
Accommodation:
Witsieshoek Mountain Lodge, closest accommodation to the Tugela Falls Hike trailhead. Beautiful location and their hikers hut is good value. They also offer a shuttle service to the proper trailhead if you don't have your own 4×4 car.
Amphitheatre Backpackers is good budget alternative especially if you don't have your own car. It's a Baz Bus stop and they also do daily trip to Tugela Falls. Keep in mind that they are 2 hours drive away from the trailhead.
Day 12-13: Golden Gate Highland + Royal Natal NP
A 40 minute drive from Royal Natal is another national park: the Golden Gate Highlands. There's no entrance fee here and the park is small enough that you can drive through its roads in half a day. There's nice scenery of strange rock formations, and you can try to spot the herds of zebras and wildebeests that roam the grassy hillsides. Wodehouse Trail is a popular, but steep, hike that takes you up to the ridge line with expansive view of the park.
Back to Royal Natal. After spending my morning at Golden Gate Highlands, I drove to the other entrance of Royal Natal (the one closer to Amphitheatre Backpackers) to see more of the park.
The Cascades is a short, 30 minute hike that's suitable for any age that leads to a series of rock pools. The next day, I attempted the Tugela Gorge hike, a 7 hour long hike that leads to the bottom of the Tugela Falls. Bad weather and awful trail condition made me turn around early.
Accommodation: Ledges Retreat, 30 minute from Royal Natal entrance. Beautiful setting, comfortable bed, and friendly owner.
Day 14: Travel Day (Royal Natal – Durban – Cape Town – Home)
This last day was the longest driving day in this itinerary. I made sure to load up on podcasts (some good ones: Dr. Death and The Dropout) and took a lot of breaks. Highlight of the day was without a doubt the moment I signed the paperwork for the rental car return that said no scratches or damages were found. Woot!
Things To Add to Your South Africa Itinerary
Looking back at it now, I would've skipped the Garden Route completely. It's a little too developed IMO. Besides, I've lived in California for the past 2 decades and I'm spoiled for coastline. Instead:
More of Drakensburg
There are many more hikes to explore in Drakensberg, like the Cathedral Peak at Giants Castle Game Reserve. If you're thinking of extensive hikes around "Dragon Mountain", Cicerone has a great walking guide. Here it is.
Kruger National Park
If you want to see the "Big 5" in South Africa, you head to Kruger. I tried so hard to fit Kruger to my South Africa itinerary but I just couldn't quite make it work this time.
The Wild Coast
The coastline around and north of Durban is supposed to wilder, less developed, and more rugged than the Garden Route. Some sites that other travelers have mentioned to me include the Hole in the Wall Beach and St. Lucia (for the wetlands).
—
So that was my itinerary to see some of the best places of South Africa in two weeks. It focuses on things that I like: less cities, more nature, more hiking, and long roadtrips. S. Africa is a big country and distances are far. Thankfully driving in South Africa was easier than I expected, the roads are generally good, and domestic flights are affordable. So make sure to take advantage of that when planning your own South Africa itinerary.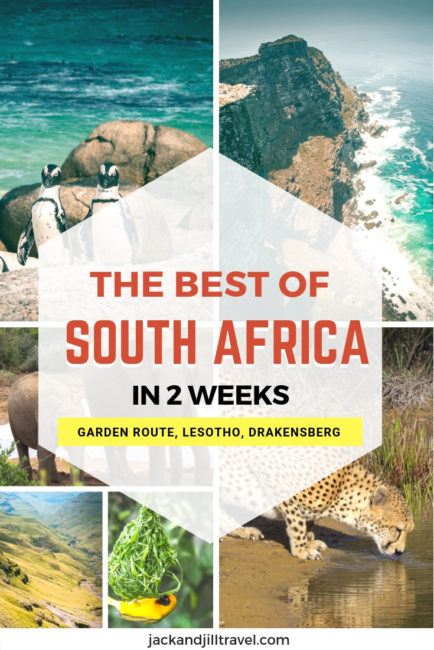 Essentials South Africa
I got my SIM card at a small store next my hostel in Cape Town. I used Telcom and was quite happy with its coverage.
The book that started it all. When I graduated high school, my ESL teacher gave me Bryce Courtenay's The Power of One. It resonated so deeply that I'll always associate South Africa with Peekay, the book's protagonist. A must pre-trip read for South Africa.
As usual, I used Maps.me for offline trail maps.
Europcar in Cape Town wanted to see my CDW coverage letter. I sent him Chase's benefit coverage PDF I found online. If you're planning to use your credit card for insurance, get them to send you a coverage letter just to be on the safe side.
Don't forget your South Africa guidebook.
Hiking guide: My go-to hiking guides all come from Cicerone. They wrote one for Drakensberg (of course, they do). Buy it here.
Lightweight waterproof bag: It rained 10 out of the 14 days I was in South Africa. I didn't know that it rained so much in the summer here. I put this in my daypack and it's big enough to cover my camera, phone, and valuables.