For dedicated hikers and outdoor enthusiasts, the San Juan Mountains in southwestern Colorado – encompassing towns such as Ouray, Silverton, and Telluride – is a must-visit destination. Trust me. I consider myself privileged enough to have visited beautiful places around the world, but the San Juan Mountains was still able to blow me away.
The San Juan and Uncompahgre National Forests cover a large portion of the San Juan Mountains. The region is home to 13 out of Colorado's 58 fourteeners (peaks exceeding 14,000 feet in elevation), numerous waterfalls and alpine lakes, and old frontier towns rich in mining legacy.
We've visited at least 4 times, the first was during our year long van trip many years ago. We are already planning another visit in the Fall to see the autumn colors. We can't get enough of this place! We're so lucky to be able to call Colorado home.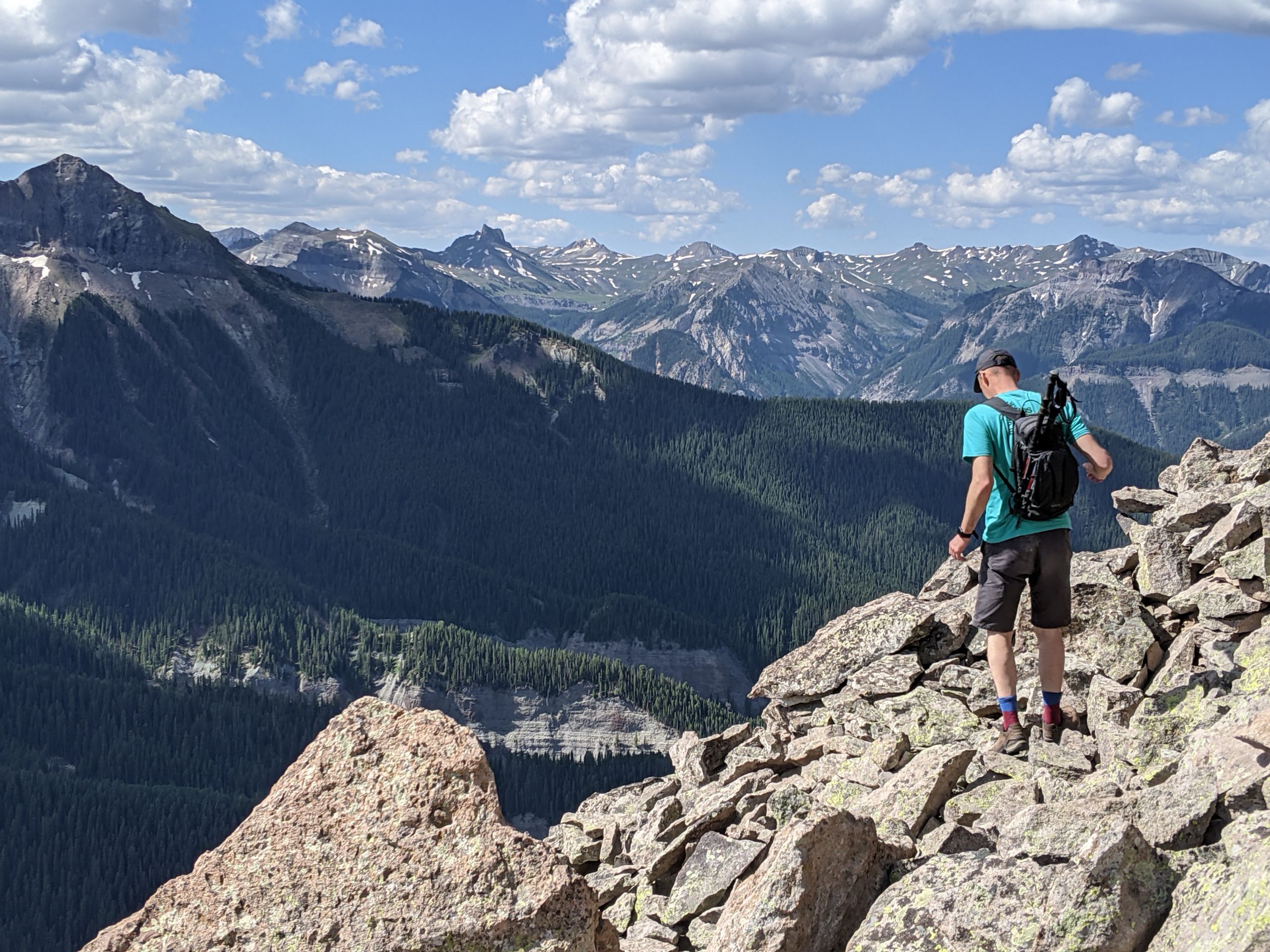 Where to Stay When Visiting the San Juan Mountains
Major towns in the region include Ouray, Telluride, Silverton, and Lake City. Just to give an idea of distance, Ouray is about 6 hour drive from Denver Airport.
These are bustling tourist towns with main streets thronged with restaurants, motels, and souvenir shops. Small enough to walk from one end to the other. Beyond the modern gloss, these towns' well preserved historical districts still give out the Old West vibe. We had fun strolling around main streets, checking out local businesses and trying out local craft beers while marveling at the architecture.
Where to base yourself: Telluride has a reputation for being posh (I tend to agree) but has the most dramatic location. Lake City is quieter but more out of the way. I find that Ouray is centrally located but can be unbearably busy in the summer.
For first time visitors, I'd probably stay in either Telluride or Ouray. Having visited a few times myself, I'm drawn to quieter places like Ridgway or Lake City.
In the end they're all beautiful mountain towns, snugly surrounded by tall mountain peaks. They all make a great home base to visit the region. These towns have a variety of accommodations from mountain ranches, motels, and campgrounds/RV parks. Dispersed camping is free and plentiful because most the area is public land.
Here are the places we've stayed while visiting the San Juan and can recommend:
Basecamp 550 is an RV park between Ouray and Ridgway that also offers glamping tent and tiny houses. We loved staying in their tiny houses! They are fully stocked with a kitchen, cooking supplies, and a queen size bed in the loft. The view is spectacular!
Ouray KOA we stayed here over New Year's Eve – one of the few RV parks that are open in winter. Not too many frills, but efficient. The hot tub was open and the bathrooms were clean. What else can you ask for?
Lightner Creek Campground is located along Lightner creek. It's a well-run campground near Durango. There's not much of a view because it's located in a river valley, but it's nicely shaded. It's a great place to set up basecamp when visiting Durango.
Molas Lake Campground. Owned and operated by the town of Silverton, Molas Lake is probably one the most beautiful campgrounds we've ever stayed in. No hookups are available, but the location makes up for it. There are hiking trails off the campground, there's fishing and canoe-ing on the lake. I'd happily stay here again.
Things to Do: Adventures in San Juan Mountains
In terms of things to do in San Juan Mountains, there's literally something for everyone. If you're not a peak bagger, there's climbing (including ice climbing in winter), fishing, white water rafting, and jeeping. For the history buffs, there are abandoned mines and ghost towns to explore.
Here are a few of our favorite things to do during a visit to the San Juan Mountains:
1. Summit A 14er (or Two or Four)
Mt. Sneffels is a popular 14er in San Juan Mountain Range because it's relatively accessible. If you have a sturdy 4×4 (and some experience), you can drive all the way to the end of the rough road. From this trailhead, you're only a mere 1.2 miles from the summit. If you have 2WD, the hike is 7+ miles round trip, still a very doable day hike.
Mt. Handies is another 14er in the area that's relatively straightforward. Again, you'll need a 4×4 vehicle to access the trailhead.
But even if you're not chasing 14er summits, there are dozens of beautiful hiking trails in San Juan. Whether you're looking for an alpine lake, wildlife, or a pretty view, there's a trail here for you. It's hard to choose just a few favorite trails, but here are a couple that I think are high value (beautiful views for relatively small effort):
Blue Lakes Trail from Ridgway is a classic and popular for a good reason. If there is one hike to do in Ouray area, this is it.
Courthouse Mountain is another high-value hike. It's only 4 mile round trip but the view is out of this world! It's a pretty drive just getting to the trailhead.
2. Go Jeep-ing!
As you enter the towns of Ouray or Silverton you'll soon notice the abundance of Jeeps with big knobby tires and nimble but equally rugged looking UTV's. You are now entering the Jeep capital of the world. Miles of off-highway trails bring you to some of the most stunning landscapes in the San Juan Mountains.
Renting a 4×4 Jeep anywhere in Ouray or Silverton (we rented ours from Colorado West Jeeps), or anywhere in San Juan Mountains will set you back around $240/day. It's not cheap, but Jack and I decided to splurge and… guys?
Worth every penny.

Before, I would smirk every time I saw Ouray's tagline "The Switzerland of America". Hyperbolic much, I thought. Now that I've seen the backcountry, I'm like, "Wow. Yeah, I get it."
If you only have one day, I'd recommend the route that we did. We started up Corkscrew Gulch, continued on to California Gulch, before stopping for lunch at Animas Fork. Then we climbed up Cinnamon Pass on our way to American Basin. After gawking at the views, we retraced our steps to Animas Fork before ending with an early dinner at Silverton.
If you don't want to drive, you can join one of the many guided jeep tours offered in Ouray or Silverton. We went with Switzerland of America (Ouray) for a guided jeep tour to Corkscrew Gulch and had a blast. The red and ochre landscape reminded me of the rainbow mountains in Peru.
3. See The Chicago Basin from Durango & Silverton Narrow Gauge Train
To access Chicago Basin requires a passage on the popular Durango & Silverton historic narrow gauge train. The Basin is a 15 miles roundtrip hike from the Needleton train stop, so be prepared for an all day affair and start early.
Hikers or not, riding the train is something you should consider when visiting San Juan mountains. You'll see beautiful sceneries along Animas River that can't be seen from the road (it's voted #1 Best Scenic Train Ride by USA Today), including iconic landmarks such as Horseshoe Curve and High Bridge.
A roundtrip From Durango to Silverton takes 9.5 hour, including a 2 hour stop in Silverton. The train is often sold out, so it's best to book early.
4. Visiting Ghost Towns and Old Mines
Gold was discovered on the slopes of the San Juan Mountains in 1861. This marked the beginning of the gold rush to the area. Later on, the region became one of the largest producers of gold, silver, and other minerals in the country.
Large scale mining productions have ceased but all around the San Juan Mountains you can still see remnants of this mining legacy: abandoned mines, ghost towns, and old mining roads.
Visiting these old mines and ghost towns often require 4×4 vehicles or hiking, although some are accessible by regular cars.
Animas Forks is one of the most popular ghost towns. It's a 30 mins drive from Silverton. We came here on a rented Jeep, but saw regular cars as well. Even though it's theoretically accessible by car, a high clearance AWD is recommended.
Tomboy Mine is located along Imogene Pass. The pass is beautiful but it's one of the harder jeep trails and requires some off-roading driving skill.
Mayflower Gold Mill is a short drive from Silverton on good gravel road and we really enjoyed our impromptu visit there. It's technically a self-guided experience. However we were lucky that it was quiet when we visited and the care taker, Freddy, was available to tag along to provide some commentaries. Freddy used to work at the mine so his insights brought the place the life. We highly recommend visiting the old mill. It's owned and run by the non-profit San Juan Historical Society, so the $10 admission goes to the preservation of this unique heritage.
Old Hundred Gold Mine offers a guided tour that takes you deep into the Galena Mountain following a gold vein.
Ouray County Museum and Silverton Mining Museum
Looking to learn more about the mining history of the San Juan mountains? Or maybe something to do during afternoon thunderstorms? Well, these museums are small but mighty. Both are worth a visit, thunderstorm or not. They provide historical context for the area including artifacts from Native American tribes who used to live in the region (fun fact: the town of Ouray was named after Chief Ouray, a Ute leader who was born and raised in Taos, New Mexico).
7. Mountain biking for dayz
From gondola-assisted The Gentleman's Loop in Telluride to multi-day epic 75 tail from Telluride to Durango (see Bonus Point #11 below), there are biking trails for everyone, beginner to expert. Most often you'll be sharing the trails with hikers or jeeps, so be generous and share the road.
You can rent bikes at Box Canyon Bikes or Boot Doctors, both are in Telluride or Ridgway Adventure Sports in Ridgway.
8. The Box Canyon in Ouray
There's a narrow canyon in Ouray with a waterfall on one end. In the summer, there's hiking to do around the canyon. In the winter, the city floods the canyon turning it into one of the country's most famous ice climbing destinations. We came here in one winter to gawk at the ice climbers. However much I enjoy rock climbing, ice climbing has very little appeal to me – google "screaming barfies" and you'll see what I mean. But the frozen waterfalls were so beautiful.
9. Join a Multi-Day Rafting Trips on The Animas
On our last trip, I was signed up to do a multi-day rafting trip down the Upper Animas with Mild and Wild. It is the most difficult commercially run rivers in the country, with continuous Class II and III with intermittent IV's and V's. However the rafting trip was cancelled due to not having enough people. It's a bummer, but what can you do?
The rafting season in Colorado is short. Highest water volume peaks in June by the time July rolls around, water volume is usually low enough that the rapids will be a tad tamer. In the end it all depends on the snow pack from previous winter. If rafting is in your itinerary, make sure to contact the office and discuss options.
10. Hit the Via Ferrata in Telluride or Ouray
We found ourselves in Telluride a few years ago specifically because we wanted to do the via ferrata. What a thrilling experience! The sceneries is mind-blowing. You'll find yourself hundreds of feet above empty air, with view of the town of Telluride behind you. You can read more about our via ferrata experience in Telluride here. It's definitely one of my favorite things to do in Telluride, if not the whole San Juan region. If you have your own gear (rental is available), you can do this route on your own – no guided needed.
A new via ferrata in Ouray opened to the public in 2019. The route starts near the south end of Ice Park Loop trail. It's also free, provided you abide by safety rules and have your own gear. We haven't had to chance to do this route yet. Maybe this Fall!
I'm a big fan of via ferratas and always jump on the opportunity to do one (in Murren, Switzerland for example). To me, it's like the best of hiking and rock climbing. Since you're always clipped in, it's safe, but the exposure can still get the adrenaline going. So fun!
11. Bonus: San Juan Hut-to-Hut Backpacking
I've repeatedly said to myself that the US needs a hut-to-hut trail network like they do in Europe. The idea is that you can go on a multi-day backpacking trip with a simple daypack, without needing to take your tent and sleeping bag. These huts usually simply rooms or a large dorm, and are located within a day's hike from each other. In Switzerland and Italy (and maybe other parts of Europe), the huts are run by caretakers who can also provide dinner and breakfast for you.
Imagine my joy and surprise to find there exists a network of such huts in the San Juan mountains (San Juan Huts). They own a total of 16 huts and you can ski, mountain bike, or hike them. I'm SO thrilled to learn about this, and I can't wait to take advantage of them.
—

When we moved to Colorado, I was really sad to be leaving our favorite outdoor playground in the Eastern Sierras. We had so many great memories with friends and families: exploring Bodie Ghost Town, climbing in Yosemite and in Owens River Gorge, and countless nights spent over campfire with friends.
So I'm very excited to have found a new playground in our adopted state. The San Juan Mountains is a special place and I have a feeling it's going to be where you'll find us every summer (and maybe fall, and winter too).