Yosemite National Park
Tenaya Peak looms 2000 ft above Tenaya Lake in Yosemite. It had been one of the many peaks we'd wanted to climb this season. Finally last weekend, we set out to do just that (we even managed to talk another couple to come along – little did they know what they were getting themselves into).
Failure to launch
The day started with a failure of scoring one of the first come first serve campsite in Tuolumne Meadows. It was followed by getting lost on the approach to the start. It takes a special talent considering that the starting point is somewhat obvious from the parking lot. Mine. (Why do my friends keep letting me lead the way? I don't get it. Do they like getting lost?)
A supposedly 30 minute approach ended up being closer to 1.5 hour, bushwhacking through manzanita growth, foxtails, and other types of bushes with pointy ends.
But when we finally set foot on Teanaya's granite buttress, it was glorious.
The climbing was just as the guidebook promises: easy climbing on sticky granite. We simuclimbed the first half of the mountain. I realised quickly how out of shape I was. Pretending to enjoy the view (and what a view it was), I took breaks every 3 steps to catch my breath.
4 pitches from the top, we saw something that strikes fear to every climber's heart: big, ominous, grey clouds that promised an incoming thunderstorm. Jack was yelling at me to climb faster.
I could understand his anxiety. Being out in thunderstorms in general is not a good idea. Being stuck outside during thunderstorms 2000 ft above the ground on a big, conducting lump of granite is asking for it.
Fortunately, the grey clouds moved further and further away. Dumping its content somewhere else in the sierras.
Finally. At the top of Tenaya Peak!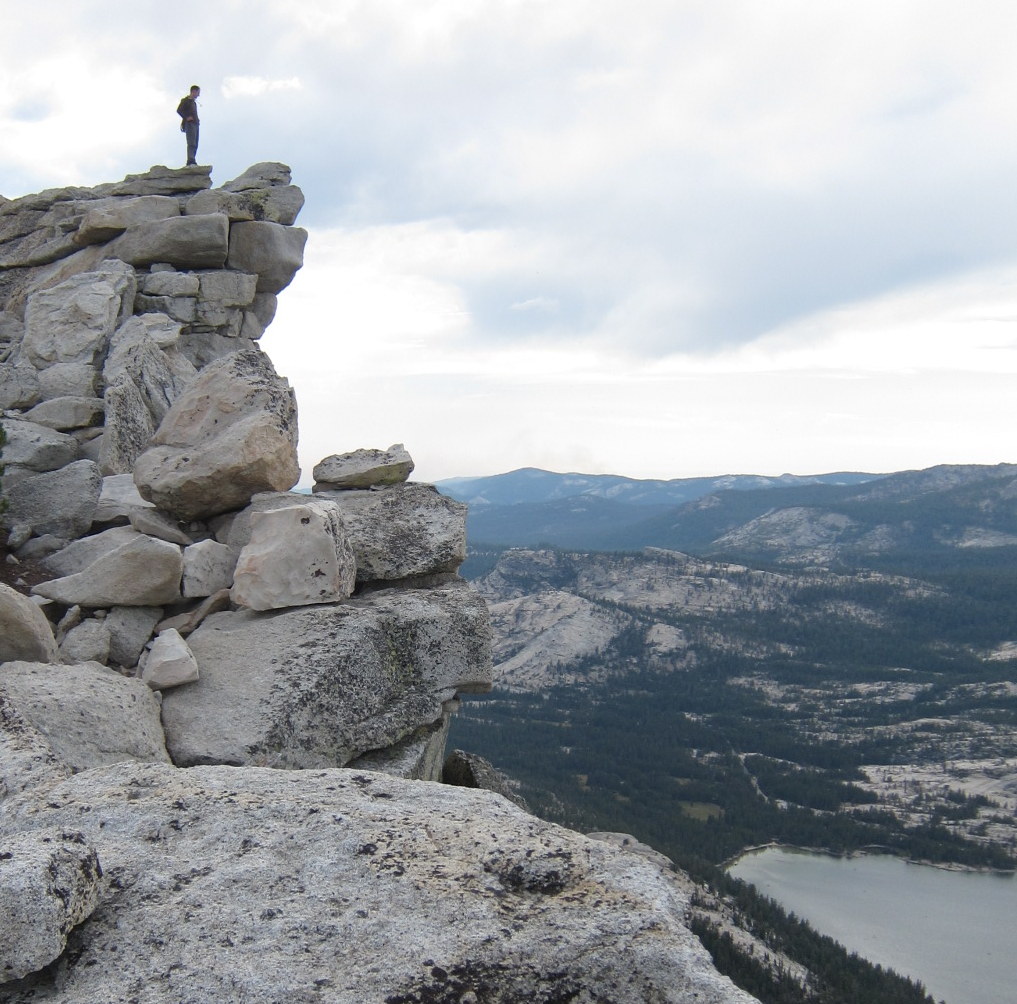 We finally topped out sometime after noon.
The 360 degree view (and a swarm of flying insects) welcomed us at the top. High fives all around! Getting on top of a mountain always gives me a sense of accomplishment. We could see Half Dome and Matthes Crest (our next mission!) and a whole lot of granite in between. So much rock!
What a view!
The 1000 hours descent – or so it felt like
Just like any activity in vertical direction, when you get to the top, you're only half way there. After taking the compulsory pictures, we started to descent down.
The guidebook says the descent should take 1 hr – 1.5 hr. It felt like forever. We basically traversed the whole width of the mountain on loose soil, talus fields, and scary slabs.
I'm never the most agile on this type of terrain so I practically dragged my butt down the mountain. I got holes on my pants (my good ones too!) from scooting so much.
It's hard to describe the feeling of wanting to be done with something so badly and seeing that the ground below was not getting closer fast enough.
The moral and daylight was low when we got to the car. Our knee joints were bruised and battered from the constant impact. To add insult to injury, as opposed to celebratory cold beers and dinner, we had to drive around looking for a campsite for the night.
(We finally found one outside of Yosemite Park)
But great stories are forged out of misery. Or so we'd like to think. I mean, there wouldn't be much to tell if Frodo and Sam jumped in a car and drove all the way to the Black Gate, now would there?
The Cure
The next morning we crawled out of our tents and slowly tested each joint. Everything hurts. I mean everything. From our necks all the way down to our toes. Apparently running up and down a mountain is a true all-body workout (and here I thought 'all body workout' was just a myth).
This kind of of emotional and physical pain can only be cured by a fast food orgy. We would've opted for an In-n-Out. But since Oakdale doesn't have any (!) we settled for a bucket of fried chicken, fried cheese, and large root beer float from KFC/A&W.
For that reason alone, I'd do this all over again.
(No, not really)
—
Climbing Tenaya Peak belongs in our "Once in a Lifetime" bucket list. We're glad we did it, but we'll never do it again.
And here's to a few more of these moments in the future.
What's on your "Once in a lifetime (but never again)" list?