Despite many years living in California we'd never ventured far on Highway 1 North of San Francisco. Everybody has heard of the Highway 1 between San Francisco and Los Angeles (it's a classic – you should do it!). But when you realise that Highway 1 doesn't stop at San Francisco but keeps on going – don't you want to know you can find along this stretch of Highway 1 North of SF? There are rumors of sandy beaches, redwood trees, and gorgeous coastline. And lots of wine. Hmmm, wine.
One weekend, I dragged Jack out of the bed against his protests, put him in the driver seat of a rental car, and told him to drive. "Where to?" he mumbled with a look of resignation.
"North. We're going North."
And off we go on one of my weekly exploration missions or as Jack likes to call it: a mission to spend countless hours in a car driving to some vague destination.
The following is our account, including favorite stops, from the 2 roadtrips we took from San Francisco to Mendocino along Highway 1.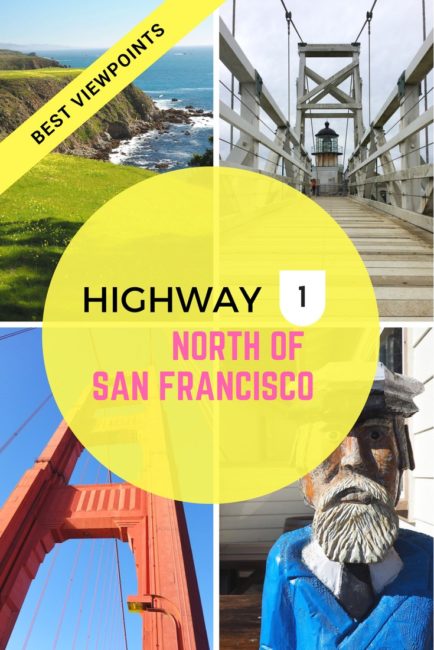 San Francisco to Jenner on Highway 1
One of the most exciting things about heading towards Highway 1 north of San Francisco is crossing the Golden Gate bridge. It doesn't matter how many times I've done it, when those orange arches pass by overhead I still think, "Wow, I can't believe I live here."
Marin Headlands on the other side of the bridge provides some of the best viewpoints of the Golden Gate Bridge (find a spot called Battery Spencer on Google Map). A stop here is mandatory when you're on a roadtrip north of San Francisco.
Tip: It's better to visit Marin Headlands for the view in the afternoon because of the light.
Along the way we passed small beach towns that look like they haven't changed much since 1960's. We stopped by Stinson Beach and Dillon Beach. Both were packed with visitors and we didn't stay long.
For breakfast on the road, we stopped at Shoreline Coffee Shop in Mill Valley, soon after we crossed the Golden Gate Bridge. It's a hipster-vibe kind of breakfast place serving egg dishes, huevos rancheros, and breakfast burritos diner style. All organic and locally sourced if it's your kind of thing.
We passed Tomales Bay, famous for its oysters. Lines of cars outside every oyster bar are testaments to these oysters' fame. If you find oysters delectable and not slimy molluscs that they are, Tomales Bay is where you need to go. The best oysters come from Tomales Bay Osyter Company in Marshall (it's right on Highway 1 – you won't miss it).
Bodega Bay is our preferred stop. It's a little bit further north from Tomales Bay. I'd get a crab sandwich from Spud Point Crab Company ($13) – it's filled with crab but not so filling that it ruins my appetite for lunch – perfect for that in-between meal (and what's a roadtrip without in-between meals?)
Pro tip: Have the sandwich to go and eat it at Bodega Head Trailhead at the end of the road for a meal with a view. There are trails to meander on afterwards for bonus points.
North of Point Reyes on Highway 1 is where the coastline gets crazy. 17 miles this rugged and desolate coastline broken by long, sweeping beaches is part of Sonoma Coast State Park. There are many coves and beaches where you can pull over and enjoy the view. It was achingly beautiful and I felt so grateful to be living in this crazy state we've called home on and off for the past 12 years. Jack grudgingly agreed that this part of California coastline was worth waking up early anyday.
I was aiming roughly for Mendocino. I've heard someone likened it to a 'New England fishing village' which sounds idyllic enough to make me want to go there. Mendocino is 169 miles north of San Francisco on Highway 1, a 5 hour one way drive. In retrospect, it's a much more suitable as a weekend getaway trip destination from San Francisco.
First time around, we were only doing this as a daytrip from San Francisco so we turned inland on Jenner. We got on Highway 116 inland passing tiny communities nestled among groves of redwood trees. We curved southward in Russian River Valley passing many vineyards. Unfortunately, many were already closed for the day.
Tip: if we're doing this again as a day trip from SF, we'd do a counterclockwise loop: head north inland and south down the coast.
Jenner to Mendocino on Highway 1
A few months later, we repeated the trip but this time as an overnight trip from San Francisco to Fort Bragg. This gave us more time to make a few more stops along the coast on our way to Mendocino, focusing on the stretch north of Jenner where we turned back before. Some highlights on this stretch of Highway 1 from Jenner to Mendoncino include:
Fort Ross, this southernmost Russian settlement in North America in 1800 is now a State Park. It contains the oldest windmill in California as well as an original structure from 1800's, Rotchev House.
Stewarts Point Store This historic landmark building now houses a general store and the famous Twofish Bakery. Rumor has it they make one of the best sourdoughs in the State but we never got here early to get our hands on one. They run out by late morning. Nevertheless, the place makes great sandwiches and calzones. Tip: If you don't like mayonnaise (any other anti-mayo people here besides me? Anybody?) try their tuna sandwich – they make it sans mayo.
Mendocino itself is a cute little artisty town with lots of galleries and fine restaurants. It's a popular weekend getaway from San Francisco but to be honest, the vibe is definitely more high class than we're used to. There are plenty of cute cafes, fine dining options, galleries, and antique stores to make for an enjoyable stroll. Don't miss Gallery Bookshop, our favorite stop. Then head out to Big River Beach at Mendocino Headland State Park for a nice post-dinner walk in the summer.
Fort Bragg, a 10 minute drive north from Mendocino on Highway 1 provides more budget-friendly accommodation and dining options. Try the fish and chips at Sea Pal Cove. They also have my favorite beer, Deschute's Fresh Squeeze on tap – yumm!
Accommodation
Places to Sleep in Mendocino:
Brewery Gulch Inn – a boutique hotels with just 11 rooms, this highly rated hotel has stunning views and serves great food at its restaurant. Rooms start at $450 (weekend rate).
Headlands Inn – a classic, well-run, romantic B&B. Great value for Mendocino. Rooms start at $200.
Places to Sleep in Fort Bragg:
Surf & Sand Lodge – beachfront accommodation. Rooms start at $180 (weekend).

[google_maps id="15492″]
—
So the rumor is true.
You'll find wineries, redwood, and miles (and miles) of wild coastline on Highway 1 north of San Francisco. On the way back to SF, I'd recommend taking Highway 128 through Anderson Valley for even more wineries and views of green rolling hills. A perfect end to the perfect San Francisco weekend getaway.
Many say that the coastal route of Highway 1 between LA and San Francisco to be one of America's best road trips. I'd say that the stretch of Highway 1 north of San Francisco can safely compete.
One of these days, I'd drive the whole length of Pacific Coast Highway although it'll definitely be more than a weekend getaway trip.
Looking for something different to do in San Francisco itself? You should go on a ghost tour! With a city so rich in history and culture such as San Francisco, you'll understand why some people moved here and simply refused to leave – if you know what I mean.