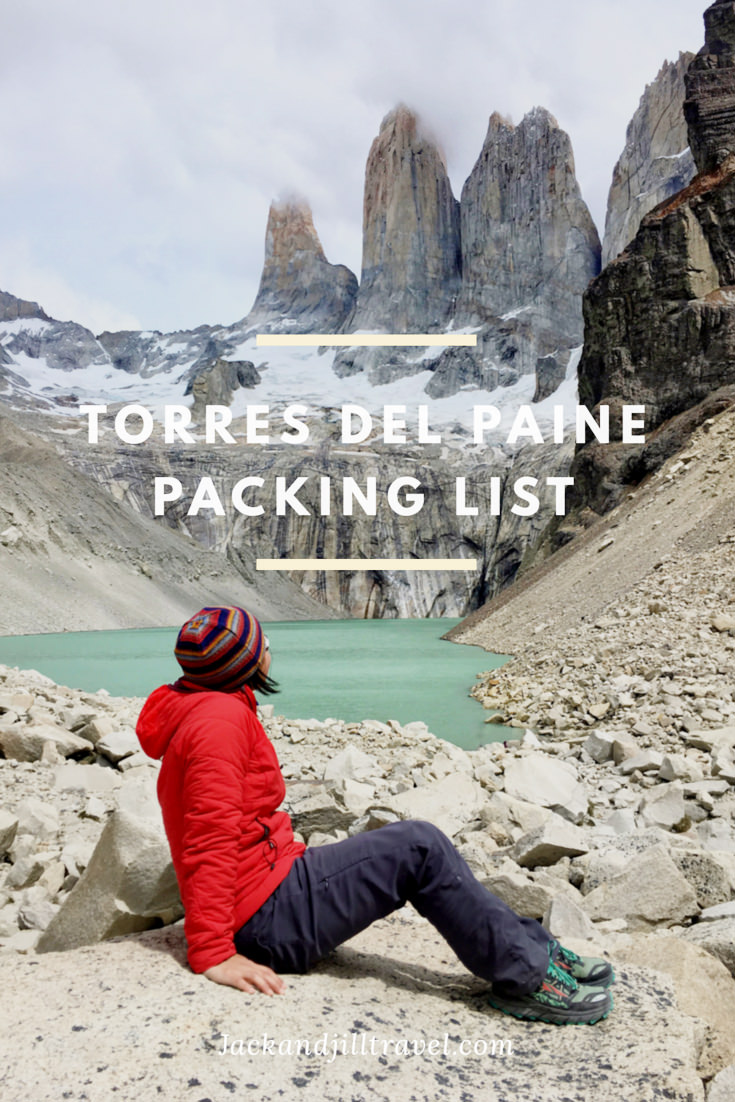 On our 2 week trip to Patagonia, we split our time between El Chalten (Laguna de Los Tres) and El Calafate (Perito Merino glacier) in Argentina before heading over to Patagonia Chile to hike the W Circuit in Torres del Paine.
Even though we stayed in campgrounds during the W-trek, we rented all camping gear from Fantastico Sur and Vertice Patagonia – 2 private companies who run most of the campgrounds along the W Circuit. This worked out even better than we expected. Not only did not have to carry tent and sleeping bags, upon checking in at the campground our tent would already be already set up. Which was super great when it's raining outside. Setting up a tent in the rain is never fun.
I highly recommend going this route if you can afford it. We were in Patagonia for 2+ weeks, but the W-trek part of the trip is only 4 days. I see little point in taking a tent and sleeping bags for the whole trip when they're only needed for a small part of it. Not having to carry around a tent and sleeping bags meant that this packing list for Patagonia is quite minimalistic. We managed to pack very light. Light pack = winning!
Patagonia Summer Weather
December is supposed to be summer in Patagonia, but hold off on bringing tank tops and shorts. Patagonia summer weather is as unpredictable as ever. We experienced sun, wind, rain, and hail. The wind and rain combination is particularly brutal. There were times it felt like rain was going UPWARDS. Even when it's sunny it never got really warm.
There's a running joke that goes:
"How do you pack for hiking in Patagonia in the summer?"
"You pack like you're going skiing."
I beg to differ. I wear less layers when I go skiing.
Below is a list of everything we took with us on our W-Trek in Torres del Paine in December.
Packing List for W Circuit, Torres del Paine in December:
My All-time Favorite Backpack and Daypack
We always travel carry-on only and on this Patagonia trip it was no different. Since we we were renting our tent, sleeping bags, and pads from the refugios at Torres del Paine, we managed to get by with a 25L and a 35L backpack for our W Trek.
Backpack – As usual, I brought my trusty Osprey Farpoint 40 (my favorite carry-on pack that I've brought with me to over 30 countries). Note: I left this pack at a hotel in Puerto Natales during the "W-Trek".
Daypack – For day hikes and for the "W", I carried a 25L daypack, something like Osprey Escapist 25L (also available in 35L). Why? This pack has an integrated rain cover and a bottom sleeping bag compartment and a robust, functioning hip belt. Also, Osprey makes awesome bags. We're an Osprey family 🙂
Clothing layers for the unpredictable Patagonia weather
Hiking pants – I'm on my 2nd pair of Prana's Halle pants. I love them so much: stretchy, wicking, and cute.
Breathable, quickdry hiking shirt – I wear a Patagonia capilene short-sleeve. I love Patagonia capilene products, they seem to last forever. This short-sleeve shirt is their older model that I've had for almost 10 years and it's still going strong. I wore this every day on the "W-Trek" as part of my "day and wet" uniform.
Lighweight fleece – I have a Patagonia R1 pullover that's currently my favorite layer for everything from climbing to hiking to camp lounging. It never got so warm in Patagonia summer that I could get by with just a short sleeve, so I wore this second layer all the time. Thank god it's synthetic so it didn't get smelly.
A midweight layer – I also made a lot of use of my Patagonia Nano Air hoody: a stretchy and breathable layer I've used extensively for cross-country skiing and other cold-weather activities (can you tell that I have a thing for Patagonia products?).
These two mid-weight layers and my hiking top are the trifecta that got me through the crazy weather pattern of in Patagonia. I didn't care so much if they get dirty or wet since I have a set of dry clothes I could switch into in the camp.
The following (and a pair of socks) go into a dry bag during the day and are meant to be my "dry" uniform:
Wool thermal underwear (top and bottom) – For sleeping (and extra layer if needed).
Lightweight packable down jacket – We both have Mountain Hardwear Ghost Whisperer, a 800-down jacket that packs down to something smaller than a Nalgene bottle. We used this in basecamp since they're usually too warm to be worn on the trail. Also useful as an extra layer on really cold days.
Hiking shoes for Patagonia (aka: why I don't wear boots)
There are many schools of thoughts about the best hiking shoes for Patagonia. Some people swear by hiking boots, others recommend hiking boots AND ankle supports.
I know my feet so I know what works best for me: a lightweight trail runner. Why trail runners? Well, they tend to be lighter than boots. They dry quicker and they have aggressive threads. I know I don't need ankle support or much cushion for the weight I'd be carrying. Another advantage of packing light.
But everybody's feet different so you should definitely figure out what works best for your feet. If you haven't done much hiking, you might benefit from extra support (stiffer shoes).
Trail runners – If you have wide feet and are looking for a pair waterproof trail runners for W-Trek, I can highly recommend Altra Lone Peak 3.0 Neoshell. They are, unfortunately, ugly AF but they did their job in keeping my feet dry and healthy. They're rugged enough that you won't feel every single rock. The sole is sticky and the threads are aggressive I found myself rock hopping comfortably on the hike up to the base of Las Torres.
Rain and Sun Protection (you'll need it)
Rainjacket – Put a waterproof and (preferably) breathable rain jacket in your Patagonia packing list, because it WILL rain. I don't think a hardshell is required so if you don't already have a rainjacket sitting in your closet, something like an Outdoor Research Aspire rainshell will work.
Rain pants – no need for anything fancy. I bought a pair of Storm Surge rain pants made by Colombia on sale and they serve their purpose.
Buff Headwear – this is a somewhat latest addition to my outdoor gear arsenal but I got to really like it. I own the half-length one that I think is perfect, since it's small enough to stuff in a pocket. I use it to provide extra coverage for neck on sunny days, to cover my mouth and nose on windy days, and as a hairband on bad hair days.
Windproof gloves – My hands tend to run cold and I was glad I had a pair of windproof gloves. These ones are also water-resistant and have those fingertip pads for touchscreen.
Sunglasses and a hat – useful in keeping sun and water out of my eyes.
Sunscreen – Do you know that you're supposed to wear sunscreen even on cloudy days? The sun gets very intense here and made worse when reflected off the surrounding bodies of water and snow. I use TotLogic Broad Spectrum SPF 30, a mineral-based sunscreen for my sensitive skin.
Lightweight dry bags – I saw a lot of people with pack cover but I've never used one. I always carry a 1L dry sack even on the shortest hike, big enough for my phone and camera. On this trip, I carry extra dry bags where I put my extra clothes, food, electronics, etc. This way, I wouldn't worry even if my whole bag gets wet. Sea to Summit makes an array of lightweight dry sacks in various sizes.
Misc
Cooking kit and stove – we rented this from a store in Puerto Natales. There are plenty of stores where you can easily rent anything you'll need for your trek.
Battery pack – I own a Jackery 6000mAh. I love it because it's compact, FAST, and has built-in charging cables (lightning and mini-USB). 50% of the time I forget to bring a charging cable, so I feel that this battery pack built-in charging cables is made FOR ME!
Smartwool socks – I love Smartwool socks. For this trip I took 3 pairs of ankle-length socks for hiking, and 1 pair of knee-length ski socks for sleeping (my feet tend to get really cold at night, ugh!)
A wool beanie – an easy, lightweight way to provide extra warmth.
Lightweight camp sandals – Give those feet a break! At the camp, slipping into comfy camp sandals feels so heavenly.
First aid kit – We dropped the bomb on this one and didn't carry anything beyond moleskin and some Ibuprofen tablets. We were punished severely when both of us got the flu on the last days of our W-Trek. Just so you know, none of the refugio stores in W-trek sell any drugs – not even aspirins. So I feel that having a robust first-aid kit for your Patagonia trip is even more important than usual. I like this Lifeline Dayhiker First Aid kit for a starting point. I'd probably add something to treat blisters (I like Compeed), some coughdrops, and Airborne for immune system health.
Sleeping bag liners – I wasn't sure how often they clean those rental sleeping bags. They felt and smelt clean… but these sleeping bag liners do not weigh much and they also provide extra warmth. Totally worth bringing along.
Nalgene bottle – Since the water in Patagonia is drinkable directly from streams and rivers, having a bottle just makes it easier to refill compared to hydration bladders.
Toiletry kit – toothbrush, a small tube of toothpaste, dental floss
Quickdrying, non-cotton undies – I swear on these. Not the sexiest underwear, but it works.
Camp towel – The refugios along W-Trek have hot showers! I mean… how can this place that seems so remote be so… luxurious? So glad we brought a camp towel with us so we can take advantage of this.
Food to bring
Packed in their own dry bag for easy organization.
Breakfast: instant soup (these are so gross), instant coffee
Lunch: nuts, chocolate, tuna crackers, raisins, potato chips, etc
Dinner: pasta with sauce (you can get sauce that comes in a plastic pouch – so handy) + 1 dinner splurge at Paine Grande Refugio.
Stores at refugios along W-Trek sell basic food stuff like cookies, pasta, and pasta sauce at massively inflated price (think $8 for a can of Pringles). At least you know you won't starve if you didn't bring enough food (just make sure to take your credit cards with you).
If I were to do it again: I'd bring some Backpacker's Pantry freeze dried food from home because compared to what we managed to scrounge from the grocery stores in Puerto Natales, these are gourmet!
—
Psst! Planning to hike the W Circuit? We wrote about our experience plus some practical planning tips here.