Puerto Natales, Chile
Ever wonder what it's like to be a gaucho for a day in Patagonia? Read on.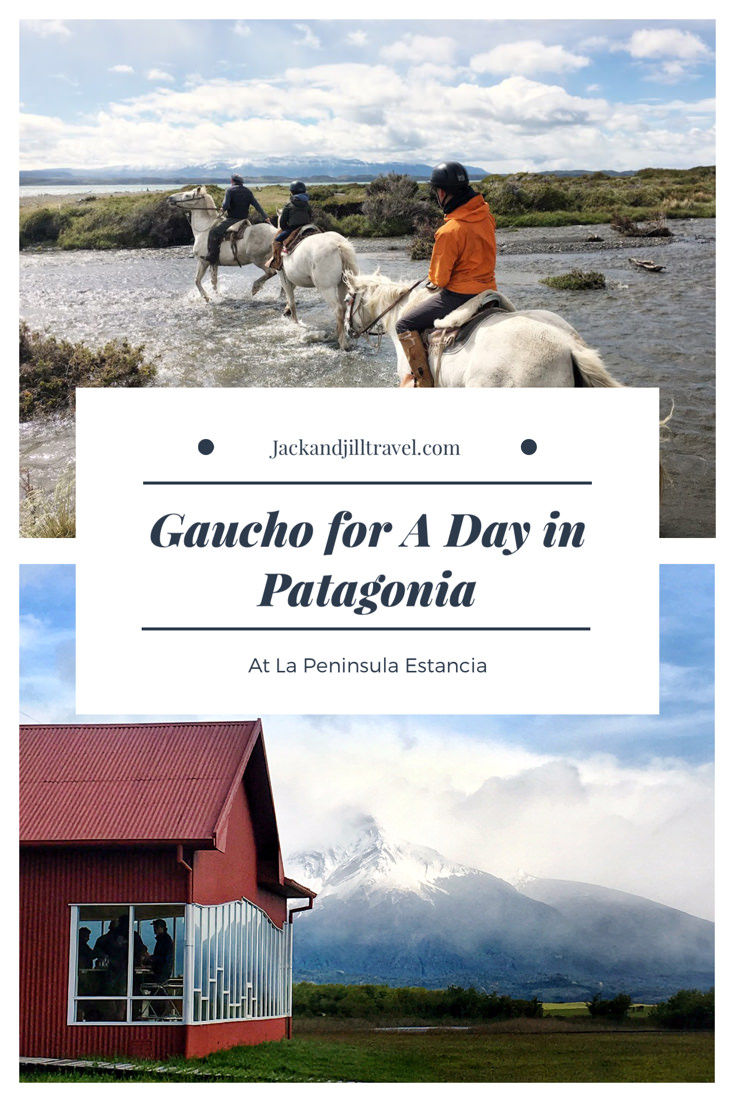 In my mind, the image of Patagonia has always been about the mountains. Those soaring granite peaks. And the enormity of landscape that seems to stretch beyond the horizon and imagination. Naturally when I think of Patagonia, I think of the W Circuit trek, and the many other outdoor opportunities Patagonia has to offer.
I came to Patagonia to hike of course. But I also wanted to find something to do in Patagonia beyond hiking (and eating – surprisingly the food scene in Patagonia is quite happening). Then I read about these estancias – color me intrigued…
Visiting or staying in estancias is an activity people associate more with Argentina, but not a lot of people know that Chile also has them.
So what are estancias?
Before Patagonia become synonymous with the feel-good clothing brand (a brand that I love), European settlers came upon the region. They saw the never ending grasslands and thought "Holy moly, this can feed a lot of sheep!" So they came and established ranches in the region to raise sheep. Nowadays, a lot of these Patagonia ranches, or estancias, have opened up their doors to visitors who are looking for something to do in Patagonia beyond trekking the "W" Circuit and around El Chalten. They're looking for something more culture-y (yes, I make up words all the time).
Visiting an estancia in Patagonia is an opportunity to see what goes on in "real" Patagonia and to meet the people who work the seemingly inhospitable land. Estancia activities usually include hiking or horseback riding for a chance to see wildlife, a lamb feast, followed by a demonstration of what usually goes on at the estancia (it can vary from sheep shearing or horsemanship show, depending on the estancia). Some estancias even offer multiday trekking or overnight stays. For many, it ends up being one of the highlights of Patagonia trips.
While in Puerto Natales, we visited a working estancia called La Peninsula Estancia. La Peninsula Estancia is located on the peninsula Antonio Varas and only accessible by boat. This estancia is conveniently located for a day trip from Puerto Natales, where we had an extra day before heading to Argentina.
La Peninsula Estancia
Our day at La Peninsula Estancia starts when we got picked up at our accommodation and driven to the pier by Singular Hotel in Puerto Natales, arguably the most luxurious hotel in Chilean Patagonia. (You should go check it out even if you're not staying there – the interior is SO unique).
After a smooth 30 minute boat along the fjord, we finally spotted the estancia. The first thought that came to my mind was: "Wow, this place is truly in the middle of nowhere."
Upon arrival, Ian MacLean, one of the owners gave us a quick tour of the property: a beautiful ranch house with floor to ceiling windows overlooking the fjord and the mountains beyond. Then we all gathered in the kitchen over some hot drinks and a stack of sopaipillas (Chilean version of fried bread that I shamelessly devoured) and to get to know the other people in today's group. To be honest though, I was too busy staring at the view to talk with anyone. With a view like this, can you blame me?
Going horseback riding in Patagonia – a bucket list item!
My favorite part about the estancia visit was the horseback riding that came after. They gave us these leather gaiters that are so cool I wish they sold them. All the horses were white and they were some of the best behaving horses I've ridden (unlike that one horse in Colombia that took me on a gallop while I was holding on for dear life – bad horsey, bad!!)
We got our first taste of the famous Patagonia wind. And its breathtaking scenery.
Asado al Palo – or crucified lamb – or the first time I've ever had lamb
2 hours later we were back at the house. All this time, the lamb was cooking in the traditional Patagonia style: asado al palo. The lamb is stretched on an iron cross (the word "crucified" came to mind) and cooked over a fire for about 3 hours, making the meat extra tender.
Even though I eat vegetarian back home, I tend to be more flexible when traveling especially when it comes to trying local culinary specialties that come from sustainably-sourced animals. (I'll never touch factory-farmed meat). So I figured if I were to eat lamb, it might as well be a happy Patagonian lamb that has spent its whole life roaming the Patagonia grasslands. I'd like to think that if I were a lamb, I'd be very happy indeed living in Patagonia.
Anyway, I ate lamb. For the first time every in my life.
(Having said that, I don't actually enjoy eating meat. So after a few bites of the tender lamb, I decided to stick to the bean soup the estancia prepared for the non-meat eaters.)
Sheep shearing and sheepdog demonstration
After lunch, we got to watch a sheepdog and sheep shearing demonstration. Have you ever seen a sheep dog demonstration before? I find it so impressive (I think it's because I can barely follow instructions on the back of frozen food box myself). I love watching these dogs doing what they've been bred to do for generations. They sure take their job seriously. It's definitely more apt to think of these Patagonian sheep dogs are man's best colleague than a best friend.
Nerdy fact: the dogs used at these estancias are called Magellan sheepdog, known for its endurance and resistance to cold.
—

I'm so glad I set out a day to visit an estancia while in Patagonia. Even Jack had a lot of fun (grumpy old man that he is :)) I love hiking and all that, but hiking is all about you, yourself, and nature. However, Patagonia is so much more than "W Trek" and hiking.
Visiting a working estancia allows me to meet the people who call this harsh, windswept land home. If you ever make it down to Patagonia (which I'd love to do again if only it weren't so ridiculously far), hope you'll set out a time for an estancia visit too.
Visiting an estancia from Puerto Natales
La Peninsula Estancia
Contact them to arrange a visit: turismo@estanciaspatagonia.com
We were hosted by La Peninsula Estancia. Opinions and images are our own.