The W Trek isn't the most difficult trek out there. It's at low elevation and the ups and downs are quite tame. But to complete it still requires a certain amount of fitness. Something I didn't mention in our previous posts on Patagonia was the fact that Jack fell ill the day before our trek.
It wasn't even "I don't feel so good" kind of illness. It was a full blown flu with the chills, the aches, the severe headache, and fatigue. Should we cancel? Should I do the trek without him? It was a conundrum. Planning our W Trek took months. We just spent a lot of time and money to get to Patagonia, and the whole trip to Patagonia is supposed to culminate in trekking Torres del Paine.
In the end, we decided to move forward with it. Jack was like, "I might not enjoy it, but I'll live through it." (See, this is why I married him.) We knew that most of the trail will be flat and easy. Since we were renting tent and sleeping bags from campgrounds along the "W", we had relatively light packs (see our W Trek gear list). We also knew that all the "legs" of the "W" are optional hikes so if Jack wasn't feeling up to it, he could either wait for me at the junction, or we'd just forego them altogether. So onward to Torres del Paine!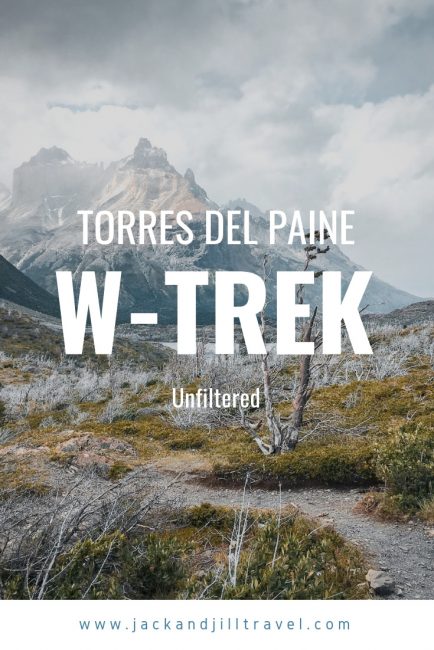 The following is our day-to-day experience in trekking Torres del Paine (W Trek):
Day 1: Puerto Natales to Campground Torres Central
We took the 7AM bus from Puerto Natales. We had booked the ticket the day before since it was the high season. There are a lot of bus companies who serve this route, but amazingly they all have the exact same schedule. I'm not sure why. You'd think it'd make more sense to stagger the schedule so the park doesn't have to deal with the 10 buses' load of passengers arriving all at once. But hey… I'm sure there's a perfectly reasonable explanation for that.
Anyway, it means that it's a clusterfuck at the park's entrance. Luckily our bus was one of the first who got there, so we didn't have to wait in line for long.
At Laguna Amarga entrance we had to buy our entrance tickets and watch a 5 minute intro video (TLDR: no fire, no fire, no fire). They did ask if we have accommodation booked for our W Trek. Which we did. But they didn't ask for proofs.
To go to Campground Torres, we had to get on a shuttle run by Fantastico Sur who manages the whole Torres complex. The whole process runs pretty smoothly despite the chaotic atmosphere and soon we found ourselves at the Campground Torres office that doubles as a mini store.
We checked in and were taken to our tent. When making the tent reservation I had opted for the "Premium" option, and whoa!! It was a very premium tent indeed, much better than we expected. It was a 3 person tent set on a wooden platform. Our "mat" was a 10 cm thick mattress. It was extremely comfy and we felt like we were cheating a bit. Oh well…
Jack was feeling awful from his illness so he crawled inside and fell asleep right away while I packed for my hike to the base of the Towers. It was a beautiful clear day and I could see the Towers from the moment we got off the bus and I couldn't wait to see them up close.
With a light daypack, I practically ran up the trail towards Los Torres, passing multiple people on the way (including a woman wearing dressy wedge shoes – more power to her!) With mountain weather being unpredictable and all I wanted to make sure the weather was still clear when I got there. I also didn't want to leave Jack alone longer than I had to.
The last section was up this sandy and loose embankment towards the lake, this part sucks because your feet just keep sliding backwards with each step but knowing that I was really close got me amped up and I pushed through.
And it was glorious!
It was a wild feeling to be in a place that you'd dreamt about for so long – you know what I mean? I spent some time here taking pictures and watching people all the while feeling like I was forgetting something. Oh yeah… husband. Sick husband. Oops! I ran back down the trail. That time I was probably the fittest I'd been in awhile, so it took me no time at all to make it back to Torres Campground. Jack barely even realized I was gone.
Day 2: Campground Torres Central to Campamento Frances
The walk to Campamento Frances was a monotonous vista of the turquoise Lago Nordernsjkold during the first half of the hike. We took many breaks because Jack still hadn't recovered, and besides we had like 18 hours of sunlight. There was absolutely no rush.
We stopped at Refugio Los Cuernos to take a break with some hot chocolate. The refugio sells all sorts of hot beverages, alcohol, and snacks. It even takes credit card!
The weather was changing rapidly and as we were nearing Frances, it started to get really windy and cold. Jack's condition worsened and we had to take a break every 30 seconds. To make matter worse, the trail started climbing just before the campground.
I took Jack's pack to lighten his load and ended up hiking with both of our packs on the last stretch. Once again, I thanked the decision I made to splurge on renting instead of bringing equipment with me when planning my Torres del Paine W Trek. If we had had full packs on, I think we would've turned back way before this point. There was no way Jack could've made it. We had basic first aid kit, but by this time Jack's had finished all the Ibuprofen the kit had. We were surprised to find that none of the campgrounds along the W Trek carries any basic medication. So take extra with you!
Day 3: Campamento Frances to Campamento Paine Grande
From Campamento Frances, we started making our way to French Valley. This forms the middle leg of the "W". Unfortunately, it started to rain in earnest and I wasn't sure if I really wanted to hike up to French Valley. I hmmd and hawed for a bit but finally decided to go for it. Maybe the luck we had in Laguna de Los Tres would repeat itself here.
I left my daypack at the ranger's station in Campground Italiano (which is a CONAF-run free campground – you know, where the plebs stay :)), told Jack to stay put and stay warm as much as he could, and hiked out as fast as I could.
As I made my way up the steep, rocky, and slippery trail, munching on M&Ms I couldn't help wondering if it would all be worth it. Heavy fog was descending down to the valley forming a thick shroud that covered the scenery. I hung around the first viewpoint – Mirador Frances – for a bit hoping for a weather miracle but no dice.
It didn't look like the sky was going to clear up anytime soon. Upon turning back, I felt like I should've been more disappointed than I actually felt, but I guess by this point I'm quite used to the idea that mountains make their own weather and we're all subject to its whims. Oh well.
I went to retrieve my bag and Jack – who managed to stay alive albeit slightly damp – before making our way Campamento Paine Grande.
When we were walking along the Lago Skottsberg, we came face to face with the full strength of the infamous Patagonia wind. Then I learned the true meaning of the "wind was howling" because it. was. howling. Eerily so. You could hear the wind coming and as we came into view of Lago Skottsberg, we could see the wind coming from the waves on the lake.

(Just to be clear, I mean my rainpants in the video.)
Guys, IT. WAS. INSANE. It felt like the world turned upside down. Someone had told us that it could feel like being inside a wind tunnel – you know, where they test airplanes and stuff? Yep. Can confirm.
The truly anxiety-causing part was how unpredictable it was. You could have a few seconds of relief, thinking that you were through the worst of it, than without warning…. BAM! The force of the wind hit you on your side, knocking you off balance. Immediately, all at once, the world goes crazy again. Water went up my nostrils, up my sleeves, and rain drops actually HURT when they hit my face. Nothing could stay dry in that kind of wind. And nothing did. I was soaked wet to my underwear.
When we finally arrived at Paine Grande, it was like arriving at civilization. It had hot food! Cold drinks! Heated kitchen area! They took credit cards!
Day 4: Campamento Paine Grande to Puerto Natales (instead of Campamento Grey)
Our original plan was to hike up the last leg of the "W" to Campamento Grey to see the glacier, spend our last night there, and then hike out on Day 5. Come morning, I woke up after a restless sleep feeling drained and unmotivated. I wondered if I finally caught whatever bug Jack had. The weather was icky, sunny one minute, cloudy and rainy the next. Despite Jack's assurance that he'd come with me if I wanted to keep going, I think I put him through enough. This poor guy trekked over 20 miles with me while dealing with the flu. I'm surprised he hadn't divorced me mid-way.
So we decided that we're going to cut our W Trek one day early and catch the ferry out and bus back to Puerto Natales.
Our W Trek Packing List
Things we were SO GLAD we had with us:
Buff – who knew that a simple fabric tube can be so useful? If I were to do it again, I'd opt for the merino wool version for better warmth and breathability.
Sunglasses – when it's sunny, it's really sunny out there.
A regular baseball cap – to keep the worst of the rain and sun off your face
Patagonia Nano Air (hers) – quick drying synthetic insulation for warmth when it's wet OR dry.
Arc'teryx Atom LT Hoody (his) – He slept in it, hiked in it. Jack practically never too this off.
Lightweight dry sack – we didn't bother with a pack cover, instead we divided our stuff and put them in these water proof bags. It's a great way to keep things organized and dry!
Waterproof first-aid kit – we only brought the most basic first aid kit with us (moleskin and some Ibuprofen), but could definitely have used something more robust.
A day pack – as opposed to a full on pack. If you have the extra budget, splurge on renting equipment along the way so you can get away with only carrying a 30L daypack on a 5 day trek. So worth it IMO!
See this post for a complete list of our W Trek gear.
—
We still laugh whenever we think back about our time in Patagonia. It was supposed to be our 10 year anniversary. I definitely didn't expect to spend our anniversary dragging my sick husband along one of the world's most famous treks. It almost seems like a throwback to our honeymoon in Denali, Alaska. Just like Alaska, Patagonia wasn't the most successful – in the classic definition of 'success' – trip we've ever gone on, but all's well that ends well. It definitely makes for really good stories. Because really, where's the fun when everything goes according to plan?
See all of our posts from Patagonia. See also: