We went backpacking in Denali National Park for our honeymoon. Sort of. I mean, we call it our honeymoon because that trip to Alaska was the first trip we took together after we got married (even though it was like 5 months after the day). In retrospects, the decision to spend days in trail-less wilderness of Denali, one of the largest national parks in the US, might've been the #1 mistake of all. Nothing like suffering brings a newly-wed couple together says nobody.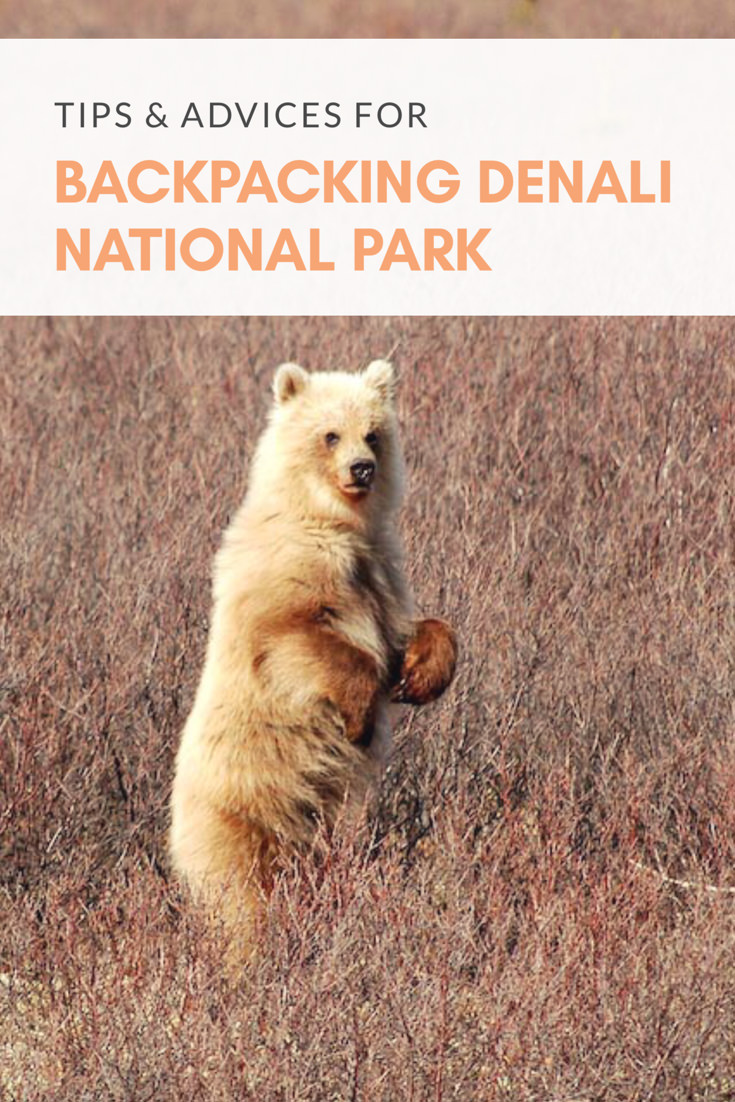 We took a state ferry from Seattle to Juneau, couchsurfed and camped our way from Juneau to Denali National Park. Along the way we saw some of the most beautiful sceneries we'd ever seen.
Things to know about backpacking Denali:
Denali is a trail-less national park. Which is both an amazing and an intimidating feature for those not used to it (like most people I assume).
They discourage the formation of "social" trails. This means that contrary to what you might be used to, when you see a faint trail forming – you should NOT follow it. You can walk alongside it though. If you come as a group, fan out as opposed to going in a line.
Watch out for river crossings. We were warned that rivers is the #1 killer in Denali. Trekkers underestimate the cold and the force of the water and get carried away. Cross at a river's widest and most braided point. Unclip your packs (so you can easily get rid of it if you did get swept off your feet), and use hiking poles to help stabilize yourself.
Learn about the 87 backcountry units and their quotas. The Denali wilderness is divided into 87 units, 41 of these have a limit on the number of people allowed to spend the night within. You can learn more about it here at the park's site.
Of all of the wonderful memories that came out of our trip to Alaska, a week backpacking in Denali was the most notable. Not only for the raw and the wild of Alaska that it represents, but also for the high rate of mishaps and misadventures that happened there.
1. We went in spring. Spring might not be the best time to go backpacking in Denali
There's nothing wrong about going in spring. But it's a little bit of a crapshoot. You can have nice weather, blue sky on one day and snow shower on the next.
Another reason not to in spring is the chance that the area beyond Eielson overlook is still closed due to snow. That was what happened to us, but it was not a big deal since what was available to explore was still mind-numbingly big.
One benefit of going in spring: we didn't see a single soul out there once we got off the main road. Although considering all the mishaps that happened to us, that also meant we were on our own!
2. We lost perspective: Things always look smaller in the distance
Those overhead thickets we were fighting through looked like harmless, calf-length brushes
nestled under gently sloping hills about 30 minutes ago.
Ah, the lesson of perspective.
Something about the landscape really distorts the sense of perspective out there. We were foiled over and over again and ended up scratched and bruised from bush whacking.
And the gently sloping hills?
Up close they turned into scree-covered, ankle twisting, very steep hills. Deadly hills.

3. We didn't go high enough. Following a drainage is not the best idea
When there's no trail to follow, you tend to walk the path of least resistance (read: the flatter, the better) even when it's not necessarily the best course. Faced with a hollow (small valley) with a river running along it, it was very tempting to stay close to the river. Why hike uphill if you don't have to, plus you can forget about continuously stopping to consult the map for awhile. As long as you follow the river you won't get lost.
So, you walk towards it deeper and deeper into the valley, until you hear 'Squeealch' as your boot sinks in ankle deep water. Freezing water.
And you try to remember if you pack that extra pair of socks after all. Ugh.
4. We didn't allocate enough days. We thought 4 days would be enough
We could've stayed there forever.
Denali National Park is huge. At 6 million acres it's bigger than the state of Massachusetts. We were only planning to stay there for 4 days — but in the end we ended staying for a week. And even then it wasn't enough.
If you're not planning to do a hike, 2 days would be enough. If you're a little into hiking, I'd suggest a week. If you're big into hiking like we are — a month or two.
Or a lifetime.
5. We depended on SteriPen for purifying our water
Because it was so cold our battery powered SteriPen stopped working. Lesson learned: batteries are unreliable in cold weather.
Actually, the bigger lesson was: always have backup plan to purify your water. Especially if you're out in the middle of nowhere. We could always boil water though, which led me to the next point:
Bring me instead!
Instead we recommend:
Aquamira Water Treatment
– this 2-liquid system weighs practically nothing and doesn't depend on battery. We've used this for countless backpacking trips, including our last trekking trip to Patagonia.
6. We brought the wrong stove: Propane or cartridge stoves do not work well in cold weather
Those who took physics will remember that… well, I don't remember how the theory goes, but it goes something like : cold weather equals having all of your shit stop working.
Great.
No hot food. No drinking water. What a honeymoon.
Bring me instead!
We recommend taking a backpacking stove that takes liquid gas as fuel. This is more suitable for cold weather camping. Something like
MSR Whisperlite
($89.95).
7. Overestimating our knowledge of map, compass, and reading the topo lines
There are no trails in Denali. You have to know how to read a map and a compass. We were pretty new to map reading and even though we weren't lost, we kept second guessing ourselves. That's especially true when we were bushwhacking ankle deep in boggy marshes. We kept consulting the map — there must be a way out of this miserable wetness. Yes, there was. Up!
Let's consult the topo map. Oh, it doesn't look that bad (famous last words, anybody?)
So climb and climb we did until it was getting really steep we were in danger of slipping and not being able to stop ourselves.. We consulted our map only to find out there are two separate river forks about an inch apart on the map. Which one were we following?
Crap.
Maybe we were lost after all.
—
I originally titled this post '4 Mistakes We Made in Denali' — apparently we ended up making more than that. You'd think we had a horrible time there with the wet, the weather, and our gear failure. At certain times we did our share of cursing and whining.
But Denali National Park is…majestic. It's still one of my favorite National Parks (and I've been to 40+ of them)
Mountains, wildlife, and even more mountains. It was our kind of honeymoon. Wet boots, broken equipment, and all.
And we got to see grizzlies! In the wild! A whole bunch of them, actually.
—
Backpacking Denali Packing List
The following items are packing list items suitable for backpacking in Denali (or other colder-weather destinations). I'm not going to list every single piece of clothing we brought, because… how tedious would that be? But this is a list of what I think are the most important items to consider. They are all somewhat optional (I mean, you obviously need a backpack, sleeping bag, stove, etc – but you don't need to get the exact ones we have listed here).
A 65L Backpack – we've been an Osprey family for the past 10 years. Their suspension system is like magic! Their flagship packs such as Aura 65L (women) and Atmos 65L (men) have great reasons to have been around for as long as they have.
Water purifying system – learn from our mistakes and get yourself Aquamira. This is the only water purifier we use on our trips. It weighs 2oz and it doesn't change the taste of the water.
A stove that takes liquid fuel – Compressed gas loses its efficiency in cold weather real quick. We have an MSR Whisperlite, but if were to upgrade, we'd get the Universal MSR Whisperlite, it's a hybrid stove that you can use with either liquid and compressed gas. So cool!
Wool socks – I prefer to hike in trail runners and they're not the most waterproof shoes ever made. But I don't worry too much about getting my feet wet as long as I know I have enough extra socks. Wool socks make sure that my feet stay insulated despite being wet.
Spot GPS Tracker – We don't normally bring a GPS tracker with us unless we go to very remote area or avalanche danger zone. I would recommend bringing if if you're doing multi-day trekking in Denali NP though since the park has no trails and your chance of getting lost is bigger than usual.
A set of dry bags – Instead of a packcover, I use dry bags to keep my stuff dry. I can use them to organize my clothes (clean vs dirty), food, and electronics. Sea-to-summit makes Ultra Sil dry sack in various sizes and colors. They're super light weight and strong.