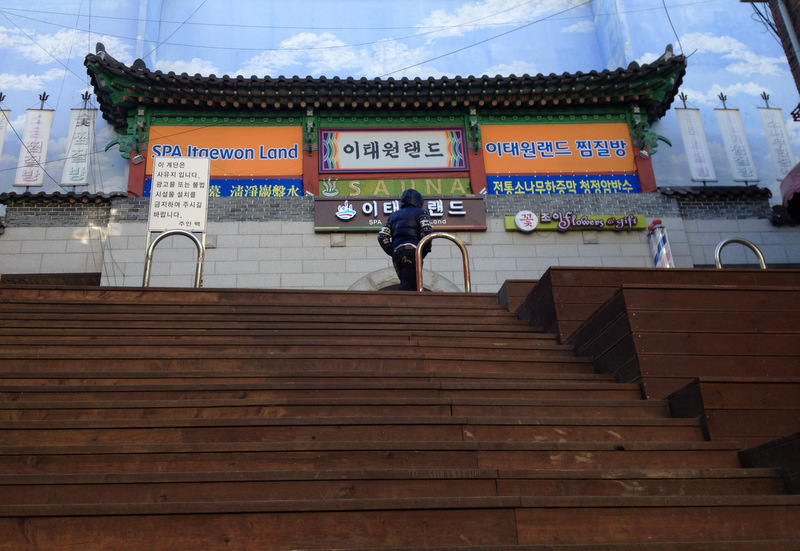 After hearing so much about Korean spa (jjimjilbang) experience, I decided to check one out while I was in Seoul. It sounded like a unique South Korean experience that I should try at least once – fear of public nudity be damned. I figured, hey, I've had a burly Moroccan woman mandhandle me when I was at my most vulnerable – I can handle this.
It's hard to explain a concept of a jjimjilbang. The closest thing I can compare it to is an all inclusive resort. Minus the beach and the alcohol.
Or a bathhouse on steroid.
On top of various hot tubs and themed sauna rooms, a jjimjilbang would also have all sorts of additional amenities.
At Itaewon Land you can work out at the gym, go online at the computer room, eat at their cafeteria, and watch a movie. There's even a children playground and a library. Other jjimjilbangs have golf ranges, swimming pools, and even concert halls.
You can spend hours there and people do. They are open 24 hours and some travelers even use jjimjilbangs as a cheap overnight option. You do have to sleep on the floor (thin mattress provided) and share the space with other spa goers.
—
The baths of Itaewon Land
I chose Itaweon Land jjimjilbang because it was the closest to where I was staying in Seoul. I paid 6000 KWR ($6) and was handed my 'spa uniform'.
First thing that greeted me upstairs was… a bunch of naked women shopping. That's right. There was a store in the women-only bath/sauna area selling shampoos, masks, and other spa stuff and there were women browsing through these items. In the nudes.
It quickly became apparent that same sex nudity in Korea is truly not a big deal.
(Although the few Western men that have gone to jjimjilbang reported being on the receiving end of some intense stares. And they weren't talking about their faces.)
Never been a part of locker room scene in schools, I felt weird taking off my clothes in front of other people. Fortunately, there was only one other woman in the locker room at the time, eating a 'kimbap' on the locker room floor. She was naked from the waist down.
Putting on my utmost nonchalant face, I did my naked walk to the hot tubs located in a separate room across the floor from the locker room, imagining the stares and ignoring all of the imagined stares.
I'm getting so much better at this public nudity stuff.
My lenses fogged up as soon as I entered the shower room. Through my fogged up lenses I counted 5 different hot tubs and a line of sinks with buckets along one wall.
I get it, wash and then dip.
The hot pools were of differing temperatures. I knew this because theres a thermometer by each pool. There was one that was filled with a brown/rose color at a comfortable 45C. I thought it was tea at first, having previously heard that there was a tea-filled tub in one of the jjimjilbangs. But this one didn't smell like anything. I thought of giving it a taste (I didn't).
After taking a shower and trying the various hot baths, I put on the provided Tshirt and pink shorts. Glad to have some clothes on me, I set out to explore the rest of the building.
Then, the saunas
I quickly learned that sitting still in an overheated room is not what I'd call relaxing for the same reason I don't do yoga: I get fidgety. It's a pity because I think my muscles, sore from my hiking trip in Seoraksan, would benefit from all of this heat.
I checked out all of the different sauna rooms in Itaewon Land. Their sauna collection includes an ice room. The cold temperature is believed to shrink your pores, making your skin look all glow-y and what not.
I desperately needed this pore shrinking property. But I couldn't make myself stay too long here either. It was, obviously, a very cold place.
My favorite was the salt and gravel room. It has an interesting desert-y smell that I enjoyed. I managed to stay in there for 10 mins before I got uncomfortable with the humidity and the sweating. I don't know how some people actually sleep in these sauna rooms.
Then there's the pine room, the clay room, the charcoal room… if you're into saunas, you can definitely spend hours in a jjimjilbang.
It seemed that people go here for what I'd call a complete immersion in relaxing activities. They spend their time sleeping either in the common room or in the saunas. Or they'd just sit and hang out and watch the big screen TV.
I can see jjimjilbang's appeals. Koreans believe in the healing properties of heat. Young couples use jjimjilbang as a place to get away from the prying eyes of their parents. And it's a cheap, all-day family friendly activity.
Personally, I don't get it. I spent 2 hours there (an hour of it was for a massage) and thought it was enough. Obviously, jjimjilbang isn't for me. I guess I prefer to relax in my own home, preferably clothed in my own clothes. And I fidget too much to enjoy saunas.
Nevertheless, it was a very interesting experience. I can't recommend it enough to take a peek into this very popular and very Korean bath and leisure lifestyle.
Looking for other things to do in South Korea? How about climbing its highest peak.
Korean Jjimjilbang experience
How to get to Itaewon Land
: Get out at Itaewond (line 6), exit 3. Keep walking for 5 minutes until you see a long flight of stairs to your right. Itaewom Land is located on top of these stairs. If you see 'Rocky Mountain Tavern', you've just missed it.
Cost: 6000 KRW ($6) during the day. A little bit more in the evening.