Seoul, Korea
I never expected to care much about Seoul. Big cities are never my thing. But Seoul surprised me. It's clean, modern, and easy to travel around. It's anything but seoul-less (sorry, not sorry). Seoul could easily pass for any Western city until I poked my head into the alleys and underground markets and see that underneath the gloss – Seoul is quirky and personable enough to slyly worm its way up to my list of favorite cities.
This is a compilation of my (mostly) unfiltered thoughts about Seoul's most popular sites.
The Love Locks at Namsan Tower
It's hard not to spot Namsan Tower. It's the big needle-like thing that glows blue at night. The view from the top of the Namsan hill was amazing, but I didn't come here for the view. I came to see the padlocks.
There are thousands and thousands of love padlocks covering the safety fence around the base of the tower – left behind my couples as symbol of their forever love. Seoul has many quirky sides, this is definitely one of them.
Insadong
For visitors, Insadong is known as the place to go if you're looking for traditional Korean souvenirs. It can be hard to find real gems among the ubiquitous and cheaply made wooden masks, wallets, and keychains – but they're there. I positively drooled over authentic Korean masks, ceramic works, and beautiful antique furniture.
But over this weird, spirally yellow snack sold at Insadong main drag? Not so much.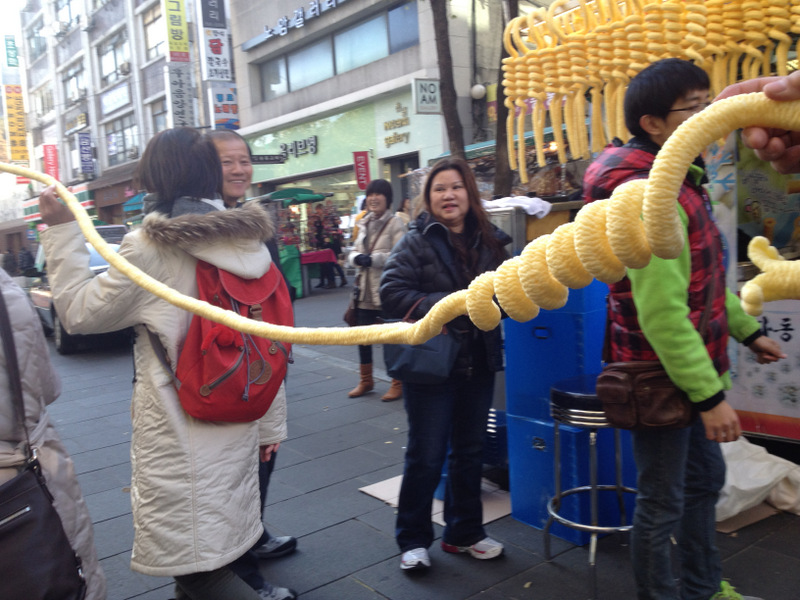 By the way, what's the deal with the lack of trashcan in this very popular street?
Hongdae (Hongik University)
I love, LOVE, LOVE this neighborhood. Located by Seoul's largest university, Hongdae is hip and trendy. It feels like what a college town should be with hundreds of restaurants, coffeeshops (including 24-hr coffeeshops and a cat cafe), and funky galleries and boutiques.
On Saturdays, the park by the university holds an art and craft fair where university students and street artists get to sell their creations. Nightime is when this place comes alive with street vendors lining the alleys and crowds of college students out and about.
If I ever come back to Seoul, this is the neighborhood I'll be staying in.
Seoul's Themed Coffeeshops
I'm all over these themed coffeshops. Other than cat cafes, you can also check out dog cafes, Hello Kitty cafe, monster inspired bakery, and get this, a 'bridal shop cafe' where you get to try out wedding gowns while sipping on lattes and milkshakes.
If the quirky and kitschy is your thing, Seoul won't disappoint.
Itaewon
Itaewon is where Seoul's expat community hangs out. You see more foreigners here than anywhere else in Seoul. I'm so glad I came here after my stay in Hongdae. I wouldn't have fallen in love with Seoul so hard if this had been my first exposure to Seoul.
Not that there's anything wrong with Itaewon. I came to Itaewon at the end of my visit to Korea and I was tired of eating bibimbap and ramen. At times like this, Itaewon is the place to be. Only within a few blocks in Itaewon I could choose between Indian, Egyptian, Thai, Mexican, or any ethnic dish I'd ever want.
Come to Itaewon for the bars and restaurants and the expat-friendly atmosphere.
Gyeongbok Palace
Gyeongbok Palace in winter is a dreary sight. During spring or fall when the trees bear leaves, the palace ground would be quite something to see. But in winter, this unoccupied palace feels a little forlorn and seoul-less (haha, get it?)
The highlight of my visit here was the changing of the guards. It was a big fanfare involving trumpets, colorfully dressed guards complete with bows and arrows, and a really big drum.
Adding to the adorable factor, you might notice that the guards are sporting glued-on beards.
Tip: The first changing of the guard at Geyongbokgung happens between 10 am – 11 am. It repeats at fixed intervals throughout the day until 3pm.
Jjimjilbang
Shed your inhibition and your clothes and step into Korea's most beloved institution: a jjimjilbang (Korean spa). I was a little freaked out by my first jjimjilbang visit but I have since then admitted that I've grown to like the idea. As a matter of fact, I seeked out the one jjimjilbang at Incheon airport during a long layover for a shower and a nap.
Seriously, if you're in Korea, a jjimjilbang is an experience you should try just even if it's just for the sake of the experience itself.
Tip: Itaweon Land (at Itaewon) and Dragon Hill Spa (at Yongsan) are the two most commonly recommended.
Bukhansan National Park
I didn't expect to find a national park with granite peaks and river gorge just a subway ride away from this mega metropolitan city. Bukhansan National Park is a popular weekend hiking destination for Seoul denizens – old and young alike. Hiking Mt. Bukhansan's tallest peak, Baegundae Peak, is a great way to escape the city life (although not the crowd – this hike is very popular).
—
New York has Times Square, Paris has the Eiffel Tower, and Seoul has… well, nothing like that really. But if you like your city with modern conveniences (7-Eleven! Underground Metro!) and hassle free to explore, with a touch of the traditional and the quirky – you might like Seoul as much as I did. If not more.