It took us 2 tries for us to complete Laguna de Los Tres dayhike, one of the most popular dayhikes in Patagonia. But when we made it, it was glorious! Read on to learn about everything you need to know about doing a dayhike to Laguna de Los Tres: our experience, the trail, and the cute basetown of El Chalten.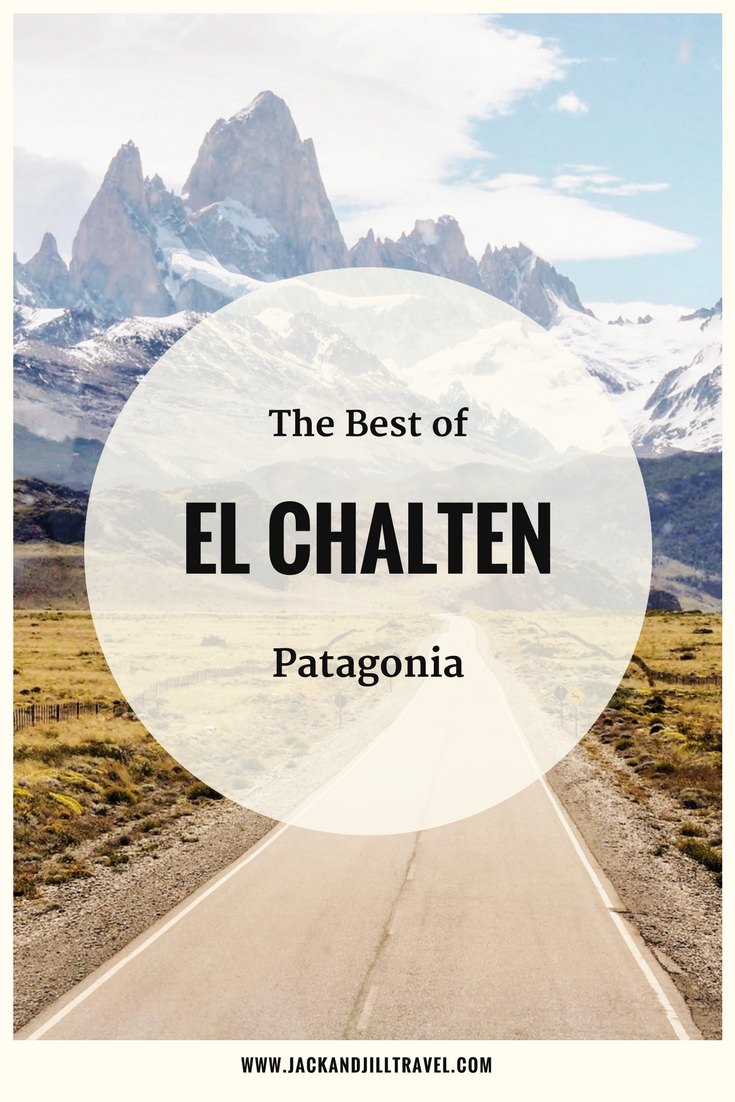 The evening we arrived in the town of El Chalten was the most perfect day. We could see the imposing mountain range hovering over the tiny, colorful town. "You are very lucky," – said the park ranger upon our arrival at the Los Glaciares Visitor Center. "A lot people don't get to see the mountains even when they stay here for a week."
Oh boy, I felt lucky indeed. I was giddy with excitement, I couldn't wait to get out there.
We woke up early the next morning. The resident rooster made sure of that. I ran to the window to look outside only to see water drops on the panes. There was a low hanging cloud over the town that brought lots of moisture. It rained and rained. And it kept on raining for days with occasional brief respites, enough sun just to taunt us but never enough to dry anything. We could see none of the legendary peaks this part of Patagonia is known for. I was bummed and slightly depressed.
Because let's be honest, we came to Patagonia for the sceneries. Getting a dose of Patagonia cowboy culture is just an icing on the cake.
Fitz Roy Ridgline
El Chalten is the gateway to Los Glaciares National Park, Argentina. There are many trails located in this national park but the most popular hike of all is the Laguna de Los Tres, and for a good reason. The hike to Laguna de Los Tres would provide a view of Patagonia's famous Fitz Roy formation. This is the ridgline that forms Patagonia (the clothing brand) logo. The same massif ridgeline that made the news in 2014 when climbers Tommy Caldwell and Alex Honnold traversed all of its 7 peaks in one single, gnarly push (do see the trailer – it's palm-sweatingly amazing!).
If you only have one good weather day in when visiting El Chalten, make a beeline here. (If you have two good days, consider yourself lucky and go check out El Torre hike).
RELATED: Our W-Trek Patagonia packing list
The Unpredictable Weather
On the second day we were in El Chalten, we decided to hike up to Laguna de Los Tres anyway despite the yucky weather. But we were forced to turn around at Poincenot campground, a mile from the end of the trail. It was obvious that there was no use to push further. It was raining and the wind was blowing so hard it felt like it was raining upwards.
On our last day in El Chalten, the weather forecast seemed encouraging so again we set out for our day hike to Laguna de Los Tres. Our spirits were high. The weather wasn't perfect, but it was the best we'd had so far.
When we got to exact same spot where we turned back a few days ago, it was made obvious what had been hidden from us before: a weather system was coming in from the valley. HUGE cloud cover was above us. It started hailing. ZERO visibility. This was our last chance to see the peaks and I couldn't believe our (bad) luck.
"You've got to be FUCKING kidding me!" I scream and shake my fist at the weather god.
There wasn't much to do but sit to eat our lunch and hope for the weather to turn.
I put on extra layers – all of the layers I brought – determined to wait all day if I had to. They say the weather changes quickly in Patagonia. So far in our short experience in Patagonia this is true, however it has always changed from bad to worse. Mountains don't care that you've endured days of travel to see them. They make their own weather.
This time though, it was different. After 40 minutes, clouds were thinning out and we could see windows of blue sky above us. So we decided to forge ahead. This is our last chance after all.
The stretch from Poincenot campground to the end was the hardest strecth of the whole hike. It was a steep, rough trail with runoffs from melted snow making the trail muddy in sections. We went slow but sure, excitement was building up.
As we turned around the corner, we got our rewards.
Trail access from El Chalten
There are many great things about El Chalten (the food scene, for example, is amazingly diverse for such a small town), but for hikers the accessibility of the trails stands out. Trailheads start directly from the edge of this small town.
The El Chalten – Laguna de Los Tres – El Pillar Loop alternative
Laguna de Los Tres can be done as a loop since it can be access from either El Chalten or Hostal El Pillar, 17km north of El Chalten. IF you're planning to hike Laguna de Los Tres as a loop, I highly recommend starting at El Pillar by taking the early transfer from El Chalten (you can arrange this from any travel agents in town). You then end your hike back in the town of El Chalten.
Why not the other way, to start in El Chalten and end at El Pillar? Hostal El Pillar's location is beautiful, but also very remote. When we did this, we couldn't find any taxi to take us back and we had to hitchike back to town. It wasn't a very busy road. The average was about 1 car every 30 minutes which made for a long wait. (Which wouldn't be so bad if it wasn't raining).
—
Mini-guide to El Chalten – the cute little town in Patagonia Argentina
El Chalten is a neat little outdoor hub that's easily walkable from end to end. It's that tiny. There are plenty of tour operators that can arrange guided hikes, bike rentals, climbing trips, or anything else one can think of doing in Patagonia Argentina. Hiking and camping gear can be bought in one of the half a dozen stores in El Chalten as well.
Despite its remoteness, size, and lack of ATM, it has a surprisingly hipster and cosmopolitan feel. There are plenty of drinking holes and restaurants. Credit cards are accepted in most stores and restaurants, but cash still rules.
Where to Eat in El Chalten
Despite the numerous things to do in El Chalten, all involve being outside in good weather. All except eating and drinking. Since it rained for the 4 days out of the 5 we were in El Chalten, we ended up doing plenty of that.
Some of the eateries that stood out:
Maffia Trattoria – homemade pasta, sauce, and desserts. Cash only. So, so good.
El Parador – get one of their ginormous (it's also insanely heavy) sandwiches for your hike. It's enough for 2-3 people.
The bakery attached to Los Cuatro Estaciones Hostel – the empanadas and the chipas (Argentinian cheese balls) here are the best I've had in the whole town.
There are a few mini-markets in El Chalten where you can get basic hiking food. There's not much in the way of fresh fruit and veggies as you might expect, and everything has a high markup. Patagonia is cheap says nobody.
ATM and Money
There's only one (ONE!) ATM in El Chalten located in the bus station and zero bank, so to be on the safe side, bring enough US dollars.
Where to Stay
Hem Herhu – We stayed in one of the cabins at Hem Herhu, conveniently located 2 minute walk from the Fitz Roy trailhead. It's a rustic, simple loft hut owned by a local family. It came complete with resident dogs, chicken (and their baby chicks) and a rooster. At $60 a night, it's a steal.
Recommended Pre-trip Reading
Torres del Paine: Chile's Premier National Park and Argentina's Los Glaciares – For hiking and trekking, Cicerone guides are the best. This is no exception.
Patagonian Road, A Year Alone Through Latin America – a book to get anyone psyched about the landscape and the people of Patagonia. It made want to abandon everything and follow her footsteps!