First, I want to get this out of the way: planning W Trek Torres del Paine in high season was one of the most frustrating things I've ever undertaken. Dealing with various campground companies, their broken online reservation systems, and the dozens of unanswered emails caused moments where I just wanted to say "F*** this, let's just cancel and go somewhere else".
I'm glad I didn't let emotions take over, otherwise… well, otherwise, I would've have been to Patagonia! It was all worth it in the end, I promise.
Now let me tell you some tips on how to plan the W trek, the most famous treks in Torres del Paine, Patagonia. On this post I'll also talk about how to hike W Trek with just a daypack by renting tents and sleeping bags along the way.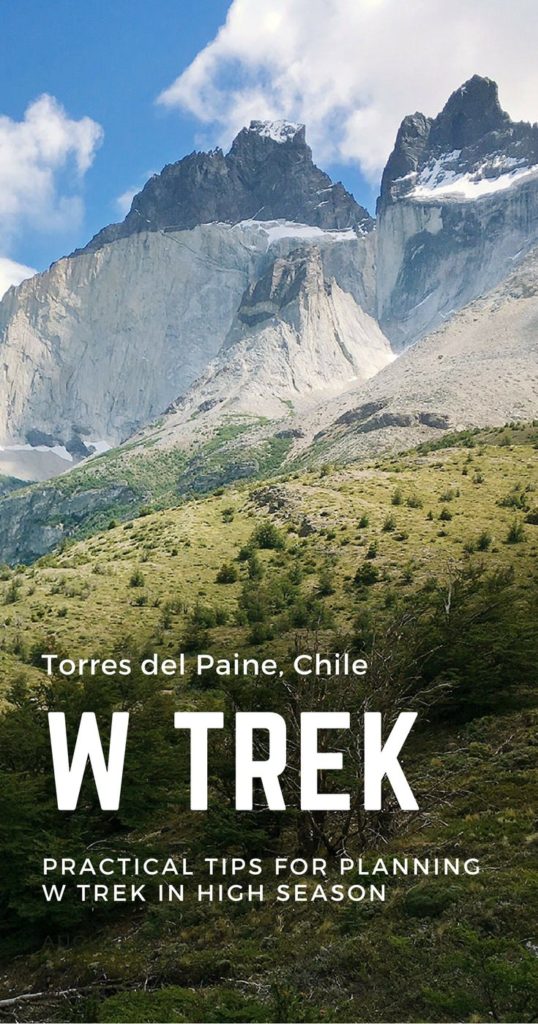 What and Where is the "W" Hike Torres del Paine?
The "W" trail is located in Torres del Paine National Park in Patagonia Chile. Even though the national park has a lot of other trails, the "W" is without a doubt the most popular Torres del Paine trek. Many even claim that it's one of the most beautiful treks in the world, providing views of Patagonia's most impressive peaks such as the Torres and the Cuernos.
"O" vs "W" vs "Q" Trek?
The "W" is called so because of the shape that the trail traces, but the "W" is only a part of the bigger trail network. If you want to do a longer trek, you can look into the "O" and the "Q" which takes you along the backside of the Torres del Paine where it's less crowded and the views are just as spectacular (or so I heard).
Getting to the start of W Trek, Torres del Paine Patagonia
1. First get yourself to Puerto Natales, Chile – the gateway town of Torres del Paine National Park. Coming from San Francisco, it took 4 flights to get there. It's soooo far. Puerto Natales is nicely set up for trekkers with plenty of outdoor stores where you can get supply and rent equipment if you need to.
Don't Miss!
Erratic Rock Hostel gives twice daily briefings on how to plan your W Trek in Torres del Paine. These briefings are highly popular for a good reason! Do NOT miss it!
2. Then you need to get to Laguna Amarga. Laguna Amarga is the park's headquarter and this is where you buy your entrance ticket (21000 Chilean Pesos – high season). From Puerto Natales, you can either rent a car or go by bus to Laguna Amarga. Buses leave from Puerto Natales to Torres del Paine National Park at 7 am and 2:30pm and it takes about 2.5 hours.
3. Once at Laguna Amarga, depending on which direction you're doing the trek, you have a few options:
If you're going East – West: You'll be visiting the Towers at the start of your trek. This is what we did (read our W Trek experience). Take a shuttle to Hosteria Las Torres (or Torres Central Campground). This will cost you 2000 Chilean pesos. After getting your entrance ticket, ask someone where the shuttle is. Instead of shuttle, you can choose to walk this stretch, but you'll be walking along a dusty road… and why?
If you're going West – East: You'll be visiting the Towers at the end of your trek. Jump back on the big bus you came in after you pay the entrance fee, and it'll take you to Pudeto. From here, you'll get on the catamaran (18000 Chilean Pesos) that will take you to Paine Grande where you'll start the trek.
If you're doing the "Q" trek: Don't get off at Pudeto. Continue on the bus until the last stop: CONAF Administration Office. You can then hike to Paine Grande (5 hours).
What is the High Season in Torres del Paine like?
December and January are summertime and the busiest time in Patagonia. If you're going during this period, book your campgrounds as soon as you can. I had my campgrounds booked before I even bought my flight.
December and January also happen to be the period with most rain and the most wind. Oh fun! We got rained on the last 2 days of our W Trek and we were so glad that everything we had was in these lightweight waterproof bags.
I was told that Fall is the best time to visit Patagonia. Fall in Patagonia is sometime between February to April – you get less rain, less wind, and still relatively plenty of daylight hours. And of course, less people too. For all of these reasons I'd recommend visiting Patagonia in Fall.
We had to go in December because we wanted to take advantage of Jack's company's forced shutdown time around Christmas.
How to Book Campgrounds Along W Trek
Wild camping is not allowed in Torres del Paine. You can only stay in designated campgrounds. During high season, these campgrounds are booked months in advance. I made reservation in early August, 4.5 months before our scheduled trek.
The major pain point is the fact that the campgrounds at Torres del Paine are run by 3 separate organizations who don't have a central booking system. This means that when you're trying to book your campgrounds for W-Trek, you'll have to deal with 3 separate companies: CONAF – who runs all the free sites, Fantastico Sur, and Vertice Patagonia – each with its own calendar and point of contact.
Trying to fit your W Trek itinerary with their availabilities was like playing whack-a-mole blind folded. It was next to impossible!
Fantastico Sur and Vertice Patagonia now have online reservation systems
2018 UPDATE! Fortunately both Fantastico Sur and Vertice Patagonia now have functioning online reservation systems that made things a TON easier. Back in my days (mid-2017),
I had to email them
. There was a .doc form involved too. Each email took 3-4 days to answer so as you can imagine, it was a slow process. At one point, Vertice Patagonia had an online reservation up that lasted 2 hours before it crashed. It somehow managed to charge my credit card without sending me or the company any confirmation receipt. What a mess! All in all, it took about 6 weeks of lots of back and forth to get my FOUR nights of camping sorted out.
Both Fantastico Sur and Vertice Patagonia are private companies who run hotels (or refugios) within the park. Each refugio in Torres del Paine also has a campground attached to it. These private campgrounds cost quite a pretty penny but they tend to be cleaner and better managed, they also have little stores that sell food and fuel. After seeing the condition of the free CONAF-run Italiano during the high season, I'd recommend staying at the private campgrounds if you have the budget.
Since I wanted to rent tents and sleeping bags along the way, I had stay on private campgrounds anyway since CONAF doesn't rent out any equipment.
The map below (from CONAF) shows which campground is run by which company.
2018 UPDATE! CONAF-run Torres campground is closed until further notice.
What are the campgrounds along W Trek in Torres del Paine like?
They're actually very nice. We stayed in private-run campgrounds and they're all much posh-er than what we're used to in the States. All Fantastico Sur and Vertice Patagonia campgrounds have showers (and even hot water), proper bathrooms with toilet paper, cooking areas, and sinks to do dishes.
Some campgrounds (we noticed Paine Grande and Los Cuernos) have electricity outlets to charge your gear.
Hiking the "W" With Only A Daypack
Do you know that you can trek the "W" only with a small daypack? We decided to rent camping equipment from Fantastico Sur and Vertice Patagonia, the companies who run most of the camgprounds along the trek. Free from having to carry a tent and sleeping bags means we only needed to take a daypack along the hike to carry our clothes and food. This was so awesome, you guys! Doing a multi-day trek with only a daypack is kind of my holy grail for outdoor adventures, being a lazy hiker that I am 🙂
The tents you get are actually very nice. They're 3 person tent which means there's plenty of space for the 2 of us. If you splurge on a premium plataforma (only available from Fantastico Sur), you get a 5-inch foam mattress that's very comfortable. The sleeping bags were of high quality and they smelled clean (as in they didn't actually smell like anything, which is always good thing). I was expecting something more rustic (I even brought a sleeping bag liner), so I was very pleasantly surprised at the quality of the rental gear.
Don't feel like camping? Don't worry. At refugios run by either Fantastic Sur or Vertice Patagonia you have the option to stay in their dorms. Full board (breakfast + dinner + snack bag) is also available as an add on. A dorm bed + fullboard can cost you up to $200 per day per person though.
Sitio Suelo vs Platorma Premium
Sitio Suelo vs Platorma Premium:
When renting from Fantastico Sur you have the option between Sitio Suelo vs Plataforma Premium. The latter means you'll have the tent set up on top of wooden platform instead of the ground which guarantees that your tent lies on a flat surface. You'll also get premium 5-inch foam mattress vs very thin Thermarest. Totally worth the extra cost in my opinion.
Fullboard: You get breakfast + dinner + lunch provided by the refugios. It costs a whooping $75 per person. Jack and I splurged on a $33 dinner from the Paine Grande refugio for one of the nights because we were just so done with pasta at that point… but there was no way I'd spend $75 per person on food per day. Your mileage will vary of course.

How much does W Trek cost in high season?
The prices below are for 2 people, while renting tents and sleeping bags along the way.
Entrance to Torres del Paine + catamaran
Roundtrip bus Puerto Natales – Torres del Paine: 30000 CLP (15000 CLP x2)
Entrance fee: 42000 CLP (21000 CLP x2)
Catamaran from Pudeto – Paine Grande: 36000 CLP (18000 CLP x2)
Total entrance and transport: $180 for 2 people
Campsites and food
Torres: $65 (camping gear rental + plataforma premium for 2 people)
Frances: $65 (camping gear rental + plataforma premium for 2 people)
Paine Grande: $93 (camping gear rental + basic site for 2 people)
Grey: $93 (camping gear rental + basic site for 2 people)
Dinner at Paine Grande Refugio: $66 ($33 per person)
Groceries: $60
Total accommodation and food: $442 for 2 people
Total W Trek Cost: $622 or $311 per person (Compare this to Peru's Huayhuash Trek which is my favorite trek of all time.)
W Trek On A Budget
Doing W Trek on a budget means bringing your own camping equipment either from home or renting from Puerto Natales. There are a few grocery stores in Puerto Natales where you can stock up (instant soup, pastas, tuna, etc). No wildcamping is allowed anywhere in Torres del Paine so you have to stay in campgrounds. You still need to pay to stay in the private campground (roughly $16 per night per person) except for CONAF-run campgrounds that are free.
Torres del Paine "W" Trek Difficulty
I don't think the W Trek is that difficult. The distances are not overly large and the hike is not at elevation. There's like zero risk of getting lost what with the crowds and well-signed trails. You don't even need to carry water since you can drink directly from rivers and streams!
What makes it tricky is the weather especially the wind. On our way to Paine Grande, somewhere along the shore of Lago Skottsberg, the wind-gusts were particularly nasty and sneaky. It picks up quick and fierce, threatening to knock us off our feet and off the trail. That combined with the rain made for a very wet and thrilling stretch of hiking.
But if you pack light and if you get a good window of sunny days, this trek will be a breeze. A good first multi-day trek for beginners, I'd say.
Your Torres del Paine W Trek Itinerary (5D 4N)
Which Direction Should I Choose?
I decided to hike the W Circuit from East to West (so that's from Torres to Paine Grande) so that the sun will be in our back when we do most of the hiking. Most people do the hike coming from the other direction, the timing of which is optimized for that classic sunrise viewing at the Torres on the last day of the hike. If this is not your priority (remember you have to start walking by 3 am to see sunrise at the Torres viewpoint), I'll tell you… not having the sun in your eyes makes for a much nicer hike.
Assuming East to West direction, if you're planning to do the W Trek in the "regular" way (so 5 days 4 nights), you'r W Trek itinerary would likely to look like this:
Day 1: Puerto Natales – Torres Central
7 am: Bus from Puerto Natales
11 am: Arrive at Torres Central, set out your campsite then a day hike to Las Torres viewpoint.
Evening: Stay in Las Torres campground
Total distance: 19km
Day 2: Torres Central – Frances Campground
Morning: Start walking towards Frances Campground
Evening: Stay in Frances Campground
Total distance: 13km
Day 3: Frances Campground – Paine Grande
Morning: Arrive at Italiano campground, drop your pack and hike up to Valle del Frances viewpoint, back to Italiano and continue towards Paine Grance
Evening: Stay in Paine Grande
Total distance: 14.5km
Day 4: Paine Grande – Grey Campground
Morning: Hike to Grey Glacier viewpoint.
Evening: Stay at Grey Campground
Total distance: 11 km
Day 5: Grey Campground – Paine Grande – Puerto Natales
Morning: Hike down to Paine Grande
Afternoon: Take the catamaran to Pudeto, then bus back to Puerto Natales for a dinner celebration (I recommend Afrigonia).
Total distance: 11km
When it comes time to do the planning W Trek in Torres del Paine, keep in mind the following tips in mind.
Ultimate Tips in Planning W Trek
Do bring gear for all sorts of weather
For the 2 summer weeks we were in Patagonia, we experienced hail, snow, sun, wind, and rain. My biggest tip is instead of bringing your warmest coat, bring accessories such as a hat, gloves, and extra pair of socks. A buff is worth its weight in warmth. If you hike in trail runners, I recommend this pair. They're ugly AF, but they're super comfortable and kept my feet dry on the trek.
See my summer packing list for Patagonia.
Do decide which direction to take
The old words of wisdom was to wait and decide based on weather, saving the best day for the hike to the base of the "Towers". But since 2017, you have to pre-book all of your accommodation along the W Trek in advance so no more playing it by ears. You have to decide beforehand which direction you want to go.
Most people opt for West – East (start from Paine Grande and end at Torres Central). This means you'll arrive at Paine Grande in the afternoon of Day 4, and you can then hike early in the morning of your last day to see the sunrise over the "Towers". A classic Patagonia photo ensues – weather permitting.
If you decide to do this, be warned that this trail to the Torres viewpoint is probably the hardest section of the whole trek, requiring some rock scrambling towards the end. And you'll be doing this in total darkness. Bring strong headlamps (such as this 300 lumens one from Petzl).
If you don't care so much about this whole sunrise thing, it doesn't really matter which direction you choose. What we did? We hiked walk East to West because I like the idea of the sun behind me, highlighting the views in front.
Do make accommdation reservations as early as possible, especially when doing Torres del Paine W Hike in high season
You need to have reservations for all of your nights when doing the "W". I heard they check. In our case, they didn't ask for proofs, they just asked if we had reservations (which we did). Try to reserve your W-trek campsites as early as possible so that you can get all of your days lined up. Like I mentioned, we booked our campgrounds months before I bought our flight tickets. If things change, you can ask for a refund up to 30 days before the reservation's date.
Don't get discouraged if you can't reserve all of your W-Trek accommodations
If you can't get all your campsite reservations lined up, don't worry. You can still see the same famous views and hike the same trails without having any reservations along the W-Trek. You can hike each of the leg of the "W" as a day trip, and coming back at the end of the day to either a hotel or one of the less-crowded campgrounds in Torres del Paine. Having a rental car will make this easier.
Related: W Trek without reservations
Can I tell you something? If I were to do the W Trek again, that's exactly what I'd do. I'd hike the W-trek as a series of day hikes instead of a continuous multi-day trek. It's less pain to organize and you get the best of both worlds in terms of the scenery. During W-Trek everything is up close and personal, but the scenery from multitude viewpoints, doable as day hikes in Torres del Paine NP is just as grand IMO.
Do bring backpacking food from your home country – it'll be a treat!
It's amazing how quickly we got sick of eating instant soup and chips. On our second to last day, I saw a trekker eating one of those Backpacker Country's freeze-dried meals – I could tell from the smell that it was the pad thai flavor, my favorite. Oh gawd, I wanted it so bad I was salivating and licking my chops.
Do take advantage of the long summer in Patagonia
Keep in mind that summer in Patagonia means 18 hrs of daylight. That means there will be enough daylight in one day to walk more miles and potentially complete the W hike in 4 or even 3 days. A pitfall for fast walkers is arriving at your campground for the day too early, with plenty of daylight and nothing to do.
Do be mindful of the sun exposure
Wrap around glasses and sunscreen (I like this reef-safe, mineral sunscreen myself) are a must here. So is a hat with wide brim (and a chin strap).
Do show up at the 3 o'clock talk at Erratic Rock Hostel in Puerto Natales
Everyday Erratic Rock Hostel holds a talk on how to plan "W" Trek – simply called the "3 o'clock talk". They've been doing this talk every day for years. We were impressed at how much information the 1.5 hour talk covers. They do a breakdown of what to expect on the trail day-by-day, with tips on what to pack, and how to pack. The talk is held at their gear store so you can pick up any rental equipment you need as well. We found the talk very useful and thorough. I highly recommend making the time to attend.
2018 UPDATE! This talk is so popular they started offering it twice a day: 11 am and 3pm.
Do keep in mind that you can rent everything at Puerto Natales
There are so many outdoor stores in Puerto Natales (even hostels rent out camping equipment) that it's more than possible to rent everything one needs for the W Trek upon arrival. Erratic Hostel even rents out drinking cups (which we needed). This is useful to know if you're coming to Argentina or Chile for other things than just to go trekking. There's no point in carrying camping gear from home if it's just going to be deadweight for the rest of the trip.
Don't bother with a bag cover.
You know those flimsy pack covers they sell for like $30 at REI? I think they're useless. Sorry. The guide at Erratic Rock who's done these hikes dozens of times echoed my sentiment. Just organize your stuff into separate dry bags (like these or even trash bags) and don't worry when your backpack gets wet. It's ok. It won't melt or antyhing.
Hiking Uniform
The guide also suggests having 2 sets of clothes: a wet and a dry uniform. That means 2 sets of underwear, 2 pairs of pants, etc. You wear your wet uniform when hiking. If you get rained on, so be it but at least you'll have your dry uniform to change into in camp. The next day, you suck it up and put on your wet hiking clothes, keeping your dry uniform nice and – well – dry in your backpack.
Do bring your credit cards (along with cash) on the trek
I was surprised to find that the stores along W trek take credit cards! It was definitely handy because you might need to get additional supplies along the way and everything was more expensive than one might think. At the same time it made it easy to overspend. I'm not sure if I would've splurged on a $33 dinner at the refugio if they didn't take credit cards. Smart move on their part.
Do plan to spend at least one day in Puerto Natales and surrounding area
Puerto Natales was a neat little town with a brewery and great restaurants. I mean, I get it. You come to Patagonia for the trekking, but I recommend putting aside a day to visit an estancia in Patagonia, a working ranch where you get to see how Patagonia cowboys (gauchos) work and live. Some (like Estancia La Peninsula) even offer multi-day treks as an alternative to Torres del Paine's popular "W".
Do enjoy the freedom of drinking directly from rivers and streams
I got so much kick out of this! There's nowhere else I'd been to where I can drink clean glacial water directly from the source. This also means that we don't have to carry much water in our pack since there were so many water sources on the trail: rivers, streams, mini waterfalls…
If you're in doubt or have a particularly sensitive stomach, something like a Lifestraw ($15) could come in handy.
I do hope it will stay this way for a long time. You can do your part by peeing at least 200 ft away from water source and wait for a latrine for the rest.
Do check for latest development
From what I can tell, the situations regarding Torres del Paine's W Trek can change as often as Patagonia weather. Campgrounds close, requirements added (the thing about requirements, they always get added but never removed), etc. CONAF is your best source of information.
Our W Trek Packing List
See this post for a complete list of our W Trek gear.
Things we were SO GLAD we had with us:
Buff – who knew that a simple fabric tube can be so useful? If I were to do it again, I'd opt for the merino wool version for better warmth and breathability.
Sunglasses – when it's sunny, it's really sunny out there.
A regular baseball cap – to keep the worst of the rain and sun off your face
Patagonia Nano Air (hers) – quick drying synthetic insulation for warmth when it's wet OR dry.
Arc'teryx Atom LT Hoody (his) – He slept in it, hiked in it. Jack practically never too this off.
Lightweight dry sack – we didn't bother with a pack cover, instead we divided our stuff and put them in these water proof bags. It's a great way to keep things organized and dry!
A day pack – as opposed to a full on pack. If you have the extra budget, splurge on renting equipment along the way. So worth it IMO!
—
Hope this brain dump helps you in planning your Torres del Paine W Trek. It's a bit of a pain to organize and it's so, so, so far (it took us 4 flights to get to Puerto Natales from San Francisco!) But it's definitely one for the bucket list. I've done a few treks myself and the "W" trek sits comfortably in the Top 10, with good companies such as The Huayhuash Trek (Peru) and John Muir Trail (USA). You can read our day-to-day breakdown of our "W" trek experience here.
If you've got any questions, let me know.