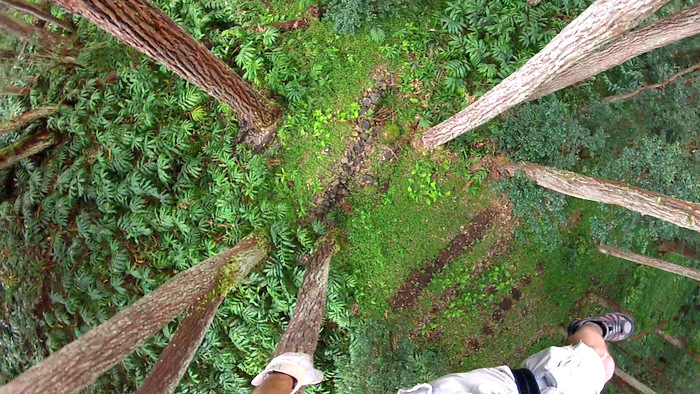 Big Island, Hawaii
As the lush Hawaiian jungle whiz past me, 100 feet below, I try to scream. But it was laughter that come out of me. Some people are screamers, I laugh when I get excited.
I love the sensation of flying through the air, seeing the blurry ground as we made our way from one tree to another hundreds of feet above the ground.
Maybe I'm getting in touch with my evolutionary ancestor?
The course at Kohala Zipline takes us through leafy eucalyptus branches and tree trunks, from one wood platform to another. There were a total of 9 ziplines, 3 hanging bridges, and 2 rappels in the course.
If you think ziplines make for tame experience, some of the ziplines here go so fast and so long you'll change your mind (more on this below).
I thought the scarier part wasn't the zipline itself but the hanging bridges. While the guides practically ran across – I wobbled my way across semi-blind, the weight of the GoPro pulling my helmet over my eyes and recording a thrilling sight of my chest.
(Did you expect a chest shot? Sorry.)
While we waited on the platforms for our turn, our guides Nui and Jason kept things exciting. Jason, a curly headed blond and a Hawaiian born and raised, filled our ears with Hawaii trivias:
Do you know that Kamehameha, the king who united all of the Hawaiian islands, was such a strong warrior he could catch a spear mid-air AND used it to knock back other spears heading his way? I mean, Kamehamea was like the Hawaiian Nero.
Or…
What's the deal about 'kukui' (candlenut), Hawaii state tree? The nuts have a very high oil concentration and can burn for a long time. The Polynesians thought these would make handy torches and brought them on their journey across the ocean and introduced the trees to Hawaii.
Interesting, eh? See, just because you're on a tiny platform, hundreds of feet above the ground, doesn't mean you can't learn something new.
The last zipline was our favorite: it's a tandem! Jack and I got to go side by side. It also happens to be the longest and at 10% pitch, the fastest line. The guides weren't allowed to call this part a 'race', so technically, Jack and I weren't racing. So technically I wasn't kicking Jack's butt on this 'non-race'.
(Disclaimer: What you don't see is Jason giving me a push right before we start. Thanks, Jason!)
This was the first zipline course Jack and I have ever been on. We loved it! We thought it was the type of soft-adventure that has something for everybody. It'll challenge those who are timid and it'll provide thrills to those who tend to seek it.
So when you're in Big Island and you're looking for an adrenaline rush – try ziplining. You'll get the rush you're looking for and learn a bit Big Island's history and nature as well. We certainly did.
Have you ever gone ziplining before?
While in the Area
Kohala Zipline is located on northern part of Big Island, the Kohala coast. Make a day out of it: don't forget to check out the lookout point over Pololu Valley. Then grab fish tacos at Gill's and explore the quaint town of Hawi.
Thanks to Kohala Zipline for hosting us and for not yelling too hard at us for failing to break in time (we do love to go fast on these lines).
.