Below is a guide on how to do Ala Kul and Altyn Arashan Trek in 2 days. The Ala Kul trek rewards hikers with a turquoise lake surrounded by glacier-capped mountain peaks and is one of Kygyzstan's most popular hikes.
Most people do the Ala-Kul trek in 3D/2N. But what if you're only visiting Kyrgyzstan for a short time and you don't want to carry bulky camping gear? Well, sit tight because I'm here to tell you that:
IT IS possible to trek Ala Kul in 2 days
AND with only a daypack. No tent/sleeping bag needed.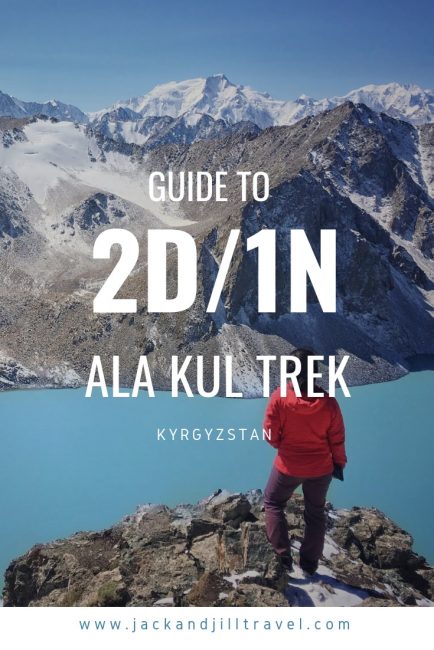 I did the Ala Kul hike in 2 days with just a daypack in early September. It was the end of summer and I could feel the change in weather. I barely slept at the basecamp because of the cold and woke up to fresh dusting of snow covering the peaks above us. It was actually very pretty.
But let's not get too ahead of ourselves… let's take a look first at what you need to hike Ala-Kul in 2 days.
Ala Kul Overnight: The Essentials
Fitness Level: Moderate. I go hiking a little bit more than average people, but compared to people that I hang out with, I'm probably the least fit. I consider Ala-Kul hike moderate in difficulty because of the altitude and trail condition. I think anyone can do Ala-Kul trek, especially if you do it they way I did. You know, the lazy trekker way with just a daypack. Take your time and this is important: breathe.
Weather Condition (Important!): Hiking Ala Kul without carrying any gear (tent, sleeping bag, etc) is only possible because of established basecamps set up for hikers along the trail. These camps only operate in summer (July/August). If in doubt, check with Visit Karakol or Duet Hostel for the latest information.
Closest Town: Karakol. I stayed in Duet Hostel and can recommend it. It's very popular with hikers and they were able to answer all my questions and arranged a taxi to the park (700 soms/car).
Cost (as of 2018)
Make sure to bring enough cash.
Taxi from Karakol to national park: 700 soms/car
Entrance fee to national park: 250 soms
Yurt/tent at Sirota basecamp: 1000/400 soms
Sleeping bag: 200 soms
Meal (dinner/breakfast): 300 soms each
A private room in Altyn Arashan (optional): 900 soms
Packing List for Ala Kul
Water Purifier – I used tablets to purify water along the trail (like this one). I only had a 1L bottle with me and I found that there was always water when I needed it.
Snacks – Food was available for purchase at basecamp and also at Altyn Arashan. But I was glad that I had brought one of those freeze-dried meal from home (Backcountry Pad Thai, in case you're wondering) and plenty of snacks. I needed the calories. Whenever I do multi-day trek, I eat, like, all the time.
Maps.me – This free offline map (available for iOS/Android) has been super useful in my travels. Even though Ala-Kul is one of the most popular hikes where you will encounter other people, it was still nice having a way to tell where you are and how far you still have to go. I found maps.me very handy on this particular trek because I was traveling slightly off-season and I was often by myself.
Sleeping sack – Because I doubt they wash those sleeping bags every day. Also, extra warmth.
Misc – Extra layers (beanie and gloves) for warmth. Wet wipes. Hiking boots with good traction. A lot of hikers use trekking poles, but I've never found them that useful.
The Itinerary Breakdown
The regular Ala Kul 3D/2N itinerary usually looks like this:
1. Take a taxi from Karakol to the 2nd bridge inside Ala Kul National Park.
2. 2nd Bridge to Basecamp (there's a basecamp both before or after the pass). It takes about 3 hrs to get to the basecamp before the pass. If you want to camp next to the lake (better view, but colder and windier), it will take you a further 1 hour to get over the pass.
3. Basecamp to Altyn-Arashan (8 hrs). Spend the night at this resort town and take advantage of one of the hot springs, either public (free) or private.
4. Altyn-Arashan to the road (4 hrs), and take a marshrutka or taxi back to Karakol.
But it is possible to actually take a 4×4 jeep out of Altyn-Arashan straight to Karakol, basically eliminating Step 4. I arrived at Altyn-Arashan around 2pm and I still had enough time to soak in a hot spring if I had chosen to before getting on the 4×4 jeep.
Day 1. Karakol to Sirota Basecamp. Total hiking: 9 miles, 5 hrs
8am: Karakol to 2nd bridge (taxi)
When we got to the park, we had to pay a small entrance fee. Back to the taxi and then a short but rough drive to the 2nd bridge. From here, we started walking. I did this part of the hike with a Belgian woman that I met the day before.
After a couple of hours of uneventful and somewhat boring hike that roughly follows the right bank of a river, we came across a wooden bridge. Cross the bridge, and follow the path of least resistance. There were many criss-crossing dirt paths here but I believe they'd all merge into one (I followed maps.me as a general guide). Up and up we climbed for a couple of hours until we finally arrived at Sirota Basecamp.
2pm: Arrive in Sirota Basecamp
The basecamp consisted of 3-4 yurts that sleep 4-5 people each. There were sleeping bags and mats available to rent from the camp host. They weren't the best quality so I recommend bringing an extra layer of clothes (and beanie and gloves). It was also first come first serve, so if you know you'll need to rent stuff, get there early. Cold beer and food was available to purchase from the camp host.
PSA: Toilet alert!
There was no established toilet and the area surrounding the basecamp was covered in half-buried human waste and toilet papers. Guys, I've seen plenty of gross but this was something else. Please make sure to bury your waste and pack out your toilet paper. I mean, c'mon people. How hard is it to bury your poop? If you know you'll be doing this trek, you might even consider bringing a wag bag from home.
Day 2: Basecamp – Altyn Arashan – Karakol (jeep). Total hiking: 9 miles, 7 hrs.
7am: Early start
Because I've heard that this was a hard, long stretch, I started out early at 7am. After a quick breakfast of omelette and tea, courtesy of basecamp host lady, I started walking. And immediately got lost.
The fresh snow that came down overnight has covered the trail. Along with a few other early risers, we slowly picked our way among slippery rocks, choosing the path of least resistance. Thanks to maps.me (I can't recommend this free app enough for this hike) we managed to stick pretty close to the official trail.
Ala Kul is located in a depression – like a bowl or a crater lake. As our path took us traversing along the north wall of the bowl, our view of Ala Kul got better and better. It was slow going since the climb was relentless. For many, this stretch was the hardest part of the whole Ala Kul hike.
After what felt like an endless slot, around 11am we arrived at the highest point of the trek. Whoa! What a view!
11am: Topping Out
Ala Kul lies beneath our feet and behind the pool of turquoise water was the snow-capped peaks of of Ala Too mountain range. This view was worth every breathless step we took to get there.
12pm: A Yucky Descend
After we reached the the top of the second pass, I got to see our descend. At first I couldn't believe my eyes: there was no trail! It was a sheer double-diamond drop of loose dirt and rocks on the other side. I mean, can this gross-ness really be our way down?
There were 2 Dutch guys with me and they both had walking sticks, so I let them go first. I followed in their footsteps. Each step caused me to slide down 3-4 feet, carrying a portion of the mountain with me. Rocks immediately filled my shoes. However, after a few tentative steps, I got the hang of it and it started becoming kind of fun. "Woop!" – I yelled and started picking up my pace, making sure I landed firmly on my heel with my weight way back so I don't catapult myself. I slipped once and landed on my butt, but the slope was so steep such that I immediately bounced back up again.
3pm: Arrival at Altyn Arashan
After an exhilirating descend, came the long, loooooong, walk along the valley to Altyn Arashan. Soon I was walking by myself, ahead of the Dutch guys. I was following maps.me and the trail was very clear so I didn't mind.
After hours of quite monotonous walking, I finally saw the small resort village of Altyn Arashan. What a welcoming sight it was. I was SO done walking.
The village consisted of a few hotels along the Ak-Suu river. There were wooden cabins built around pools fed by natural hot springs. You can go to one of these cabins and soak in the pool for a small fee. There's also a free public hot spring further out of the village.
5pm: Jeep to Karakol
Upon entering Altyn Arashan, there was a Russian mini-van with a hand-written sign on the window that says "Karakol". It costs 4000 soms for the whole car to go to Karakol. I decided to have lunch and just relax at one of the guesthouses in Altyn Arashan to wait for more passengers. Sure enough, after a couple of hours, 3 other people joined.
The ride out from Altyn Arashan turned out to be extremely exciting. It was the most insane road I'd ever driven on. The road was deeply rutted there were moments when I thought we'd flip over. Then there were stretches where we were driving over soccer-ball sized river rocks. It was so bumpy and rough and fun, I was grinning ear to ear. I was so impressed what this breadloaf-shaped rust bucket could do I immediately texted Jack, "Next van trip, forget getting a Sprinter. We're getting a UAZ."
7pm: Back in Karakol
The jeep dropped me off in front of Duet Hostel and funnily enough… I didn't feel that tired. I mean, my legs felt warm as they should after a long day out, but I wasn't destroyed. I guess that's the plus side of not carrying any camping gear.
All in all, Ala Kul was worth the trek. If you had more time, spending the night at Altyn Arashan to soak in the hot springs could be worth the extra day. I was glad that doing the Ala Kul trek in 2 days was an option though, because I'd rather use the extra day to do other things in Kyrgyzstan.
Now that I have an extra day in Karakol, what should I do with it?