Yellowknife, Canada
There's something absurd about the whole endeavor of chasing the northern lights. Why travel so far north (more north that we'd ever been), to be outside in freezing cold (colder than we'd ever experienced) in the middle of the night just to see particles react with earth's atmosphere? Absurd!
I thought as much myself as I waddled over to the car at 1 am in the morning, swathed in so many layers I could barely buckle myself in.
The car's thermometer was registering -32 C (-23F), it was cold enough that your nostrils stick together when breathing. A cup of leftover Tim Horton's coffee is frozen solid in the cup holder.
Despite the brutal cold, I was both hopeful and optimistic. Could today be the day?
But let's backtrack a bit to learn about how we ended up here in Yellowknife – on the 60th parallel, 250 miles south of the Arctic Circle.
I've wanted to see the northern lights ever since I learned that they existed. But the logistic of organizing such a trip had always intimidated me. Although to be honest, it was mostly the cold and the uncertainty of it all.
Then early this year the curse happened (Jack calls it the curse – it's when I drive myself and him crazy obsessing over an idea and the only cure is to make it happen). I felt that 2014 is the year that I have to cross off this old bucket list item. Not 2013, not 2015. I have to see the northern lights. Like now. Patience is overrated.
A shout out on Facebook on where to go see the northern lights resulted in the usual suspects: Iceland, Norway, etc. Then someone PM'd me. "Come to Yellowknife. I see the Northern lights all the time out of my living room window." My first reaction was, "Where the heck is Yellowknife?"
Far from being an unknown frontier town in the Northwester Territory, Yellowknife is a known place for aurora hunters. Especially among the Asian tourists. Thousands and thousands of Japanese tourists flock to Yellowknife every year for a chance to see the lights.
Here's one fact about Yellowknife: due to its location and flat geography (and lakes for that whole mirror effect), Yellowknife is one of the best places in the world to see the northern lights. As of a matter of fact, as long as it's dark and clear, you're almost guaranteed to have a show.
So anyway, not that I don't want to go to Iceland or Norway, Canada just seemed easier and less committing (this was before I learned that it takes 2 layovers and 12 hours of travel to get there).
So that was the long story short.
Back to the cold, cold car.
The day started out as a day as unpromising as it could be; it'd been a cloudy day and the forecast promised even more clouds throughout the evening. We were watching the live cast of a webcam overlooking the sky over Yellowknife when all of a sudden there was a break in the cloud.
Jack was already putting on his layers. "Let's go!"
And that was how we found ourselves 1:30 am in the morning in the middle of a frozen lake craning our necks upwards.
And we got lucky.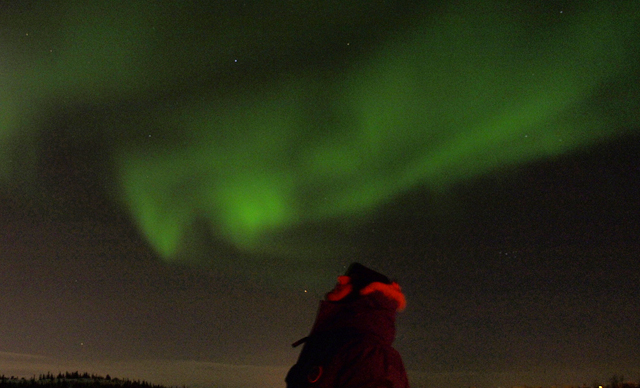 5 minutes upon arrival, the faint greenish glow of the northern light hanging overhead started to intensify. Streaks of bright green and red shot across the sky as the whole thing started to flicker and danced: they filled the sky only to fade away and appeared somewhere else.
I'd seen countless videos before this but seeing it first hand just blew my mind.
I quickly abandoned the effort to take pictures (thus the crappy pictures – who knew that cold + naked fingers = SO MUCH PAIN!). There was no way I was going to miss the sight.
I'm at a loss of words to describe exactly what we saw, but it was just… sigh. Incredible.
It was the kind of spectacle one expects to have a crowd of people watching and cheering, you know? But the fact that we were all alone out there somehow made it feel… special. In an almost illicit way. In a "Should we be doing this? How come we're the only ones out here?" way.
I was so happy I felt like I could explode.
Every now and then I got a strong reminder from the universe of how lucky and privileged I am: to be able to make my ambitions (dreams, wishful thoughts, decades-old bucket list items) a reality and to be married to someone who lets himself be dragged to various corners of the world to share them with.
That night was one of those times.
—
Have you seen the northern lights? If not, do you have any plans to?
A special shout out to my host and reader, Ashlee, for helping to make this trip happen. And to Aurora Village for supplying us with the clothes one needs to survive aurora hunting and a night out at their beautiful lodge.
Mini Guide to Yellowknife
Where to stay in Yellowknife:
Eric and Eva Guesthouse. Quite possible the cheapest place to stay in town ($80 – tax and breakfast included). Lovely couple and lovely house. The only drawback is that it's further away from town so having a car is necessary.
Alternatives include:
Narwal B&B – rooms from $90/night
Bayside B&B – rooms from $90/night
Where to eat in Yellowknife:
Bollocks Bistro. Expensive (like most things in Yellowknife). But worth a visit for its northern specialty seafood: northern pike, pickerel, etc.
How to see the Northern Lights in Yellowknife:
– Go with a tour operator like Aurora Village that owns a camp/lodge outside the city. They'll pick you up at one of the downtown hotels and take you to their lodge. The most convenient and comfortable option.
– Go with someone like Joe who drives far and wide looking for a clear patch of sky. On days with clouds on the forecast, this would be your best option.
– Get a rental car and do your own adventure. On a clear night, all one has to do is drive far enough out of the city lights to see the light. The pics we took was from a lake where the snow castle is – a mere 5 minute drive from downtown Yellowknife. Fore a more remote location, check out Vee Lake.