Bugaboos Provincial Park, British Columbia, Canada
Sometime last year we became obsessed with the idea of climbing the West Ridge of Pigeon Spire. This technically easy, but exposed climbing route is located in Bugaboos, a little-known provincial park nestled on the eastern side of British Columbia, 2 hours away from Banff, Alberta.
This summer, we made it happen. We got ourselves a couple of housesitters (fellow travel bloggers, @nevendingvoyage), kissed the cats goodbye, and stuffed the content of our closet into 4 backpacks, and took off to Montana.
We drove through Glacier National Park (you can read about it here and here), crossed the Canadian Border (Where are you going? Bugaboos? Where's that?), and after driving on 20 miles on dirt road (you haven't really lived until you have giant logging trucks careening towards you out of billowing dust clouds, phantom-like), we arrived in the parking lot of Bugaboos Provincial Park.
This is the story of what followed next.
The parking lot – Reason #1 of Why We Should've Bailed
100 reasons flew at us of why we should leave Bugaboos and forget the whole climbing trip. They came in the form of flying beasts: my nemesis, the mosquitos. We were trapped with no DEET-powered defense. I could see them through the windows of our car. 'Thump, thump,' we could hear them stupidly banging themselves against the glass demanding our blood.
With each 'thump' the idea of bailing sounded better and better until Jack reminded me that we just spent $500 on ice axes and crampons specifically for this trip. And oh, he's ripped off the price tags.
Aaarrrgh!
The hike – Reason #2 of Why We Should've Bailed
If either of us had bother to read the guidebook, we would've known that the campsite is located 2 miles away from the parking lot. Under normal circumstances, a 2 mile hike is not so bad, even with a full pack filled with camping gear, climbing gear, and food. However, warning signs at the trailhead warned us that the trail is steep, hella steep.
As in 750 meter steep or 2400 feet in elevation gain. It was so steep that at one point the trail crew didn't even bother trying and set up a ladder instead.
The mosquitos – Reason #3 of Why We Should've Bailed
Soon our faces were covered in dead mosquito bodies and blood. Our own blood. My shoulders and upper arms were swollen from mosquito bites. I'm slightly allergic to mosquito bites so each bite swell into a quarter sized bump and itched like a motherf***r.
We had to hike fast. Whenever we slowed down the mossies pounced upon us like a net. We were exhausted from the climb and the weight of the pack. Walking slightly ahead of me, I could see Jack's head covered in a cloud of mosquitos.
I'd never hated mosquitos as much as I did that day.
Reason #1 Why It Was All Worth It
When we reached Cain Hut we had the option to stay at the lower Boulder Campground, or at Applebee, a more scenic but a further 45 minutes uphill. Unanimously we headed towards the lower campground. We took turns setting up camp and cooking while the other stood guard against mosquitos, assassinating any that dared to come close.
We ate dinner insider our tent with a view of Bugaboo Glacier right outsider our tent and watching the alpine-glow kissed peaks beyond.
With stomach full of warm food and away from mosquitos, life was good again.
I remember falling asleep wondering if it would ever get dark outside.
Reason #199 To Have Tape Around
It dawned on me the morning of our climb that I left my contact lenses in the car, a 4 hr miserable trek away. I don't like wearing sunglasses, but on a snowfield they're necessary to prevent snow blindness. What to do?
I ended up popping out the dark lenses and tape them over my regular glasses. Ghetto? Yes. Heavy? So, so heavy. My Asian nose isn't built to support glasses, not to mention ones with double lenses. But it worked!
(if you look closely you can see the climbing tapes around my glasses)
Walking on Ice
Both Jack and I had little experience traveling on snow, so it was with much trepidation we climbed up the steep, ice covered column between 2 spires to gain the upper Vowell Glacier that would eventually lead to the Pigeon Spire.
I was reviewing all the different types of self-arrests in my head, just in case I slipped and started sliding. I was totally focused on that and the placements of my crampon-clad feet and my ice-axe, I forgot how steep the slope was.
We got rudely reminded of how steep it was on our way down.
And again when I saw this picture. Eeeek! So glad I didn't look down on my way up.
More ice and more spires
After we gained the upper icefield, we could better see how Bugaboos truly could be the world's best alpine playground. We found ourselves standing on a field of ice and glacier, surrounded by giant, granite spires each begging to be climbed.
The best toilet with a view
And the award for 'Best Toilet With A View' goes to…
The Exposure of the West Ridge of Pigeon Spire
Someone, somewhere, once said that the West Ridge of Pigeon Spire is the world's best 5.4 climb. (Just for comparison purpose, in climbing gyms, someone who hasn't climbed before can easily climb a 5.8 route).
But what makes this route so awesome is the exposure. So sure, 99.9% of the time you won't fall off a 5.4 route. But say you trip over your own feet, you'll probably die.
Butt scooting it up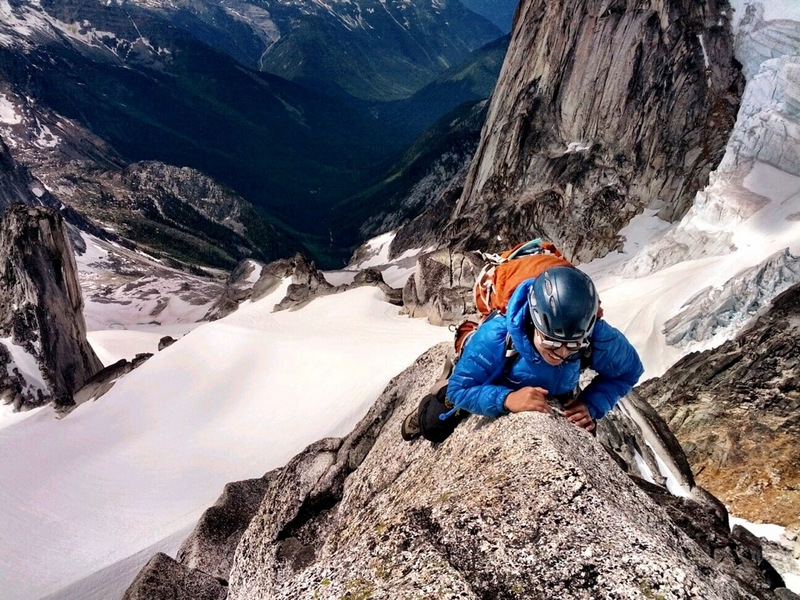 There were a few sections where the ridge is a knife-edged section. Straddling both sides of the spire, we had to scoot up on our butt. I tried not to think of the hundreds of feet drops on either side.
And how ridiculous we must've looked.
More Climbing – Reason #1 to come back to Bugaboos
There's something about pushing yourself to the limit (and surviving it) that's addictive. I thought that our short time in Bugaboos we pushed ourselves on many fronts: the hike, the climb, the glacier travel. It wasn't the smoothest-sailing trip but we sure got plenty of stories out of it.
I'd love to come back after we gain more experience in both climbing and glacier travels – more routes would be accessible and maybe I won't be so scared of falling into crevasses.
Revenge – Reason #2 to come back to Bugaboos
We'll bring a gallon of DEETS along. Or maybe one of these rackets. (If you've been to Asia, you probably recognize this.)
And then revenge would be OURS! And it will be sweet!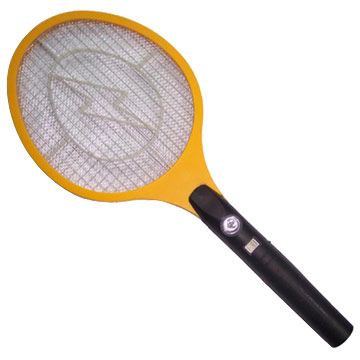 Bugaboos Camping Situation
Camping in either Boulder Campground or Applebee Campground is $10 per person.
Camping in Boulder Campground is actually rather nice. There's a wooden platform to put up your tent. There are food lockers and a place to hang your bags. There's no convenient water source so you either have to trek up to Cain Hut or get water from drainages along the trail from Cain Hut. There's one shared outhouse. The only drawback is that it adds 30-40 minute uphill trek to all of your approaches.
Staying in Cain Hut (full equipped kitchen, living room, the life!) is $25 per person. Weekend reservation is recommended.