I went to Toronto for a travel conference a few weeks back. Toronto is a nice enough city but soon I felt a familiar antsy feeling.
The more I travel the more I realise that I'm not much of a city person. However much I enjoy exploring a new city, I get a little antsy after awhile. I need to head out to be among natural sceneries to recharge – otherwise I get cranky. (Jack can attest to this.)
Fortunately only 2 hours north of Toronto lies Ontario's most pristine wilderness. I was invited with a few of other travel bloggers to experience 'a sampler' of this wilderness.
If there's one word I can use to describe Ontario's wilderness it will be 'water'. This region north of Toronto has more lakes, rivers, and islands than one can count. You'll see what I mean below. If you're an outdoor lover, you'll have plenty of things to do in Ontario. Especially if you're into canoeing or kayaking.
Algonquin Park
Algonquin Park is Ontario's first and most renown provincial park. Algonquin Park is a haven for canoeists and fishermen. Canoeing in Algonquin Park allows you to go explore its many rivers and lakes.
Even though it's a very popular park, you're likely to find yourself in Algonquin's backcountry with only your canoe as company. The park, after all, has 1200 miles of canoe routes. Plenty to share.
Moose and wolves are abundant in the park. As of a matter of fact, in August the park holds an activity called "the Wolf Howl". This is where a naturalist leads park goers to where a wolf pack was last heard, and starts howling. If you're lucky, the wolves will howl back. I'd never heard a wolf pack howling before but I'd sure love to hear it at least once in my life.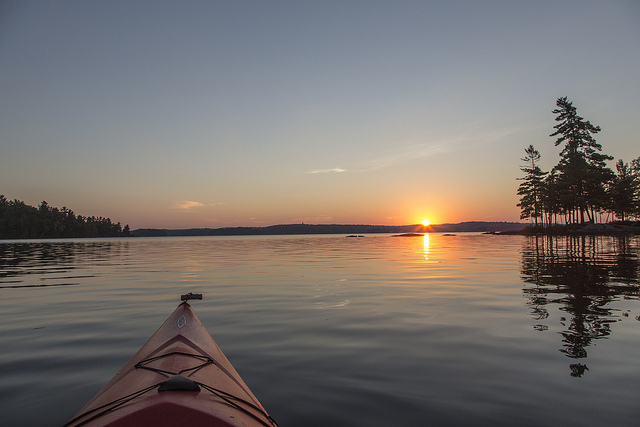 Georgian Bay, That's A Lot of Islands
Georgian Bay is another water paradise for those seeking a wilderness experience in Ontario. 30000 islands dot this bay making Georgian Bay one of the world's largest freshwater archipelago. As we kayak around between the islands, I was reminded that we were right in the middle of what Ontarians call 'cottage country', a popular destination to escape from the hustle and bustle of city living. Many of the islands hold a vacation cottage or more offering their owners waterfront view.
To experience real wilderness, escape to Georgian Bay Islands National Park which land is government-protected natural areas. Only camping is allowed here.
Our guide told us in the winter, part of Georgian Bay is covered by ice. But that doesn't stop nobody from exploring. Instead of a canoe, you don a pair of cross country skis and off you go. I'd always lived in places without a season so the idea that the a water mass as big as Georgian Bay can freeze over was mind blowing.
You don't even need to like being around the water to enjoy the region. There's miles of hiking and mountain biking trails in the area. Perfect for those – like me – who think that water is all nice to look at but not to get too close to.
All you need is a sense of adventure, the love for the outdoors, and very strong mosquito repellent.
My time up there in Ontario's wilderness was the highlight of my time in Ontario.
To be among nature and friends, I couldn't be happier.
Now fully recharged, it was time to head back to Toronto and dive in into the hustle and bustle of the conference.
Do you often feel the need to escape city living and where do you go?
A mini guide to Ontario's wilderness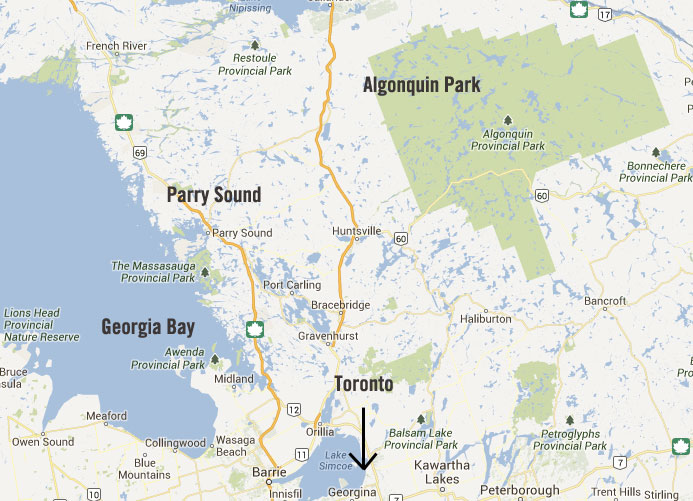 OUTFITTERS
Algonquin Outfitters
Lake Opeongo, Algonquin Park
www.algonquinoutfitters.com
White Squall Paddling Center
53 East Carling Bay Rd. Nobel, Ontario
www.whitesquall.com
Muskoka Outfitters
271 Ecclestone Drive, Bracebridge
www.muskokaoutfitters.com
MOUNTAIN BIKING TRAIL
Buckwallow Cycling Center
North of Gravenhurst, Ontario. Exit 175 and follow directions to KOA camp ground.
ATV RENTAL
Bear Claw Tours
www.bearclawtours.com
ACOMMODATIONS
Sunny Point Cottage
41 Sunny Point Road, Parry Sound
www.sunnypointresort.com
The trip and some of the pictures are provided by Explorer's Edge.