One of the things I looked forward to the most when we decided to spend one month in Bulgaria is to explore Pirin mountains. In particular, I was interested to hike Mt. Vihren and the Koncheto Ridge: two of the best hikes in Pirin National Park that came highly recommended.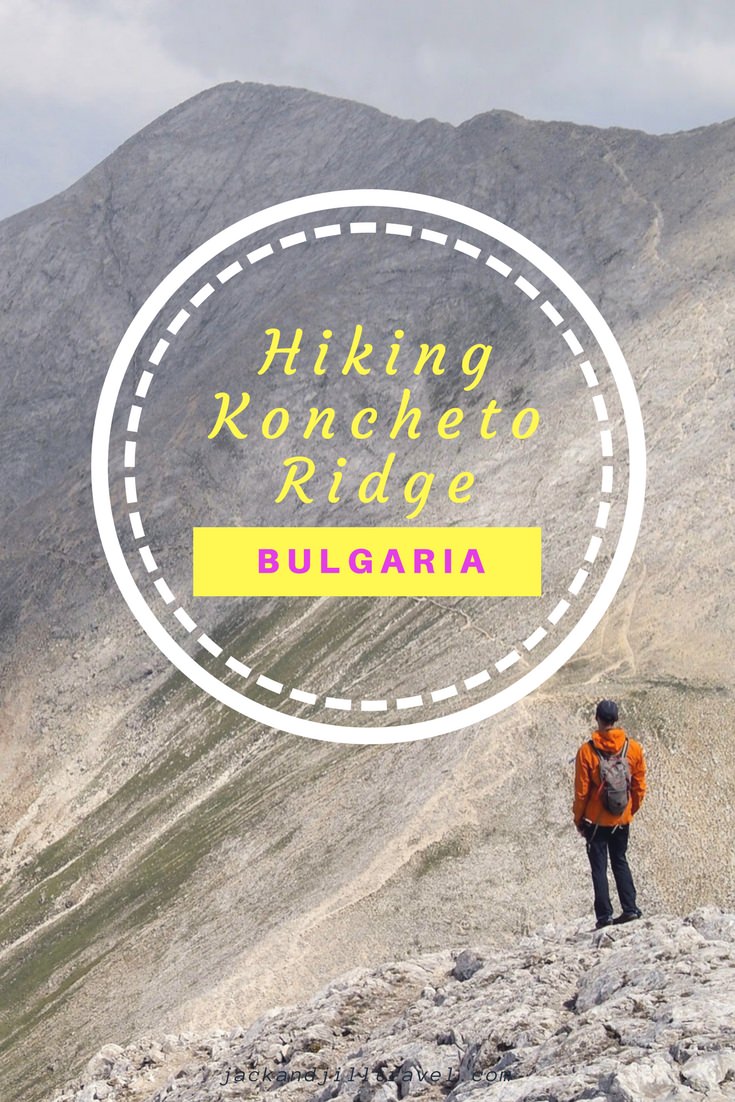 Pirin is Bulgaria's most striking national park, with a narrow and long ridge connecting multiple peaks visible from the town of Bansko. A section of this ridge is so narrow that people would rather straddle it like a horse and scoot on their butt. That's where the name "Koncheto" or "Horse" in Bulgarian, comes from.
Hiking Mt. Vihren and Koncheto Ridge can be done in one long day. We decided to break it into 2 separate trips.
Getting to Pirin National Park
You can take the Pirin shuttle bus from Bansko downtown which will drop you off at Vihren Hut where all the trailheads start. The hut sells food, snacks, and even provides lodging. The trail to Mt. Vihren is well-signed (marked red). For Koncheto Ridge, you can either summit Mt. Vihren first or take the fork to the right for Koncheto (marked green) and climb Mt. Vihren on the way back.
Maps.me (for iPhone/Android) has a nice offline map (free) that can help you make sense of all the landmarks here. Or even better, get the Cicerone hiking guide.
Summiting Mt. Vihren
Total hiking time: 5-6 hours from Vihren Hut to Mt. Vihren.
Mt. Vihren is not the highest peak in Bulgaria. Musala Peak, 11 metres higher, in Rila has that honor. However, Mt. Vihren is a much more exciting and majestic peak to climb in my humble opinion.
From Bansko, you can easily summit Mt. Vihren in half a day. There are multiple approaches, but the easiest (and I'd say better and more scenic) way is to do it counter clockwise from Vihren Hut, to Golyam Kazan cirque that directs you towards the saddle bewteen Vihren and Kutelo peaks. From here, you have a nice view of Vihren's north face before taking on a scrambling, rocky path that leads to the top.
The name "Vihren" means "windy peak" and on the day we summited, it surely was. We hiked up in clouds and I was worried that we wouldn't be able to see anything at the top.
As we neared the top, however, the winds were picking up and there were often breaks in the clouds. During these breaks, I could see the expansive view back towards Bansko and an endless panorama of peaks and ridges.
From Mt. Vihren peak, you can see a striking ridge line connecting Mt. Vihren to neighboring peaks. The most striking of this ridgeline is called the Koncheto. The week after we hiked Mt. Vihren, we came back to walk this ridge.
Koncheto Ridge
Total hiking time: 8-9 hours from Vihren Hut to Koncheto Ridge including summitting Kutelo I, Kutelo II, and Mt. Vihren.
"Koncheto" means "Little Horse" in Bulgarian. Part of the name's origin came from the fact that the ridgeline is so narrow that you have to ride it like you would a horse: on your butt. Scooting your way along the ridge. Be mindful of the weather here even in the summer. The weather changes quickly and fog can influence the difficulty of the ridge climb.
The day we did the hike to Koncheto Ridge, there was little cloud cover and we sweated our way from Vihren Hut to the saddle above Golyam Kazan.
From the saddle between Mt.Vihren and Kutelo Peak, we hiked up towards Kutelo. But instead of summiting Kutelo then, we took a path that veers left maybe 100 feet below the actual ridge line bypassing Kutelo I and Kutelo II. We'll be summiting the Kutelos on our way back towards Vihren Hut, forming a narrow loop.
This path below the ridgline climbs gradually and dumps us in the middle of Koncheto Ridge itself. The moment I reached the ridge and could see the other side, I grabbed the safety cable.
In front of me was a steep drop to oblivion. It was such a rush!
I made my way along the ridge back in the direction we came from while keeping one hand on the cable. There was one short section where the path was so narrow and the cable was in the way, so I did have to go on my butt and scoot. One hand above me holding on to the cable. Just like riding a horse. Koncheto Ridge did live up to its name!
It was exciting for sure, but way too short. I wish it would keep on going!
Doing Mt. Vihren and Koncheto in one day
Doing both Mt. Vihren and Koncheto Ridge in one day is possible. One way is to start and end in Vihren Hut. This is a much simpler (logistic wise) and shorter route. An alternative way to start in Yavorov Hut and end in Vihren Hut. The latter allows you to run along the whole length of the ridge. It's a 17 km hike hut to hut, so it makes for a very long day.
This was our original plan. However, Yavorov Hut is basically at the same elevation as Bansko and that means the first 2+ hours or so involves a slog uphill through the forest before reaching the treeline. This didn't appeal to us much.
Whichever approach you do, the Koncheto (and Mt. Vihren) hike in Pirin mountains is one of the things you have to do in Bulgaria. It's not particularly difficult. You don't need any special equipment other than a head for height and good footwear. It has enough exposure to make it exciting without it being too dangerous.
All in all, it's what I'd call a good value hike and is a highlight during our stay in Bulgaria.