Guatemala ended up as one of my favorite countries. With only 2% of the country urbanized, there's so much nature to explore: rivers, jungles, lakes, and mysterious Mayan ruins. I love the colors of the chicken buses (although not so much the noxious fumes coming out of them) and the huipiles worn by Mayan women. I love how clear the spoken Spanish is, understandable even by these rusty ears.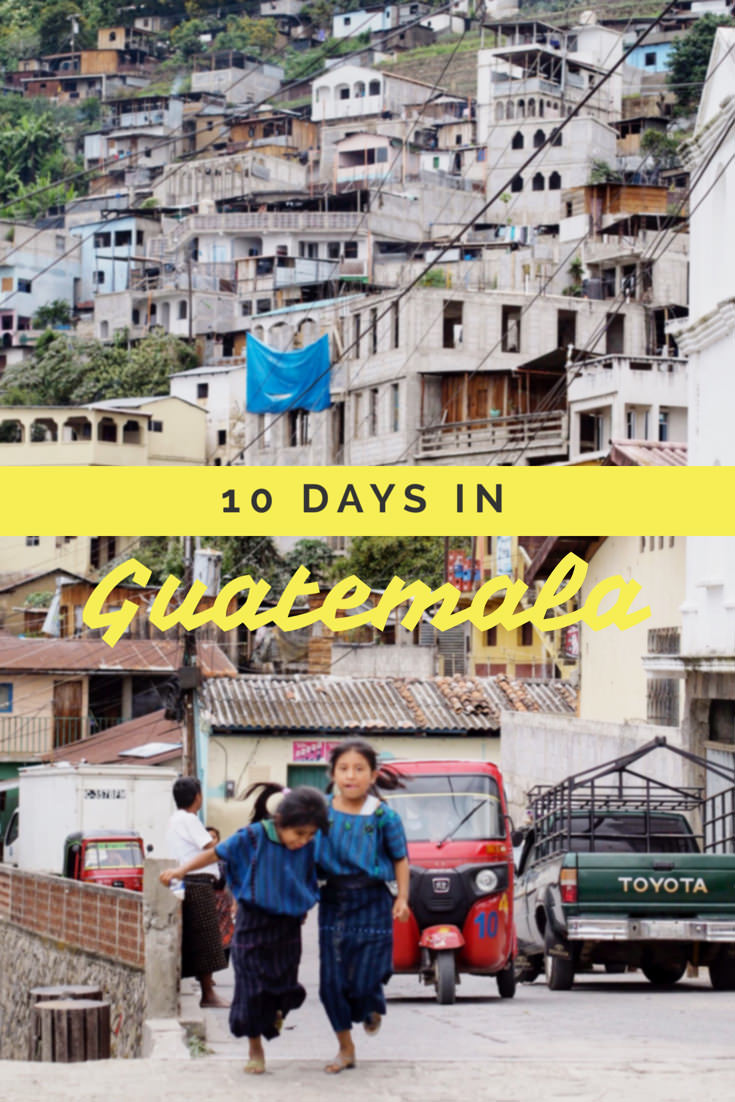 It's true that Guatemala is not going to win most off-the-beaten path destination award anytime soon, but I wasn't looking for that on this trip. I was looking for a high-value, low-stress destination in Central America. I got that in Guatemala. Getting around Guatemala was easy because the prevalence of tourist-friendly shuttle system that connects Guatemala's most popular destinations.
10 days in Guatemala wasn't enough time to do everything I wanted to do so, but I did manage to see what I felt was some of the best highlights of Guatemala. Here's what a mini-braindump of everything I did in 10 days in Guatemala. If you're looking for a 10-day Guatemala itinerary, I hope this post could be a good starting point.
Day 1: Fly into Guatemala City, take a shuttle to Antigua.
Day 2: Explore Antigua
Day 3: Lake Atitlan (Panajachel, Catarina La Palopo) – read about my fave villages on Atitlan
Day 4: Lake Atitlan (Santa Cruz Laguna, Jaibalito)
Day 5: Lake Atitlan (San Pedro. San Juan Laguna)
Day 6: Lake Atitlan (Sunrise hike to Indian Nose. San Marcos Laguna)
Day 7: Lake Atitlan (Santiago), night bus to Flores.
Day 8: Flores
Day 9: Sunrise at Tikal. Night bus to Guatemala City
Day 10: Guatemala City. Flight out
Day 1: Fly into Guatemala City, take a shuttle to Antigua.
Upon arriving in Guatemala City airport, I got into a taxi directly to Antigua. You'll find a booth offering taxi and shuttle service right after custom. There are 2 options: $10 will drop you off at the central square, and $13 will get you to your hotel. Your choice, but just know that most of hotels in Antigua are within 10 min walk from the central square.
The only ATM is located BEFORE custom. Which I missed. So I'm glad I had some US dollars with me to pay the shuttle. Later I learned that there's an ATM in departure lounge.
It was early evening when I got to Antigua which left me with enough time to get some cash, a local SIM card (I went with Claro), and a nice fancy-ish dinner at Los Tres Amigos.
Where I stayed in Antigua: Wicho and Charlie, a cute new-ish hostel. I love privacy of the capsule-style dorm bed.
Day 2: Explore Antigua.
I have a full day in Antigua today. The most popular thing to do in Antigua is hiking Volcano Pacaya or Acatenango. Hiking Pacaya takes half a day and honestly sounded a little bleh to me. Hiking Acatenango is done as a 2 day, 1 night trip so that would mean staying in Antigua for at least another night (maybe even 2). I hmm and hawed for a bit and decided to skip any volcano climbing in Guatemala. Instead, I explored the city through my favorite means: my own two feet.
I started early with an excellent Guatemalan pourover at Cafe Refuge. I checked out the mercado central and wandered around the souvenir market, and I just started to meander.
Day 3: Lake Atitlan (Panajachel, Catarina La Palopo).
I took the 8:30am shuttle and arrived in Pana around noon. Pana is Lake Atitlan's main transportation hub and one of the busiest villages. My hotel was on the street where a series of pickup trucks (called "fletes") go between Pana and the smaller Palopo villages. So after checking in, I jumped on one and made my way to Catarina La Palopo, a village known for the indigo-clad Guatemalan women and its pottery. It was worth a couple of hours of exploration.
Back in Pana I meandered up and down Calle Santander, the main street, which is lined with souvenir stalls, restaurants, and bars. I got to the pier just in time for sunset over Lake Atitlan. It was gorgeous. I can't wait to see more of the lake.
Where to eat/drink in Pana: Crossroads Cafe (best coffeeshop)
Where to stay in Pana: Hotel Victoria Panajachel
Day 4: Lake Atitlan (Santa Cruz Laguna, Jaibalito)
In the morning I took a public lancha to Santa Cruz Laguna. Despite the threatening weather, I decided to go on a hike to Jaibalito, a neighboring village. The hike from Santa Cruz to Jaibalito is often said to be the prettiest hike in Lake Atitlan. Along the way I passed many hotels with inviting terraces and docks overlooking Lake Atitlan's 3 volcanoes, which would make a great stopping place for a snack or a drink.
Where to stay in Santa Cruz Laguna: La Iguana Perdida (my favorite hostel in Lake Atitlan!)
Day 5: Lake Atitlan (San Pedro. San Juan Laguna)
In the morning, I arranged to take a weaving class from a local woman in Santa Cruz (actually sister of someone who works at La Iguana). It was a 3 hour class, more work than I expected but heaps of fun! It really made me appreciate handmade crafts even more.
After my weaving class, I jumped on a lancha to San Pedro where I'm going to be for the next 2 days. The town is known as the party central of Lake Atitlan and even though the streets were empty in the afternoon I arrived, I could still feel the party vibe. There are bars lining the waterfront and it made me glad that my hospedaje is tucked uphill, away from the main party spots.
I took a 10Q tuk-tuk ride for a quick trip to San Juan Laguna, the next village over. San Juan is known for its women weaving cooperatives (I think there are at least 30 different ones). Many have a store here in San Juan, where they sell handmade scarfs, handbags, and they'll be more than happy to do a demonstration on the process: from making and dyeing the yarns, to the weaving them into colorful cloths.

Where I stayed in San Pedro: Hospedaje Lolita
Day 6: Sunrise hike to Indian Nose. San Marcos Laguna
I woke up at 3 am to take the 1 hr shuttle ride to the trailhead for Indian Nose. The weather didn't cooperate so our view wasn't optimal but it was cheap and it felt nice to be standing up high looking down on the lake.
In morning I took a boat to San Marcos Laguna, yet another village on the lake. San Marcos is known as the new-age central, with an abundance of yoga retreats and healing centers. The highlight of San Marcos was the natural reserve (15Q entrance fee) that occupies a point that juts out into Lake Atitlan. You can walk all of the trails in 40 minutes, but it was a very pretty area. It has some of the best swimming spots in Lake Atitlan (and they also provide a platfrom to jump into a lake if you wish).

Where I stayed in San Pedro: Hospedaje Lolita
Day 7: Santiago, travel day to Flores.
While waiting for my afternoon transport to Flores, I took a lancha to Santiago. It was a windy morning which made for a rough crossing. I was feeling ill after getting off the boat and had little patience for the tuk tuk drivers who offered to take me on a tour.
Looking back at it, I would've liked to do a tour. But I really didn't have much time in Santiago. In the end it was probably for the better because as I followed the road to the market, I came across stands selling hand-embroidred huipiles that were so beautiful, I spent my whole time in Santiago just going from one stand to another in admiration. The colors! The details!
In the afternoon I took a boat to Pana, and a shuttle to Guatemala City, then a night bus to Flores. It was one long journey. The travel agency (Hurricane Travels) arranged all of the necessary transfers and tickets. Totally worth it.
Day 8: Flores
Upon arrival in Flores, we were transferred to shuttles that take us to our final accommodation. Just be known that these shuttles are operated by local travel agencies who hope to get your business for booking onward journey, Tikal tickets, etc. Feel free to take these shuttles. Also know that Flores is a very tiny island and you'll be able to walk to your hotel in less than 10 minutes.
Guatemala City - Flores Night Bus
There are different bus companies that do this route. Mine was called Fuente del Norte and they run a luxury line called "Maya del Oro". First class is on the second floor and VIP is at the bottom (wider and plush leather). If you want to get one of the VIP seats, make sure you firmly ask for it and look at your assigned seat number on your ticket. On Maya del Oro buses, there are only 9 VIP seats, so if your seat number is higher than 9, you get first class (which is what I got, and it really wasn't bad at all).
I liked Flores a lot. It's a little island on a lake with narrow cobblestone streets and colorful houses. Make sure to take a boat out to the Mirador del Rey Canek in San Miguel, the small village across the lake for sunset (bring bug spray). You can take a public boat (5Q) to San Miguel and hike to the mirador (30 mins, a little isolated), or get a private boat (50Q) directly to a different trailhead for a shorter 10 min hike.
In the evening, I jumped on another night bus (also arranged by Los Amigos) to Guatemala City to catch my flight the next day.
Where I stayed in Flores: Los Amigos (Highly recommended! One of the best hostels I've stayed in)
Day 9: Sunrise at Tikal. Night bus to Guatemala City
I arranged a visit to see sunrise to Tikal through Los Amigos hostel. Since Tikal is still 1.5 hr drive away, that meant waking up at departure time at 3:30am. That was brutal. But it was so worth it! I'm not a big fan of ruins to be honest, but to be there when the jungle woke up was such an incredibly special experience. I might even dare to use the word "magical". I got goosebumps just thinking about it.
Day 10: Guatemala City
My flight is in the early evening, so I have about 10 hrs in Guatemala City. What to do? I decided to get an Airbnb for the day as a place to leave my bag while I explored the city. I found out that Guatemala City has Uber, which made getting around so much safer and easier. So I spent the day exploring the plaza central with its impressive cathedral and city hall. I found that Guatemala City was the least touristy cities I went to, I actually got stared at here 🙂
Guatemala City kind of has a reputation for urban crimes. Maybe the city deserves it, maybe it doesn't – I honestly don't know. It seems that everyone agrees that Zona 1 is very safe though. On that Sunday morning, the main square was filled with families and children running around and food stands selling Guatemalan antojitos (snacks).
What would I do differently?
Less time in Lake Atitlan for Semuc Champey
I decided to skip Semuc Champey, a beautiful limestone swimming area not unlike Krka National park in Croatia, for various reasons. Mainly because it takes one full day to get there and another full day to get out. There are no night buses, so these are 2 days of just traveling. 20% of my 10-day itinerary seems a little high for a swimming hole, however beautiful it is.
BUT it can be done by spending only 1 or 2 days in Lake Atitlan. This was my original plan, but I was having such a good time at the lake I couldn't make myself leave so soon.
Visiting Tikal from Guatemala City
If I had realised how easy it was to get on a night bus from GC to Flores, I might've re-structured my itinerary differently. If you don't care about catching sunrise in Tikal (which you should), you could get on a night bus from GC. Take a tour to Tikal during the day (there's even time to go on Tikal sunrise tour), then a 9:30pm night bus back to GC. You don't even have to spend a night in Flores!
My next visit to Guatemala
I left Guatemala already planning a return visit (this almost never happened!). I definitely want to climb Acatenango next time, then I want to spend some time in Xela to do more hiking. Other travelers rave about Rio Dulce (sweet river). Ixil/Nebaj triangle sounds incredibly traditional and fascinating. There's so much to do and so many places to go in Guatemala, in 10 days I barely scratched the surface.
So far, Guatemala is my favorite country I've visited in 2017 (will Argentina beat Guatemala? We'll find out at the end of this year :))