Is Lake Atitlan one of the most beautiful lakes in the world? I'll let you decide for yourself (but yes, I do think so!) What I know for sure is that Lake Atitlan, Guatemala got a hold of me in ways I didn't expect.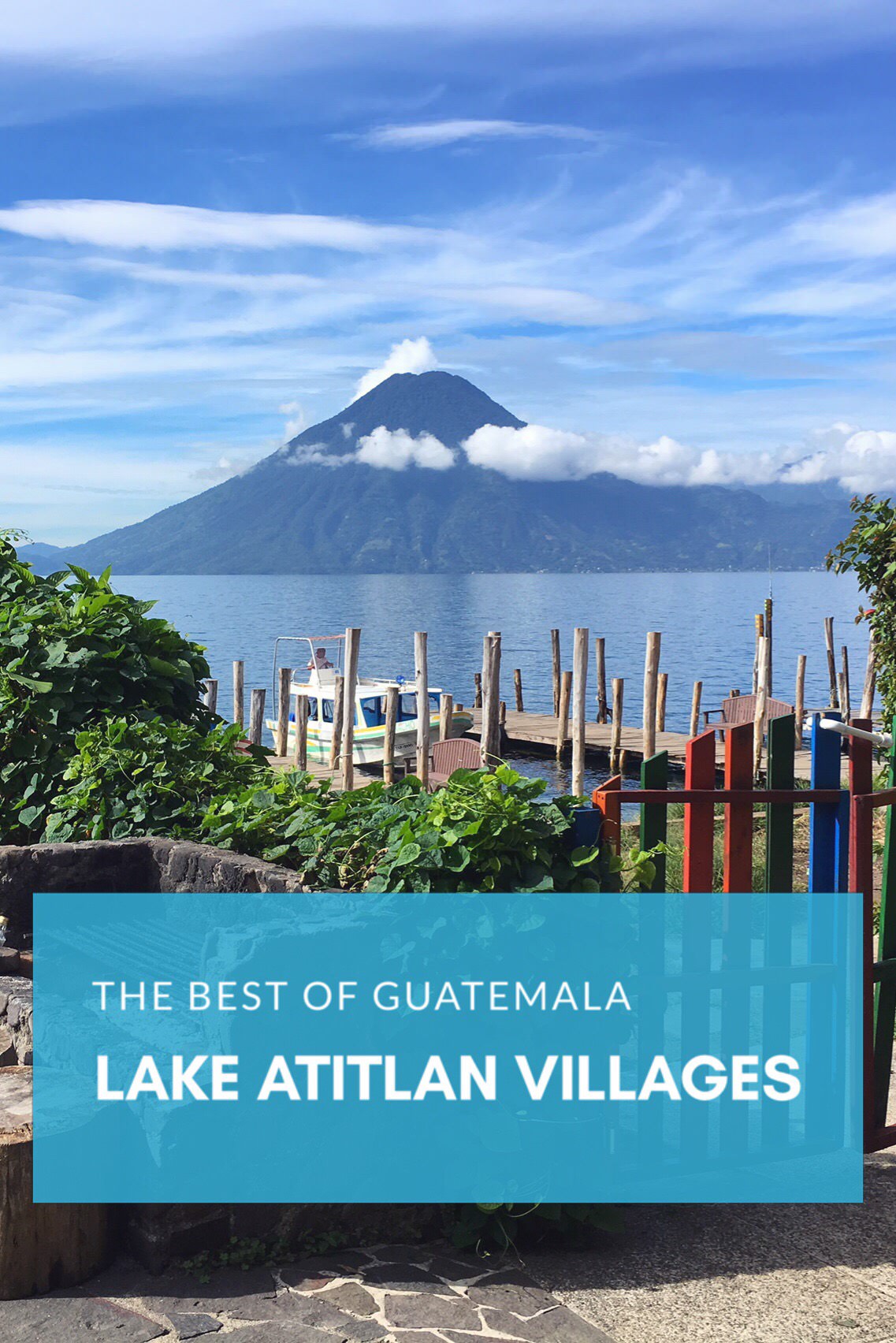 [google_maps id="14563″]
The lake was formed some 85,000 years ago after a colossal volcanic explosion that caused the magma chamber to collapse, creating a giant depression that slowly filled with water. With a maximum depth of 340m, Lake Atitlan is now the deepest lake not only in Guatemala, but in Central America.
It is hard not to be moved by the beauty of Lake Atitlan, surrounded by steep, green hills, 3 (THREE!) cone-shaped volcanoes, and colourful Mayan villages. Public lanchas (small boats) crisscross its surface ferrying locals and tourists alike. Each of the Mayan villages around Lake Atitlan has its own personality and a list of things to do. Because of this, one of the most popular things to do in Lake Atitlan is going village hopping to experience what each of these unique villages has to offer.
You get around these Lake Atitlan villages with boats or lanchas and/or pickup trucks. Prices for public lanchas vary from 5Q – 25Q depending on distance.
Example prices of lancha rides in Atitlan (November 2017):
Panajachel – Santa Cruz: 10Q
Santa Cruz – San Pedro: 20Q
Panajachel – San Pedro: 25Q
San Pedro – Santiago: 25Q
Villages around Lake Atitlan, Guatemala
Which of Lake Atitlan village is for you?
I stayed in 3 different villages (Pana, Santa Cruz, and San Pedro), and visited 8 different villages (see my complete Guatemala itinerary). I liked Pana because it's easy and convenient. I enjoyed laid-back Santa Cruz, I just thought it offers one of the most beautiful viewpoints of Lake Atitlan and a serene place to be for a few days. I can see myself spending more time in Santiago, the biggest town in Lake Atitlan but one of the furthest.
I don't know if I can pick a clear favorite though. I think the main attraction of Lake Atitlan to me is the ability to flit around these villages. I do change my mind about 1000x a day, so that makes sense.
Here are my thoughts on the 8 villages in Lake Atitlan I visited:
Panajachel
Things to do in Panajachel: souvenir shopping (leather purses and handbags), pillowcases, great coffee. Pana makes a convenient jumping base to visit Chichicastenango and the quiet villages of Santa Catarina de Palopo and San Antonio de Palopo.
If you're visiting only one village in Lake Atitlan, Guatemala, it will probably be Panajachel. You will most likely go through Pana at least once during your travel since it has the best connections to the rest of Guatemala. It's the busiest and most touristy town in Lake Atitlan. Because of that, it also feels the most cosmopolitan.
Panajachel is also one of the best places to buy souvenirs in Guatemala. Many expats seem to unanimously agree that the shopping in Pana can be better than the more famous Sunday market in Chichicastenango. So much so that I decided to pass on the 2 hr ride to Chichi and had a leisurely shopping experience in Pana on a Sunday morning. Leisurely because all the other tourists are all at Chichi.
I picked up a few pillowcases and saw a lot of beautiful leather purses and handbags accented with handwoven textiles that Guatemala is known for. I fell in love with so many of them and I had a hard time not giving in to temptations to buy everything in sight. I try to avoid buying things I don't need but still somehow made an exception for pillowcases (can't have too many couch pillows!)
My takeaway on bargaining in Pana is this: if you're dealing with Guatemalan women selling their wares from makeshift kiosks, offer 1/3 of the original price or just simply walk away and watch the quoted Quetzales dropping faster and lower than you thought possible. More established stores sell higher quality items and seem to have more or less fixed prices – they might budge 10-20% and further discounts are offered for paying cash or buying multiple items.
Pana also has a thriving backpacker scene with plenty of eating options and budget accommodations. For coffee Crossroads Cafe came highly recommended. So was Cafe Loco. Tuk-tuk costs 5Q anywhere in the city. I didn't think I'd like Pana that much but it grew on me. However one day was enough.
Another fun thing to do in Pana is the Sunday market. There were lots of Guatemalan women in their traditional clothing selling and buying. It was one of the most colorful markets I've been to. I recommend it if you're ever in Pana on a Sunday. And to think I almost didn't go.
Where to stay in Pana:
Hotel Victoria. A private room with private bathroom goes for $15. This is where I stayed. It's clean but has thin walls. It's a 10 minute walk away from Calle Santander.
Hotel Regis Panajachel is closer to the action and still affordable (< $50 a night).
Where to eat in Pana:
I didn't really find anything noteworthy, except for Crossroads Cafe and Cafe Loco. They both make excellent coffee.
San Antonio Palopo
Things to do in San Antonio Palopo: an afternoon random stroll through a traditional Mayan village
I took a fletes/pickup from Panajachel to Santa Antonio Palopo, a small village perched on a steep hillside known for its pottery and indigo-colored huipiles and skirts worn by the local women. The village is not going to win prettiest village award anytime soon (neither will any of the village in Lake Atitlan to be honest). The colors of rusting tin roofs and unpainted cement blocks dominates the landscape.
Nevertheless San Antonio was a fun village to explore for a few hours. Guatemalan kids will giggle and smile and beg while you poke around their maze of a village. I tried to get high up on the hillside to where the corn fields are, but I gave up in the end as each stairway I took seemed to deadend at someone's house.
Where to eat/stay:
Hotel Terraza del Lago for its delicious empanadas.
How to get to San Antonio Palopo:
The fletes/pickup truck (10Q) stops in front of Despensa (a grocery store) at the intersection of Calle Amante and Calle Principal in Panajachel. Ask around and look for pickup trucks with some sort of a cage made of steel bars on the back.
Santa Cruz La Laguna and Jaibalito
Things to do in Santa Cruz and Jaibalito: relaxing, taking a weaving class, hiking, diving, eating delicious Guatemalan food at Cafe Sabor Cruceno (vegetarian options available)
Santa Cruz turned out to be my favorite village in Lake Atitlan and a lot of it is due to La Iguana Perdida, a hostel right next to the public dock of Santa Cruz. Its family style dinner is a great way to meet fellow travellers. Not to mention the great terrace and the delicious food. The hostel can arrange massages, yoga classes, weaving or cooking classes, or you can do a couple of different hikes.
The hike from Santa Cruz to Jaibalito is said to be the prettiest shore hike in Lake Atitlan. I passed a few hostels on the way, each one would make a great stopping point for a drink on a terrace overlooking the lake. Each is prettier than the one before.
Jaibalito itself was a tiny village with not much to see in by itself. It has a tiny expat community that wants to get away from the rest of the lake tourists. Cafe Venaca by the water was a popular expat hangout spot with an infinity pool. So is Posada Jaibalito.
Where to stay in Santa Cruz La Laguna:
La Iguana Perdida I loved this place and highly recommend it. It's run by lovely people who are invested in the community. Sign up for their family style, buffet dinner. The lake's PADI dive shop is located at the back of the hostel.
Where to eat:
Cafe Sabor Cruceno, take a 5Q tuk-tuk from La Iguana to the village of Santa Cruz proper and find this cafe that's run by CECAP. They run a culinary school and the food here is cooked by their graduates. They serve traditional Guatemalan food such as pepian and sibenik (which are hard to find, weirdly enough). Or just come for the breathtaking view of the lake from their terrace.
San Juan La Laguna
Things to do in San Juan: watching weaving demonstration, high quality textiles to support women weaving coops, a quieter alternative from San Pedro
Only 10Q ride from San Pedro lies San Juan Laguna, a town with the clean streets and relatively free of tourists. Of all the smaller towns I've visited around the lake, San Juan felt the most prosperous.
I came here to check out the women weaving cooperatives (there are over 30 of them). Each co-op shop will hold weaving demonstration on request (from spinning the cotton into yarns, dyeing the yarns, and weaving them into beautiful fabrics).
Even though you can buy Guatemalan textiles pretty much in any town in Guatemala, I feel that there are more unique designs and higher quality products here in San Juan.
San Marcos
Things to do in San Marcos: visiting the natura reserva, yoga and meditation and crystals, eating vegan food
If you're looking for a spiritual high, San Marcos is the village in Lake Atitlan for you. San Marcos, just like San Pedro and Santa Cruz, has a distinct boundary between the gringo area (closer to the water) and where the locals live (up the hill). The gringo area is dominated by yoga studios, meditation centers, and spiritual retreats. Which is great if you're into that kind of stuff.
Because of the private nature of these retreats, a lot of the houses have high walls surrounding the property. Exploring San Marcos felt like a rat in a maze.
The highlight of San Marcos for me was the nature reserve. It's tiny, you can hike all the trails in 30-40 mins but it provides the best swimming and kayaking access in some of the clearest water on Lake Atitlan. You also get a view of the Lake Atitlan's prettiest cove. It's worth the 15Q entrance fee.
Where to stay:
Lush Atitlan, a boutique hotel by the lakeside. Rate starts at $75.
San Pedro La Laguna
Things to do: partying, enjoying the hippy vibe, eating international fare, arranging hikes to San Pedro volcano or Indian Nose
San Pedro is one the most visited of villages of Lake Atitlan. As the party hub of Lake Atitlan, its appearance was a contrast to laid back Santa Cruz. I walked past a row of bars-slash-restaurants advertising happy hour and I marveled at how all backpacker party towns have the same appearance the world over.
I didn't care for San Pedro's party scene much but San Pedro makes for a good base to climb San Pedro volcano and Indian Nose. I knew I wanted to do at least one of those (I ended up doing the latter). I also feel that the international food options here is slightly better than Pana.
Where to eat in San Pedro:
Kamui. When in doubt, go Japanese. Kamui is famous for their tofu vegan burger, they also offer homemade tofu, gyoza, and sushi.
Yakitori de Cava. Delicious vegetarian donburi and 5Q miso soup. Opens from Tuesday to Saturday, between 11:30am to ? From Pana dock, with the lake behind you turn left. It's going to be on your left, across the street and slightly before Smoothie Girls.
La Terraza for delicious coffee and breakfast (ask for their homemade chipotle salsa) with a great view of Indian Nose.
Idea Connection Great homemade bread and pastries. Also their pasta is supposed to be great.
Where to stay in San Pedro
Hospedaje Lolita. $10 for a private room with bathroom away from the party strip. The owner, a Guatemalan lady along with her 12 yo daughter, run a tight ship.
Santiago
Things to do: finding Maximon, huipile shopping, hiking Mirador de Tepepul, big city feel with less tourists than Pana
Santiago is the largest of Lake Atitlan villages and has the strongest indigenous identity, with many of the local women wearing huipiles embroidered with colorful birds or flowers. It's also one of the furthest from Pana. It takes about 45 minutes by public lancha to get there from Pana or a 30 minute ride from San Pedro. And depending on the weather, it could be a very rough ride.
Upon arrival on Santiago public dock, you'll be most likely greeted by tuk-tuk drivers offering a tour of Santiago's attractions: Maximon, the main square, some viewpoints, etc. If I hadn't felt seasick from the the rough ride over I would've taken up the offer. But as of then, my whole world was spinning and I couldn't imagine being yet in another vehicle. So I walked up the main street that's lined with souvenir stores, following the crowd to the main market. Along the way I encountered stores selling colorful handmade embroidery works. Since I had no self-control, this trip to Santiago ended up being a massive shopping trip!
Where to stay in Santiago
—
Which Lake Atitlan village to stay for first time visitors?
As a first time visitor to Lake Atitlan, I was happy with my decision to split my time between 3 villages. If I were to pick a longer-term base though, I'd go with either Panajachel or San Pedro for their accessibility and activity/food options.
I'm not sure if I'd recommend Santiago as the best place to stay for first time visitors to Lake Atitlan. Its location makes it less convenient to village-hop around the Lake. But if I were to visit again, I would base myself there. I just had a good feeling about the place.
In Lake Atitlan for a day?
You can join a day tour of the Lake that usually includes a visit to San Pedro, Santiago, San Marcos, and San Juan. It costs about $20 per person and starts at 8am or 9am in the morning. Pretty much every tour agency and hotel in Atitlan offers this day tour.
You can also visit Lake Atitlan as a daytrip from Guatemala city (example tour), or as a daytrip from Antigua (example tour).
Lake Atitlan Map
cc: Avalon Tour
—
Which one is your favorite Lake Atitlan village?