Siem Reap, Cambodia
After having seen the main temples of Angkor, we decided to find out what else Siem Reap has to offer besides temples.
Kampong Phloek, about 1 hr tuk-tuk ride away from Siem Reap, is often described as a floating village. And it sort of does float in metaphorical sense, but not in a way one would presumably think.
The houses of this kampong (kampong means 'village') are built on stilts as 2-story high. On rainy season when the water level is high, the stilts are covered in water giving the impression that the houses are floating.
On dry season, when we went, the stilts are exposed. Which, we think, makes it even look more impressive. The houses seemed to soar way high over our heads.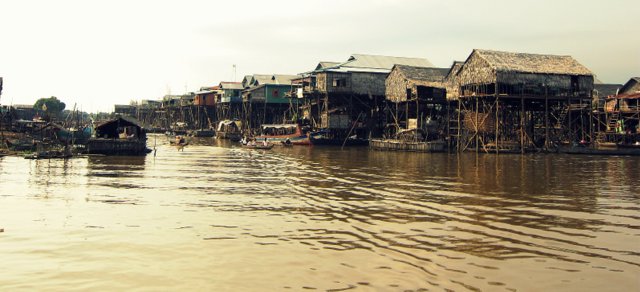 I always feel a little awkward during these 'voyeuristic' type of excursions. But I can see the appeal as well: It's fascinating seeing other people do the same things we'd do ourselves back home: doing laundry, dishes, etc but in a completely different setting – in this case, a watery setting.
Instead of a car, each house had a wooden boat parked in front. Instead of a garden, they'd have floating potted plants. Doing laundry and dishes, and taking a shower involved climbing down a rickety set of ladders (or done on a canoe!).
And of course you get to see things you don't normally see back home either, like pigs raised on a floating platform.
For $20 a person, you can probably see a floating village for a lot cheaper somewhere else in Asia. But if you're templed out in Angkor and looking for a breezy way to spend half a day – Kampong Phluk is worth the 1.5 hr spine-pumping trip.
Going to Kampong Phluk? Get there early!
I began to wonder why this attractive village didn't seem to get any visitors. The only other boats we saw in the village were those carrying the villagers. But the answer came soon enough.
On the way back we passed boat after boat carrying tourists. Non stop. We left Siem Reap at 7 in the morning which made us one of the first boats to pass through and we were taking the lack of crowd for granted.
I'm so glad we got there early.
---
How to get to Kampung Phluk: Any guesthouse in Siem Reap can arrange a visit there for $20 a person (cheaper with a bigger group). It will be just your group. You can get there indepedently by renting a tuk-tuk yourself, and as long as the driver knows where Kampung Phluk is, he can help you with entrance tickets and getting a boat. The boat and the tuk-tuk alone will cost around $35 per visit – regardless of the # of people.