What and where is the 7 Rila Lakes?
Seven Rila Lakes hike in Rila National Park is possibly one of the most popular daytrips from Sofia, Bulgaria. For a good reason, too. The 7 Rila Lakes was one of most beautiful places we've seen in Bulgaria, so I highly recommend it. Besides, it's not that hard of a hike either. It's definitely one I'd consider a high-value hike: big rewards for little effort. Bundle it with a visit to the famous Rila Monastery to get a full day of culture and outdoor adventures.
One of the reasons we decided to stay in Bulgaria for a month was because of many opportunities to go hiking in Bulgaria. Together with hikes in Pirin mountains, hiking the Seven Rila Lakes was at the top of my list of things to do in Bulgaria.
(Btw, in case you haven't figured out, the name of the hike comes from the fact that there are seven lakes you can see on this hike. However there's only one viewpoint where you can see ALL SEVEN lakes. Read along to find out where.)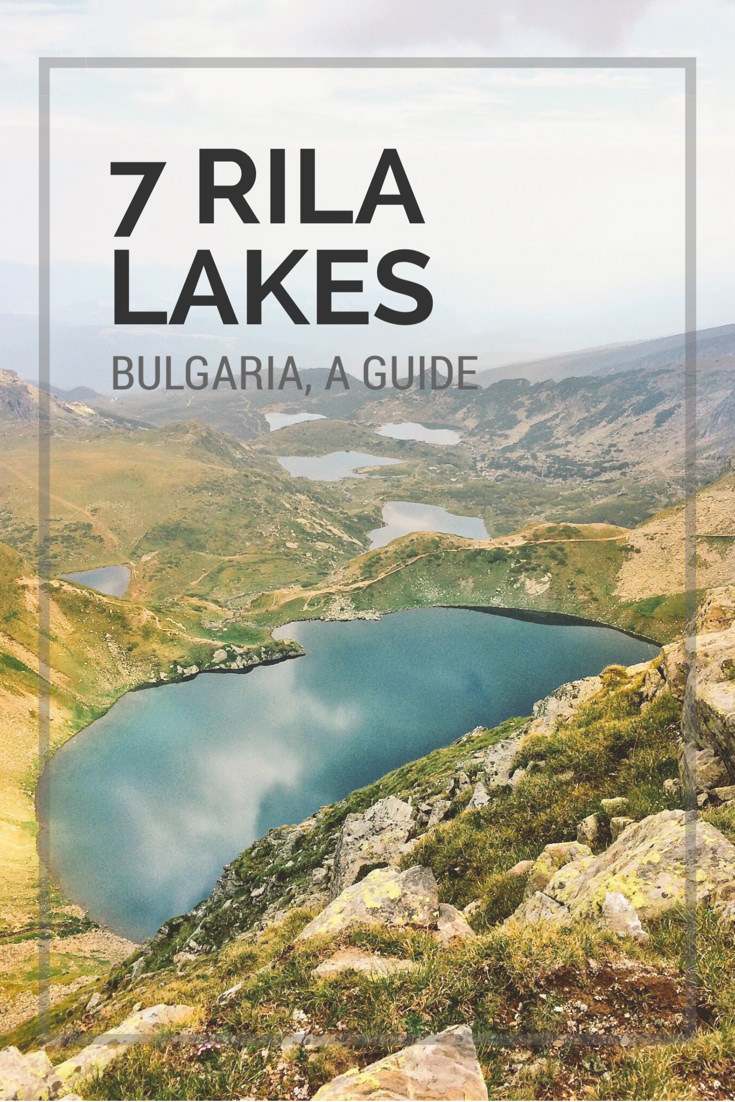 How to hike the 7 Rila Lakes
Get to Sapareva Banya, the closest town to Rila National Park
One weekend we rented a car from Bansko to make the 2.5 hour drive to Sapareva Banya where we spent the night in a guesthouse (we recommend Guest House Eli in Sapareva Banya). Our host didn't speak a lick of English, but our twin-bed room was clean. The bathroom was the smallest bathroom ever (we could wash our hands and touch all four walls while sitting on the toilet – you get the picture!) The important thing was we had AC! Which was a luxury! Our Airbnb apartment in Bansko, wonderful as it was, got blistering hot so this was a welcome change.
Sapareva Banya itself doesn't offer much other than a convenient base to explore Rila mountains. We had dinner in one of the few restaurants in the center and spent the rest of the evening Pokemon hunting (even the monsters here weren't particularly interesting).
Coming from Sofia to Sapareva Banya? You can take this daily shuttle.
Head to Panichiste and take the chairlift to the trailhead
In the morning, we said goodbye to our deliciously cool room and drove to Panichiste resort to take the chairlift to the Seven Rila Lakes hike trailhead. We got there just when the chairlift opened, but already the parking lot was filling up. Since it's a very popular hike, the line for the chairlift can get ridiculously long, especially on summer weekends. So get there early.
Note: Chairlift operating hours is 9am – 4:30pm.
Take the trail along the ridgeline
There are various huts in Rila National Park where you can spend the night if you like, but we decided to do the Seven Rila Lakes as a day trip. The seven lakes are located in a cirque, a sort of natural bowl surrounded by peaks and ridges. It took us about 4 hours to complete the hike around the lake-studded cirque. Even though there are trails that take you to the lakes and their shores, we choose to climb and gain the imposing ridgeline that forms the southern part of the cirque.
The ridge provided great vistas over the lakes. It's the only viewpoint to see ALL SEVEN Rila lakes at once.
How difficult is the hike to see 7 Rila Lakes?
I'd rate the 7 Rila Lakes as medium in difficulty level. It has less elevation gain than climbing Vihren and the trail was well trodden. Most people stick to the lakeshores so despite the initial crowd at the trailhead, we met few people on the hike.
Bulgaria is a beautiful country and it offers so much for outdoor lovers. Bulgaria hiking trails are well marked, the skiing is cheap (apparently Bansko is a Europe's cheap skiing destination – who knew?), and the scenery, as you can see, is gorgeous.
What to bring on your visit to 7 Rila Lakes
– Waterproof sack (such as this one). As you can see from our picture, visiting the 7 Rila Lakes in summer doesn't guarantee sunny weather. We got back to our car just in time before an afternoon thunderstorm rolled in.
– Maps.me (FREE) for trail maps. Available for both iOS and Android.
– Cash for chairlift ticket
– Mineral-based sunscreen (I love Totlogic)
– A polarizing filter for your camera (to capture those beautiful lakes)
Rila 7 Lake Hike
Getting to Rila from Sofia:
Bus from Sofia's Ovcha Kupel. Or you can take this Sofia-Rila
shuttle
which leaves daily at 7:30am from Sofia.
Chairlift ticket: 18 Leva (return)
Accommodation in Sapareva Banya: Cheap and plenty. Starting at 20 euros.
For trail map: Download Maps.me app (free for Android and iOS) and Bulgaria West map. This was what we used and it was more than sufficient in trying to find our way during the hike.
Only have one day? Take one of the many day tours available from Sofia.