Mexico City, Mexico
Long layover sucks. On the way to New York from South America, we had a 10 hour layover in Mexico City. We decided to get out of the airport to enjoy a little bit of what Mexico City has to offer since it definitely beats moping around at the airport. Especially after we found ourselves stamped in into Mexico, 30 minutes after landing even though in theory we were 'in-transit'.
It was our first time in Mexico. Well, actually it was technically my 2nd time, but since the only thing I remember from my first visit is having been put for a photo on top of a donkey, crying my 4 year old heart out, with a gigantic sombrero that says 'Tijuana' at the front, it doesn't really count.
If you have a long layover in Mexico City, I recommend making your way directly to the centro historico. It's one of the largest squares in the world (guess which is the largest? – the answer might surprise you). The city's historic center is located around the central plaza and contains a concentration of historic buildings. There's always plenty going on here which should keep you occupied for a few hours during your layover.
How to Get to Downtown Mexico City from the Airport
Metro
Taking Metro is an easy and cheap way to get to the city center. Line 1 can take you to Pino Suárez (close to the Zócalo). Cost: 5 pesos.
Uber
Uber is now also available in Mexico City. It's convenient and safe. Cost: ~160 pesos.
Best Things to Do: Layover in Mexico City
Plaza de la Constitución/Zócalo
In Latin America, a lot of fun things can be found around the main plaza. So naturally that was where we headed first. Mexico City's zocalo is one of the largest squares in the world. One one side of the zocalo lies the imposing Cathedral with its gold altar. There's no entrance fee, so might as well check it out.
This area is always busy with street performers and vendors. We enjoyed simply walking around and getting caught up in the crowd. When it got too much, we escaped to one of the restaurants here. Puro Corazon is located on the sixth floor with a terrace overlooking the zocalo. It's a great place for people watching.
Drink the Best Hot Chocolate at El Moro
12 minute walk from zocalo lies the city's most popular churrería, selling fresh churros and velvety hot chocolate. It's open 24 hours so if you're in Mexico City early in the morning, come hang out here and stuff yourself silly with their sweet offerings. You can see their menu here. They have different types of hot chocolate. My favorite: light, French hot chocolate. So good!
Templo Mayor & Templo Mayor Museum
Templo Mayor was another site recommended for us to check out located just next to the main church. There we got a glimpse of the Aztec civilization that used to occupy the very place the museum was built on. When the Spanish came, they demolished this great temple – Templo Mayor – that was one of the most important buildings for the Aztec people at that time. Mexico City was built on top of the ruined Templo Mayor.
If you don't have much time, we'd recommend heading straight to Templo Mayor Museum near the excavation site. It displays artifacts and trinkets found during excavation. Some of them are very well preserved. Even though it wasn't as entertaining as the erotic pottery museum in Lima, for $4 – it was definitely worth a couple of hours of your time.
Our favorite tidbit we learned from the museum? Not only were the Aztecs big on human sacrificing through bloodletting and heart wrenching – they were pretty big on flaying their captives and wearing their skins as well. *shivers* Aren't you glad you weren't living there and then? We definitely are.
Taste Mexico City Street Food
Just because you're in Mexico City during a layover, it doesn't mean that you can't get a taste of legit, local Mexican food. There are plenty of street vendors around the historic center selling tamales and nopal cactus taco. As soon as we tasted the street food in Mexico City, we knew that we were not in South America anymore. It was the heat. Whoa! The food here is spicy!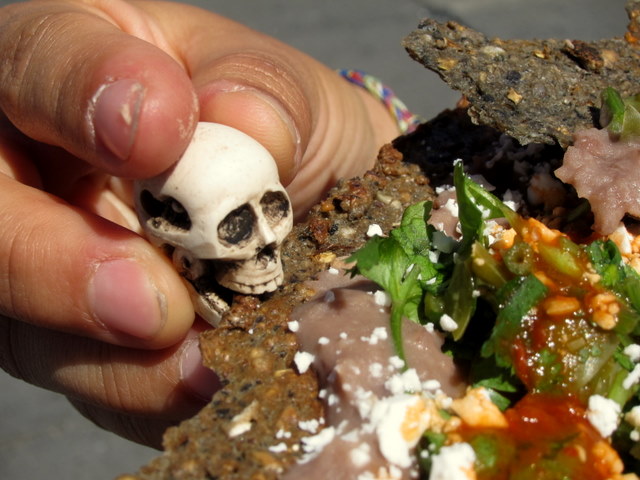 We had the best tamales we've ever had from a guy selling them off his bike. The best thing about it? We could taste the spicy, whoo-eee! There's some spicy food in South America, but usually it comes in the form of 'aji' – a condiment made from chile that you add to your meal. If we piled enough of it, we could taste the spice alright. But the tamales that we had – there was no avoiding the spice, it was blended right in with the sauce – and it was HOT! Just look at that red, spicy goodness left on the wrapping.
It had been awhile since we had food that bites back!
Anthropology Museum
The Anthropology Museum is a 20 minute taxi ride away from the historical center but it's worth checking out. It's an impressive museum (and I don't usually like museums) and a good choice to spend your long layover in Mexico City. You can easily spend hours here.
—
[google_maps id="16129″]
In Summary
If you have a long layover in Mexico City – the historical center and its surrounding attractions is your best bet. Mexico City historical center, including the zocalo and Templo Mayor, is only a 20 minute ride from the airport (minus the traffic). You can easily spend many hours there browsing the market, the buildings, and the museums.
Just make sure you take note which terminal your flight is flying out from. We ended up being dropped at the wrong terminal. It took us some time to figure out that out, and even longer to get to the right one.
Who knows – that little peek into Mexico might have the same affect it had on us: our layover went by so quick and we left with an unhealthy craving of Mexican food.
Who would've thought that a long layover can be so much fun? It was definitely the best quickie trip we've ever had. If you have more time in Mexico City, check out this city guide, and if you're with visiting Mexico City kids in tow, this Mexico City with kids will have you covered.