Lima, Peru
Never thought I'd say this about the pre-Columbians… But they sure knew how to make great looking pots. Or… water vessels as how they were referred to in Museo Larco, Lima.
Jack and I are not… well, how to say this? "Cultured". We don't go to museums unless they offer something completely unique that strikes our fancy.
But when we read that Museo Larco contains a notable collection of pre-Columbian erotic Moche potteries – it got us all curious. This is definitely a museum we'll have to check out.
Erotic potteries… tell me that you would not be intrigued by that. (and if you're not – I suggest not going past the first 2 images)
Even though we were only interested in the erotic collection, after paying the the 30 soles entrance fee, we might as well check out the other non-erotic stuff, right?
The collection took us by surprise. We were blown away.
I'd never thought I'd say this about pottery, especially about water vessels – but these ARE BEAUTIFUL. They're whimsical, they're funny, they're cute… they're simply adorable!
Check out the one depicting a dog sled on the first picture. Or how about the cute, chubby characters depicted on these water vessels below?
I was impressed to say the least. Even Jack was impressed – and it takes a lot to impress that guy.
But really, these guys are nothing compared to the erotic Moche pottery collection…
One thing I have to say – these guys were not shy about their sexuality at all.
Prudes (and the easily offended)… close your eyes.
Not really erotic, but this particular Moche pottery depicts child birth in action.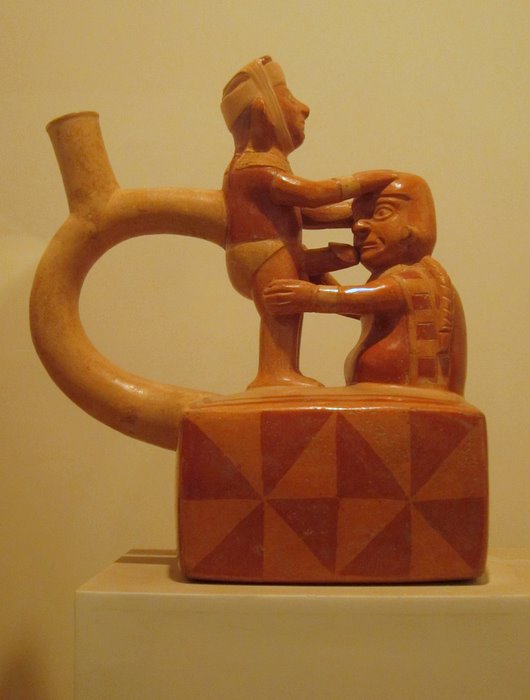 This next one is my favorite. This couple just seems to be taking such illicit delights in touching each other, it made me smile.
It's interesting to note that in this culture, the world of the dead in this culture holds as much importance as the world of the living.
That aspect of the culture was also depicted in this erotic Moche pottery collection.
They have quite a collection depicting skeletons touching each other and masturbating. But definitely not having sex since sex is for procreation and only the livings can do that. I mean, of course…
So why did these Moche potteries exist?
There was little explanation about why they made these pots. We are talking about a culture that's 3000 years old after-all. It was suggested that they used these pots for ceremonial purposes, maybe to teach about procreation and even sexual diseases.
Whatever the real reason might be, if it had been to provide a giggle-filled afternoon for museum visitors, 3000 years later – they did a very good job.
It was fascinating stuff.
Never thought I'd say this about a museum – but Museo Larco in Lima? Highly recommended. Even if you skip the erotic room (but why would you?).
—
Admission to Museo Larco:
30 soles
Address:
Av. Bolivar 1515, Pueblo Libre. Lima, Peru.
Website:
Museo Larco
Where to stay in Lima
3B Barrancos – A cute B&B in Barranco district. Rooms start at $80.
Tiera Viva Miraflores – highly rated in Lima's trendy neighborhood. Rooms start at $95.