Cuzco, Peru
Despite unpleasant things we heard about Cuzco (it's expensive and overrun with tourists), we found ourselves unexpectedly charmed Cuzco's architecture and alleyways.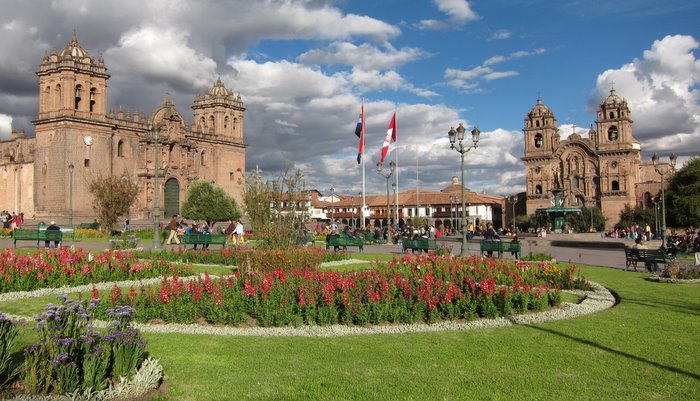 It turned out that Cuzco is not as expensive as we were led to believe either: Our hostal and food cost is not any higher than the average we've been spending in Peru.
The thing is: it's easy to spend a lot money in Cuzco.
Especially on food and tours.
Every other building in the Cuzco's Old Town seems to be selling overpriced comfort food that reminds us of home: pizzas, burritos, hamburguers, etc.
There are hundreds of tour agencies in Cuzco offering everything from "meh" city tour to treks around the Sacred Valley.
Fortunately, good value on food can still be found in Cuzco.
Eating in Cusco
Cuzco is big enough city that there's a big range of choices of restaurants to pick from. Just to give you an example: a lunch at Jack's Cafe, a popular gringo cafe in Cuzco, will easily set you back about 20-25 soles. Literally next door is a restaurant selling set menu that includes soup, main dish (a selection between Peru's comida tipica: lomo saltado, aji de gallina, trucha frita, etc), and drink for a whopping 5 soles (less than $2).
Other good places to eat that became our staples are:
The market – The cheapest food in town can be found in town's market – about 10 min walk from Plaza del Arma. Not necessarily the best in cleanliness or even taste, but it's good value. Egg sandwich (1.20 soles), fresh juice (2.50 – 4 soles), and a plate of rice with fish (3 soles) is our breakfast staple. Try the quinoa drink (1 sole). It's made of blended quinoa and apple (and maybe milk) – drunk warm it's quite filling.
Hanaq Pacha – 10 soles set menu comes a variety of appetizer and main course to choose from, desert, and drink. The food leans towards Western influence – it's a good value if you're craving something other than 'comida tipica'. Delicious food and friendly service.
El Encuentro – Right next door from Hanaq Pacha this place serves good and plentiful vegetarian menu for 7 soles. It comes with DIY salad bar, soup, entree, and tea. The entree is usually a version of stew/curry of some sort of beans.
Prasada – A late found, this hole in the wall place is a treasure. Serving vegetarian snack food such as pizza, falafel burger, vegetarian tacos, etc. The portion is decent, the service is friendly, and a really good value for the price (5 – 6 soles).
Jack's Cafe – not quite budget, but a good value if you're craving comfort food. They make the best cappuccino (seriously) and their breakfast dishes (huevos rancheros, pancakes, etc) are large enough for 2 people. Food from 15 soles.
Maikhani – Indian food buffet for 15 soles. Delicious curry dishes (when it says spicy, it's really spicy). The vegetarian dishes are less stellar than the meat dishes, but still pretty good. Especially after you've gone curry-less for 5 months.
Things to Do in Cusco on A Budget (ruins free)
Jack and I choose not to get the boleto turistico since our interest in ruins is limited. If you're a ruin non-enthusiast like us, the following activities are relatively cheap, do not involve ruins, and we found to be worth our time.
Maras and Moray – Of the two, we think the salineras of Maras is the one worthy of visit. Unfortunately, the transport from Cuzco is bundled in with a visit to the ruins in Moray which we thought was just ok. Interesting, but not worth the 10 soles admission. Any tour agency in Cusco offers this. 20 soles (not including entrance fees).
Ollantaytambo as a day trip – Doable as a day trip from Cuzco, we enjoyed Ollantaytambo as a fun place to walk around. Apparently it's one of the few continuously inhabited pre-Incan sites in Peru – and if you know what you're looking for, you can see characteristics of Incan masonry on the walls and on the foundation on the houses in Ollantaytambo. By the way, the hike up the pre-Incan granaries (across from the Ollantaytambo's main ruin is free and provides a nice view of the town.
Chincero – known for its Sunday market, it's a lot more traditional than the one in Pisaq. It's not yet swarmed with kids dressed up in traditional clothing and hound tourists for photo ops.
Salsa lesson – Salseros Cusco on Colla Calle offers group salsa lesson for 10 soles for 1 hour every Monday, Wednesday and Friday (beginner 5 – 6 pm, intermediate 6 – 7pm, advance 7 -8 pm). Highly recommended. Many bars around Plaza del Arma offer free salsa lessons as well, but the quality of the lesson is lacking.
Chocolate Museum – Even though they weren't as liberal with free samples as we were led to believe (bummer) we did walk out knowing more about this awesome fruit than before. The 7 soles sample (3 chocolate pieces and an espresso) was a good deal. Great view of Cuzco's rooftops from its balconies.
Laguna Yanacocha – beautiful lake (more like a pond) surrounded by forests, little known in the area. How to get there: take a Cusco – Urubamba combi (that passes through Pisaq), then get off at Wayohari. The trail starts from the pueblo (ask around for the start) to the laguna takes about 1.5 -2 hour.
Budget Stay in Cusco
We stayed in quite different spots while we were in Cusco. We paid 40 soles for a private double room that include en-suite bathroom in all of these places.
Hospedaje Sambleno – decent room, hot showers (when it works), but fast wifi.
Casa de Los Cerezos – small room, good shower, very fast wifi, and a kitchen. It's next to Plaza San Blas, past a an artesanal market.
Samanapata Backpackers – large room, good hot shower, wifi was just ok even though we were right next to it.
Spanish School in Cusco
We went and did private Spanish classes in 3 different schools in Cusco. Two of these I really enjoyed:
San Blas Spanish School – I had Gustavo and Jose as teachers. They're awesome. 23 soles per hour.
Proyecto Peru – I had Angie whom I also liked very much. 25 soles per hour.
See the places on the map
Green – hostales
Blue – places to eat
Red – places of interest
Magenta – spanish school

View Cusco Budget in a larger map
We don't consider ourselves 'budget travelers' in a regular sense – chasing pennies and eating peanut butter sandwiches all day (funnily enough – peanut butter is expensive here so the stereotype doesn't really work). But we do enjoy getting good value for our money (who wouldn't?).
Even though, we – mere mortals – allow ourselves to give in to temptation every now and then as well.
For more on traveling in Peru, check out this guide.
—
Have something to add to this list? Let us know in the comment below.