Trujillo, Peru
Big cities are never quite our things.
We've been on the road for 4 months and the number of big cities we can safely say we've explored is very few. There were those 3 days we spent in Medellin. The 1 day spent in Quito.
So safe to say that for the 4 months we've been traveling in South America we never had the opportunity to enjoy big city stuff. Things such as concerts, museums, and the hustle bustle of a city life.
Things such as shopping malls. Western style shopping malls.
We mentioned before that we're feeling a little homesick. So, when our Couchsurfing host in Trujillo mention that there's a mall just 3 blocks away from his place, it didn't take us long to decide that today… nothing sounds better than spending all day at a shopping mall.
Today we're playing Americans.
So this is what we did today:
We geeked out on Starbucks free wifi
And wolfed down some cinnamon rolls and non-instant coffee.
Went to lunch at Pizza Hut
Went shopping for clothes

Tired of seeing us in pics wearing the same things? Us too.
Window shopped and looked at what movies are playing
'Green Lantern'? Eh, no thanks.
Then tonight, I think we might go to KFC for dinner
Oh, wait… we did.

We walked around the biggest supermarket we've seen since we left home
And ironically walked out with only half a cantaloupe. Too many options often can be just as bad as too few.
Today no ruins, no colonial downtown, no ceviches.
But there will be plenty of time for that.
Because sometimes, ticking off must-see things and being a good tourist just doesn't sound like fun. And besides, what better cure for homesickness than to indulge in everything that reminds us of home.
Today's indulgence should tie us over for another 4 months or so 🙂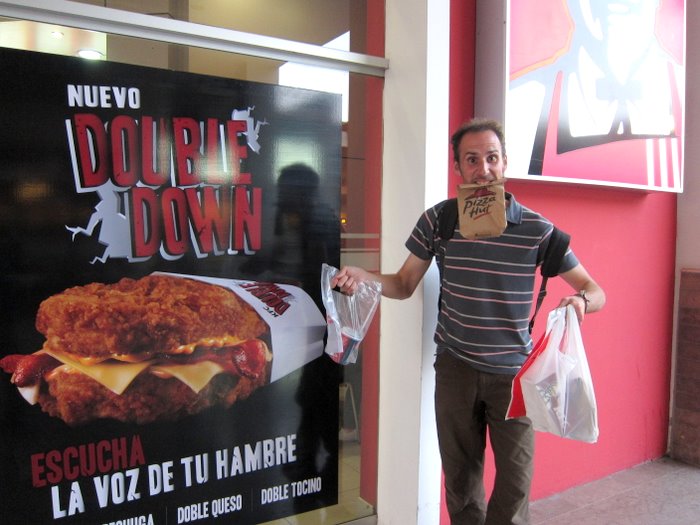 ---
Tell us:
What do you do when you're feeling homesick during your travels?