Hanoi, Vietnam
The limestone karsts that line the river in Tam Coc is often compared to that of Halong Bay. As a matter of fact, the Tam Coc riverway is often referred to as Halong Bay on Land (or Halong Bay on River).
Since we had such a crappy weather in Halong Bay the previous day, I thought it would make a good opportunity for us to see what we missed out on there.
Tam Coc is about 2 hour drive from Hanoi. As soon as we purchased our ticket (140000 dong or $7), we were herded onto one of the many metal boats that were waiting.
The local people who run these boats can row with either their arms or legs. It was an interesting spectacle. It made me think of one of those core strengthening techniques where you lift your legs in the air and pretend you're rowing a bicycle.
The view along Tam Coc
The view along the river was gorgeous. The round-backed limestone cliffs are covered with green vegetation. They soar above the river. Tall enough to make you feel small in your rickety little row boat.
Part of the way, we siddled up close to another boat carrying a group of tourists on their way back. The boat ladies then proceeded to transfer a large metal box from their boat, to ours, tipping our boat precariously on one side. Just when we thought we were gonna lose our balance, the boat righted itself. Phew!
The boat took us pass 3 grottoes. So low was the ceiling that we had to duck our heads down.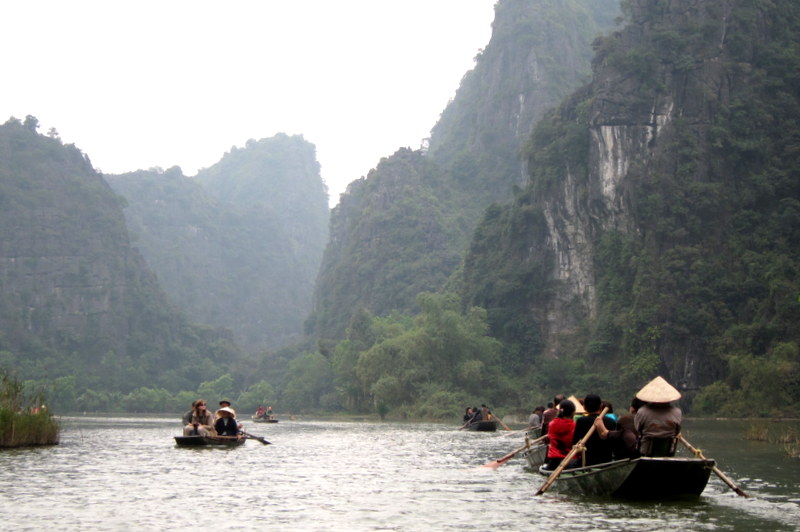 The sales pressure can be high. Drink sellers ambush tourists right after the 3rd cave and boat drivers would stop the boat and try to sell you some souvenirs (turned out that's what the metal box contains).
But the view of this Halong Bay on Land was worth all of the hassle.
---
Travel info
How to get to Tam Coc: From Hanoi, take the bus to the city of Ninh Binh. From Ninh Binh, we took a taxi to Tam Coc.
Alternative to Tam Coc: The caves/grottoes of Trang An would make a good alternative providing similar sceneries. We didn't go there, but you pass through more caves (and bigger too) and it supposedly has less crowds.