Why visit Turkmenistan? Most of my friends know where it is (I have well-traveled friends), but still the most common question I got when I tell them about my Turkmenistan trip was, "What's there to do in Turkmenistan?" I honestly didn't know it myself – not until after I booked my trip.
I knew that I wanted to explore Central Asia in 2018 but I didn't quite know where to start. Should I go to Uzbekistan to oggle its amazing architecture? Or Kyrgyzstan to go tramping its mountains? Or going on roadtripping in Tajikistan's Pamir mountains? When I learned that joining a tour is required to travel Turkmenistan, the decision was made for me. Going on an organized tour is as easy as signing up and I chose the easy way out. So I thought, "Well, Turkmenistan it is."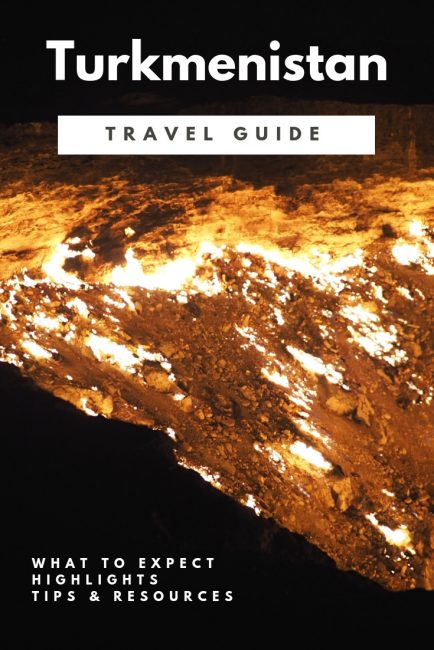 Even though it might've started out as laziness, the more I learned about Turkmenistan, the more excited I got about my visit. It sounds so different from any other place I've been to. It's the most isolated of all the "-stan" countries and the most eccentric. It has a dash of North Korea's cult personality of its leader mixed with persistent legacy of Soviet rule. Ashgabat, the showcase capital city is a prime example of this. Turkmenistan is also the home of a fiery pit called "Gates of Hell" which I'd wanted to see in person ever since I saw its entry in Atlas Obscura.
How Much Turkmenistan Travel Cost
$1095 (including ~$200 single supplement) for 8 days in Turkmenistan. Transportation, accommodation, and some meals are included.
Extension to Mary and Merv is $339 (I didn't do this).
The tour company I used is Travel Notoria.
Turkmenistan Travel Visa
All foreigners are required to have a visa. Unless you're a holder of a transit visa, you will also need to travel with an accredited guide at all times.
Transit Visa
Approval rate is quite low – as of this writing around 50% – and requirements are changing constantly. In general though, you will need to genuinely show that you have to go through Turkmenistan on your way somewhere else. It also limits your visit to a max of 5 days.
Tourist Visa
You will need a Letter of Invitation or LOI from a licensed Turkmenistan travel agency. The LOI itself took around 3 weeks to process and it didn't cost me anything to obtain it. Once you get the LOI, getting the visa itself is a formality consisting of paying the fee and paperwork.
You can get visa-on-arrival in Ashgabat airport or from any Turkmenistan embassy. I chose to get mine from the Turkmenistan embassy in DC. Not only is it cheaper, I also like the idea of having the visa already on hand. It was a very simple process and it took one week (I chose expedited) to get my passport back with the visa attached. Once at the airport, you have to line up and pay an additional $14 for an entry card.
Flight to Turkmenistan
I flew Emirates to Dubai and then Turkmenistan Airlines from Dubai to Ashgabat. I found out that I could add a very long layover in Dubai with no extra cost. Since I'd never been to Dubai before, it was a no-brainer. Can't say no to 2-for-1 flight deals 🙂
Money in Turkmenistan
The local currency is Turkmenistan manats. There's no ATM and credit cards are rarely accepted so I had to bring all the cash I needed into the country. You can exchange money in banks or hotels at the official rate, but you can get such a much better rate in the black market. How much better? Well, in March 2018 it was 4 times better. Crazy, right? Our group was told that we needed $20/day in Turkmenistan, but because of the much higher exchange rate in the black market we ended up needing so much less. You can't get exchange Turkmenistan manats back, so make sure you only exchange what you think you'll need.
How much manat/day do you need in Turkmenistan?
If you join a tour, the price will include accommodation, entrance fees, and transport. Once in Turkmenistan you'll only be responsible for food and personal expenses. Food is about 10-25 manats including drink. In March 2018, the black market rate was 1 USD = 11 manats, so that came out to be ~$1-2 per meal. This makes Turkmenistan quite affordable. You'll also be charged an additional $2/night at your hotel that is not included in the tour price. Tourist tax of some sort, I guess.
However the exchange rate fluctuates constantly so your cost might vary.
Where to buy manat in the black market
Airport – they will find you. If you want more information about this, PM me and I'll tell you more.
Internet in Turkmenistan
A lot of sites are blocked in Turkmenistan and I wasn't able to go on Facebook, Instagram, Twitter, WhatsApp – and none of the VPN services I tried would work. Strangely enough Gmail worked fine and I was able to use Hangout.
Pre-paid SIM
There's a kiosk that sells SIM cards at the airport upon arrival, but I got mine from my contact at the tour company. The SIM card was free, but you need to top it up. Our hotel in Ashgabat (Ak-Altyn Hotel) had a terminal where I could do this. The coverage was surprisingly pretty good.
Wifi
When it was offered, the connection was barely usable. I wouldn't count on it.
Getting Around in Turkmenistan
The tour company took care of transportation between cities, but within Ashgabat we got around by taking a taxi. There's no official taxi, any car can pick up passengers (think of Uber without the app). A ride within town costs 3-5 manats per person.
Turkmenistan Food
We didn't encounter much variety in Turkmenistan food. There's lots of grilled meat (mostly lamb), plov (rice and meat – usually lamb), and bread. As a vegetarian in Turkmenistan, I went with the "don't ask, don't tell" policy. In restaurants, I usually got a bowl of lentil soup. This might or a might not be vegetarian. In a homestay in Nohur, they made me a special "vegetarian" dish with rice and vegetable, but I could smell the lamb in the rice so I think they just picked out the meaty bits out of the rice. Heh. If you're a strict vegetarian or vegan, you might want to bring your own food or snacks.
Highlights of Turkmenistan
With the exception of Darvaza gas crater, I don't think of Turkmenistan as the kind of country that has a list of "must sees" or "must visits". However, its people and its surreal cities left a big impression on me so much so that this desert country became favorite "discovery" of 2018.
Below is a list of places we visited as part of our Turkmenistan itinerary. I also included personal anecdotes and random highlights of Turkmenistan.
The Curiosity of Turkmen People
Because of its draconian visa rule, Turkmenistan is one of the least visited countries in the world. Turkmens are also not the biggest travelers since they're required to apply for an exit visa to leave the country. Somehow I have a feeling that this it not an easy process. This results in a population that are extremely curious of any foreigners. Everyone I met was relentlessly nice and equally curious about me as I was of them. Our group was often mobbed by families and teenagers wanting to know about who we are and asking for selfies.
Colorful Dresses of Turkmenistan Women
To be honest, Turkmenistan cities are kind of drab with all of that white marble and gold. But the people are definitely not, especially the women. Turkmenistan school girls walk around in striking ankle-length dresses, deep red in colors. Long braids seemed to be the favored hair style. The women wear tailored dresses of similar style in colors with bright embroidery around the neckline and colorful head scarfs. These sprinkles of colors bring so much life to Turkmenistan's otherwise brown and grey color theme.
The Marble and Gold City of Ashgabat
I wrote about this showcase capital city extensively here. It has the world's largest indoor ferris wheel and the world's largest star-shaped structure among others. It's a city of marble and gold, where only white cars are allowed. Ashgabat is something for sure… if only I can come up with a word for what that something is.
The Spring Festival (Nowruz Festival)
The Spring celebration festival in Turkmenistan is held in a large meadow outside of Ashgabat. We went there and we got to see the president. To make long story short, things got really odd. I also notice I use a lot of "odd" and "weird" to describe various aspects of Turkmenistan. I can't help it. It's that kind of country. You have to be there.
The Virtuous Maiden Parau Bibi and the Mountain that Protects Her Virtue
About halfway between Ashgabat and Balkanabat, there's a shrine dedicated to a maiden named Paraw Bibi. According to the legend Parau Bibi was a beautiful and virtuous maiden. During an attack on her village, she ran to the nearby mountain and prayed so hard the mountain split into two parts to let her in. Thus she was able to hide in order to preserve her purity and virtue.
Nowadays Parau Bibi is known as the patron saint of pregnant women and children. During our visit to Parau Bibi shrine, we saw many Turkmen women making the pilgrimage. Towards the top of the path, we passed a tree covered in scraps of cloths. Women would tie strips of fabric and hang tiny cradles from the tree's branches, while praying for children.
At the end of the path there was a white building (mosque?) and next to it was a small, underground chamber. Many young women were going in and out of this chamber. I crawled inside and found a small altar with a mirror and combs. The women would take turn praying and combing their hair inside the chamber.
I'm not quite sure what the deal was with the mirror and combs. Our guide was back where the bus was because her knees couldn't handle the walk. So I was trying to ask questions using Google translate with little success.
As I understood it, the women came to this shrine and did the whole hair-combing ritual because they're single and hoping for a husband. I wanted to shake their shoulders, "You're too young to worry about husbands. Focus on school!" Instead, the women gestured that it was my turn to sit in front of the mirror and comb my hair. I was like… "Um, no thanks," and slithered out. One husband is more than enough.
Yangykala Canyon
After a 3 hours drive in 4×4's from Balkanabat along poorly-maintained roads, we finally arrived in Yangykala Canyon. As far as we could see, we had the whole place for ourselves. What greeted us was an alien and scarred landscape of layered rocks in pink, ochre, and red. These are the remnants of massive pre-history coral reefs. It was hard to envision that this arid desert used to be underwater.
The landscape itself reminded me of a much tamer version of Utah. It was beautiful, but I can't honestly say I was overwhelmed. Still, it was a nice change from the cold, drab cities.
The Ghost Resort Town That is Awaza
Avaza (or Awaza) is probably the weirdest resort town in the world. It's a beach resort town on Caspian Sea coast that aspired to be either the next Dubai or the next Las Vegas but… it sort of fell short in execution.
The hotels in Awaza were built true to Vegas style with many blings, much kitsch, and plenty of neon. But there were no cars nor people on the wide boulevard. When we arrived at our 5-star hotel, we found that we were the only guests in this giant multi-story hotel. The hotel was exceptionally immaculate but had that movie-stage kind of feel. The horror movie kind.
The swimming pools were empty and we were told that there were sea snakes in the water – "Don't worry, they're not poisonous," they said. The water coming out of the tap was piss-yellow and smelled of rust, so I decided to skip shower and go for a walk instead. There was not much to see, just more fancy hotels along a very empty boulevard. So I went to bed early.
The irony is, Awaza's failure was what makes it so interesting. Otherwise, well it'll just be like another Dubai and Las Vegas and does the world really need more of that?
Darvaza Gas Crater
This fiery crater in the middle of the desert, also known as "Gates of Hell" Turkmenistan is the country's best known sights. Even though it's artificial (it's a collapsed gas rig that caught on fire) it's still quite a sight to behold.
Nohur Village and its Cemetery
We had a brief overnight stay in Nohur village known for its cemetery. As you can see, the tombstone incorporates horns of mountain goats. The horns are supposed to ward off evil while the dead climb their way to heaven using steps carved on their tombstones. I wish we had more time to explore Nohur, this rural village that's a far cry from the glitzy marble and concrete of Turkmenistan cities. But alas, we only had a few hours before being transported to our homestay for the night.
Other Turkmenistan sights
Kow Ata Underground Lake – a naturally heated, underground lake that you can swim in.
Akhal Teke Horse – Turkmenistan is very proud of their horse, the famous long-backed and long-necked Akhal Teke. We stopped at a horse training stable to watch a horse demonstration. I like horses but I don't know much about them, so I mostly played with the stable's cats, dogs, and ducks.
Nisa – 20km from Ashgabat is Nisa, the remnant of an ancient settlement. How ancient? 200 BC. So pretty old. Not much is left, but the guide was helpful in pointing out the highlights of what has been excavated.
Turkmenistan Sights I Missed
A trip to visit the archaelogical digs at Merv and Konye-Urgench was offered as an additional trip with extra cost. I decided against it since it was quite pricey. Centuries ago this area was the center of the Islamic civilization and its history is long and complex. A worthy detour for history or archaelogical buffs.
To see all other stuff I wrote on Turkmenistan, check it out here.