Other than Komodo Dragons, the three-colored lakes of Mt. Kelimutu is one of Flores' best tourist attractions in East Nusa Tenggara. As a matter of fact, when I visited Flores I wanted to see the famous color-changing Mount Kelimutu crater lakes more so than the dragons themselves. No offense to the dragons. But mountain lakes trumps giant lizards any day.
Why Visit Kelimutu Crater Lakes?
For most visitors, the reason to visit Kelimutu Crater Lakes is to see sunrise over the famous three-colored lakes. The crater lakes are beautiful as they are, but what makes Kelimutu especially famous is the lakes actually change colors throughout the years. In 2016, the colors of the lakes even changed six times!
The lakes have been red, white, ocean blue, milky blue, turquoise, brown, or black in color. When I visited, they're all in various shades of blue. The colors depend on the chemical composition of the material that leach from the crater walls.
The hike to see Kelimutu lakes is an easy one and the view is spectacular.
Where are Kelimutu Lakes?
Kelimutu crater lakes are located near the village of Moni, Flores (Indonesia). From Moni, it's a short motorbike ride to the entrance/parking lot, followed an even shorter hike up a set of stairs to the viewing platforms.
How to Get to Kelimutu Lakes
First, you need to get yourself to Moni, the small village at the base of Mt. Kelimutu.
Ground transport Labuan Bajo to Moni:
If you start from Labuan Bajo, you can take a series of buses and it'll take you 2 days. A sample bus route would look like this: Labuan Bajo – Bajawa (10 hrs), Bajawa – Ende (4 hrs), Ende – Moni (2 hrs).
Fly to Maumere
2 of the closest airports to Moni are located in Ende and Maumere. For some visitors, it makes more sense to fly to Maumere instead.
Fly from Labuan Bajo to Ende (this is what I did)
Or you can fly to Ende (I use Traveloka or Nusatrip) and take either a shared car from Ende or a bus to Moni. I met 2 other travelers at Ende airport and we decided to share a car.
The drive from Ende Airport to Moni gave me a glimpse of rural Flores and it was beautiful. It was a lovely drive full of hairpin turns, rice terraces, and lush hillsides with none of the development you see in Java and Bali. I was transported to a version of Indonesia that I didn't know still exist anymore.
Pro tip: On arrival at Ende airport, go to an official looking person by the exit (he'll probably find you first). You tell him what where you're going and negotiate a price (I paid Rp 300.000 for a whole car to Moni). He then goes outside and find a driver for you. I didn't do this at first and was greeted by a mob of taxi drivers vying aggressively for my business. Overwhelmed, I made a hasty retreat to the airport. Obviously, this official-looking person is a middle man and takes a cut, but it was worth it.
Staying in Gecko Hostel, Moni
I stayed in Gecko Hostel which is tucked 1 mile away from the main road in a rural village. It's run by a young Flores man named Megy Lopez and his girlfriend. They cook vegetarian dinner every night which was delicious. Megy, who speaks excellent English, will bend over backwards to help you during your stay. Having said that, the rooms have zero insulation so I could hear my next door neighbor's coughs throughout the night. My bamboo bed creaks at the smallest movement. It wasn't the best sleep I had but it was fine for one night.
Megy employed his brother to take me on his motorbike up the winding road to the entrance where I paid my entrance fee. I was shocked to learn that foreigner entrance fee is Rp 150.000 (Sunday: Rp 225 000). At 20 ~ 30 times the local price (Rp. 7000) this is a complete rip off. Gawd, I can't stand this practice of dual pricing.
Pro tip: You can avoid paying the entrance fee to Kelimutu by arriving before the booth is open (I heard 4am is the magic number). You can do this either by doing a 3 hr hike from Moni or renting a motorbike the day before.
Other Places to Stay in Moni
Bintang Lodge – most popular place to stay in Moni but reviews are mixed.
Mahoni Guesthouse – another highly rated guesthouse in Moni.
Where to eat in Moni
Mopi's Place for proper coffee and a variety of Indonesian dishes. Vegetarian friendly. Live music on some nights.
The 3-Colored Lakes of Kelimutu
According to local folklore, the three-colored Kelimutu lakes are homes to the spirits of the departed. The first lake you'll come across from the parking lot is called Tiwu Ata Polo where the souls of the wicked rest. (I wonder if it got its name when it was red in color. When I visited, it was a nice turquoise colored lake that didn't look even remotely evil.)
Next to it separated by a thin crater wall is Tiwu Ko'o Fai Nuwa Muri. Home of the spirits of those who died young.
The third lake, Tiwu Ata Bupu is located apart from the other 2 and only visible from the very last viewpoint. This last lake is supposed to be the resting place for old people's souls.
Unfortunately it's impossible to take pics of all 3 Kelimutu lakes without a drone.
The hike to Kelimutu lakes from the parking lot involves a 15-20 minute climb up a set of concrete stairs. It's very straightforward. Along the way I passed a colony of monkeys making an aerial crossing above me. They look cute but it's best to stay away from the little buggers and observe from a distance.
Kelimutu at Sunrise – Worth It?
Most tourists arrive pre-dawn to see sunrise over the crater rim. Me? I'm done chasing sunrises. I'm a morning person but I'm not a pre-dawn type of person. Sunsets, however… I can dig sunsets. Plus, I'm usually already awake come sunset time 🙂
Is it worth it to wake up at 4am and catch a cold motorbike ride to see sunrise over Kelimutu lakes? I'm definitely not the best person to ask. However do keep in mind that the lakes don't show their best colors until a few hours after sunrise, at around 8am when the sun actually hits the lakes. So you'll be there for awhile and there's not much to see beside the lakes. If you come with an ojek, make sure that the driver will wait for you. Be prepared for the cold although a few enterprising souls will be around to sell hot drinks and noodles while you wait for sunrise.
What some people do is they take an ojek one way to see the Kelimutu crater lakes for sunrise and then hike back to the village (allow 3-4 hrs). This will allow you to stay as long as you want at the lakes and appreciate the hot spring more (What hot spring? See below).
Other Things to Do in Moni
On my ride back from the three-colored lakes of Kelimutu, we made a few stops for photos. One of the stops was at a hot spring "Kolo Rongo". It was quite a setting, right in the middle of rice fields and totally undeveloped. No entrance fee. I didn't go in for a soak because, well – I was by myself (well, other than Megy's brother my ojek driver) and that's not much fun, is it?
Across from Rainbow Cafe is a stairway leading down into a small canyon, the end of which lies a waterfall. It was nice enough for a quick stop. The landowner charges a nominal entrance fee.
Other Things to Know
– Wifi is sparsely available in Moni, I recommend getting a local SIM card.
– The one thing I take with me every time I visit Indonesia is a deet-free bug spray. Mozzies LUV me. The bed in Gecko Hostel has a mosquito net, but I still doubled down and sprayed myself liberally with bug spray. I use Picaridin-based spray (such as this). It's proven effective and it doesn't smell awful like DEET does.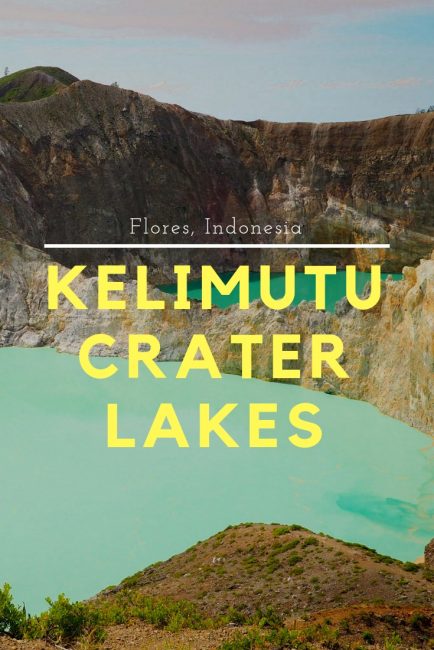 —
For other things to do in Flores: Island Hopping to see Komodo Dragons