Playa del Carmen, Mexico
It's not hard finding a place to eat in Playa del Carmen. One of the busiest towns in Riviera Maya, its main street, La Quinta Avenida, is jammed packed with restaurants. But we were looking for something more low-key and let's be honest… something that doesn't cost the same as a dinner in San Francisco.
Thankfully, after trial/error and with the help of Twitter friends, we discovered some pretty awesome restaurants in Playa del Carmen for breakfast, lunch and dinner. Once we find good places to eat, we tend to stick to it.
So, this is what we had almost every single day we were in Playa.
Breakfast
Right in front of the ADO bus terminal in Playa del Carmen, there's a line of taco stands. You'll see it right away because of the morning crowd.
Choose your taco filling from Yucatan specialties such as cochinita pibil (bright orange marinated pork), pollo en relleno negro (chicken in roasted pepper), or shrimp/fish. Eat your tacos standing up like the others. 10 pesos/taco.
For chasers: a freshly squeezed orange juice from a stand next to the taco carts.
Close around 2 pm.
Lunch
Walk or take a taxi to Los Aguachiles at Avenida 25 and Calle 34th. This seafood-only place serves delicious tacos, tostadas, ceviches, and aguachiles on red plates wrapped in plastic bag. Everything is so darn good.
If you've been thinking about trying ceviche, this place is a good place to lose your ceviche virginity. After trying their shrimp ceviche tostada, I'm a fan.
My mouth waters just writing about this.
Other equally mouth watering dishes include their pescado empanasada and pescado al vapor taco.
Close at 6 pm.
Thanks to Ayngelina for the tip.
Dinner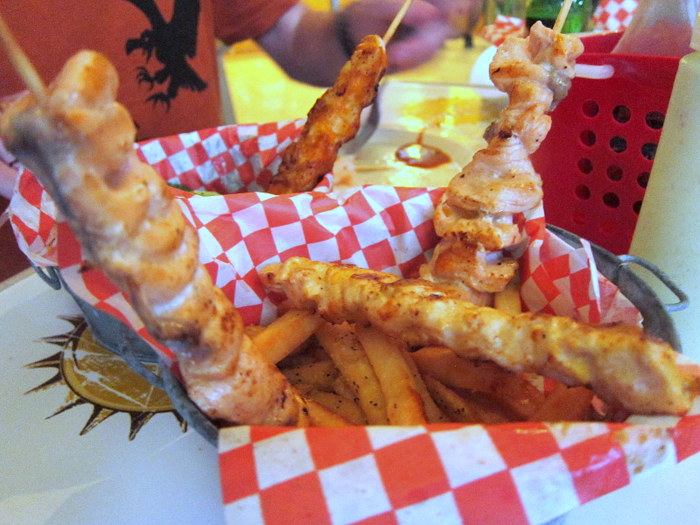 A couple of blocks towards the beach from La Quinta Avenda (the 5th Avenue), on the way to Mamita Beach Club is Bro * Chetas. Come here for reasonably priced and deliciously executed brochettes. Mix and match between chicken, shrimp, fish, octopus, and salmon brochettes. For the vegetarians, they have home made falafel.
Even the side dishes (steamed broccoli and french fries) deserve a standing ovation. I know what you're thinking – 'How good can steamed broccoli can be?' Give this place a try and you'll find out.
—
Eating and swimming in our favorite cenote in Yucatan was the highlight of our stay in Playa. It's no surprise that we came back home a little tanner and just a little tighter around the waist.