Lima, Peru

We met our host in Lima, Ana, when we were volunteering in Banos, Ecuador.
When we finally were making our way to Lima and making plans to meet up with her, we told her that there are 2 things we'd like to do in the 2 days we're in Lima:
1. See the 'erotic pottery' exhibition in Museo Larco
2. Eat yummy seafood – yes, that includes Peruvian ceviche (have to take advantage of Lima's location on the coast)
And boy, like an awesome host that she is, she fulfilled both of our wishes.
Not only did she invite us to stay at her place which is within walking distance to Museo Larco, but she also took us to her favorite Peruvian restaurant – Moche – which is in the Miraflores district of Lima.
The lunch we had there was the best meal both of us had ever had after we started traveling 5 months ago (crap, has it really been that long?)
The place is more upscale than we're used to, but if we're going to splurge – what better city to do so than Lima, arguable the best culinary center in the continent?
First, the ubiquitous Peruvian ceviche.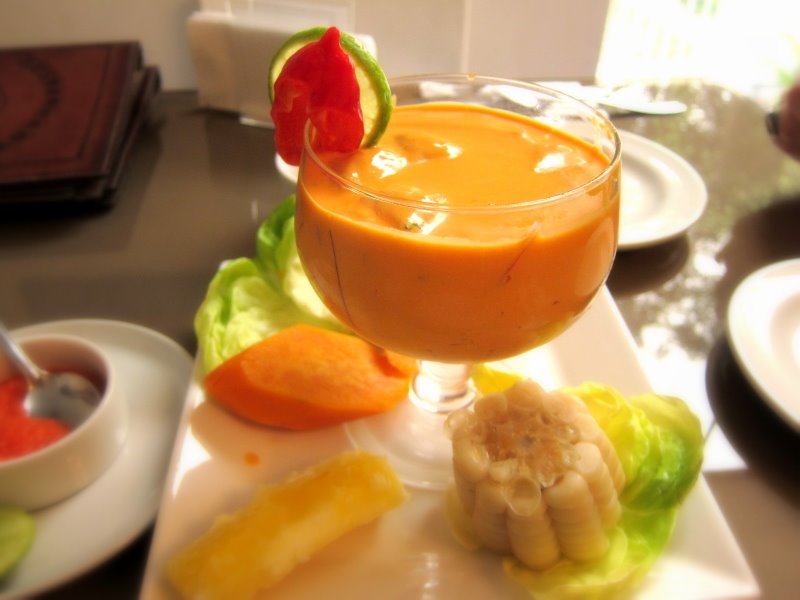 Now, I remember the first time I tried ceviche in Peru I wasn't too impressed – kind of grossed out, actually. But honestly, this cold seafood dish is growing on me.
What's great about this particular ceviche was the opaque, creamy sauce so I can cover up the fish pieces when the 'raw-ness' of the fish appeared too obvious.
Eaten with slices of red onion and sweet potato – yum, I can definitely see myself eating ceviche much more often than I originally thought.
Then we shared 'Causa rellena con pulpa de cangrejo' – which basically means 'mashed potato stuffed with crab meat'.
Oh boy, this dish is Da' BOMB!
The mashed potato is mixed with spices that include aji and the stuffing is made with a creamy combination of crab meat, avocado, and god knows what else.
All we know was that within 10 seconds of arriving, the dish looked like this:
It looks so much better before 3 hungry people had their way with this dish.
At this point, I was getting really full already. But we were only halfway through our course.
Then came Jack's favorite Peruvian dish: chicharron de pescado.
Fried fish chunks. Seriously, what's there not to like? It was lightly breaded so that it doesn't overpower the thick chunks of fish.
Then soon, came the 'chupe de pescado' – a soup made with milk and chunk of seafood, cheese, and vegetable.
This thing was good. Really, really good.
I was hurting from eating so much and I could barely manage to get 2-3 mouthfuls of the chupe. It was painful to see Jack and Ana finish it all up while I sat like a beached whale on the sideline – regretting the fried rice I had a couple of hours earlier.
The broth was rich and flavorful – I just wanted to fill my Nalgene with it and drink it all day long (ok – maybe not, that'd be gross. But it did cross my mind.)
As we wobbled out of the restaurant I was so sure that I just gained back the pounds I lost from doing the Huayhuash Trek – all from the 2 hr lunch we just did.
But it was worth it.
We've been told countless times that Peru has the best food in South America. We had our doubts. Considering how uninspiring the food has been in Colombia and Ecuador, does it really mean much?
But we have to admit, that even though we will always have a soft spot for Asian food (especially Indonesian food – yummers!) – Peruvian food so far has managed to impress. And I'd never have guessed – but I even learned to appreciate Peruvian ceviche.
—
Info Box:
Moche (dishes starting from S/15)
AV. REPUBLICA DE PANAMA 6445, Miraflores, Lima