Jakarta, Indonesia
As a vegetarian, growing up and traveling in Indonesia poses very little problem. I lived in Indonesia until I was 16, and when I was 12 – I announced to my family that I no longer would eat meat. My parents were like, "Uh huh. Just eat the side dishes then." 
Even though meat dishes are common, they're usually eaten with side dishes that are vegetarian friendly. As a family, we were already eating mostly vegetable anyway. We ate a lot of tofu, tempeh, labu (gourd), and eggs. Not to mention that there's plenty of fresh tropical fruit abound: mangoes, mangosteen, duku, papaya, pineapple – so much fruit!
All of the food on this list are vegetarian-friendly Indonesian food I grew up with and I always make it a point to have them every time I visit my family. Now that I live in the States and I can't cook to save my life,  I miss Indonesian food so much.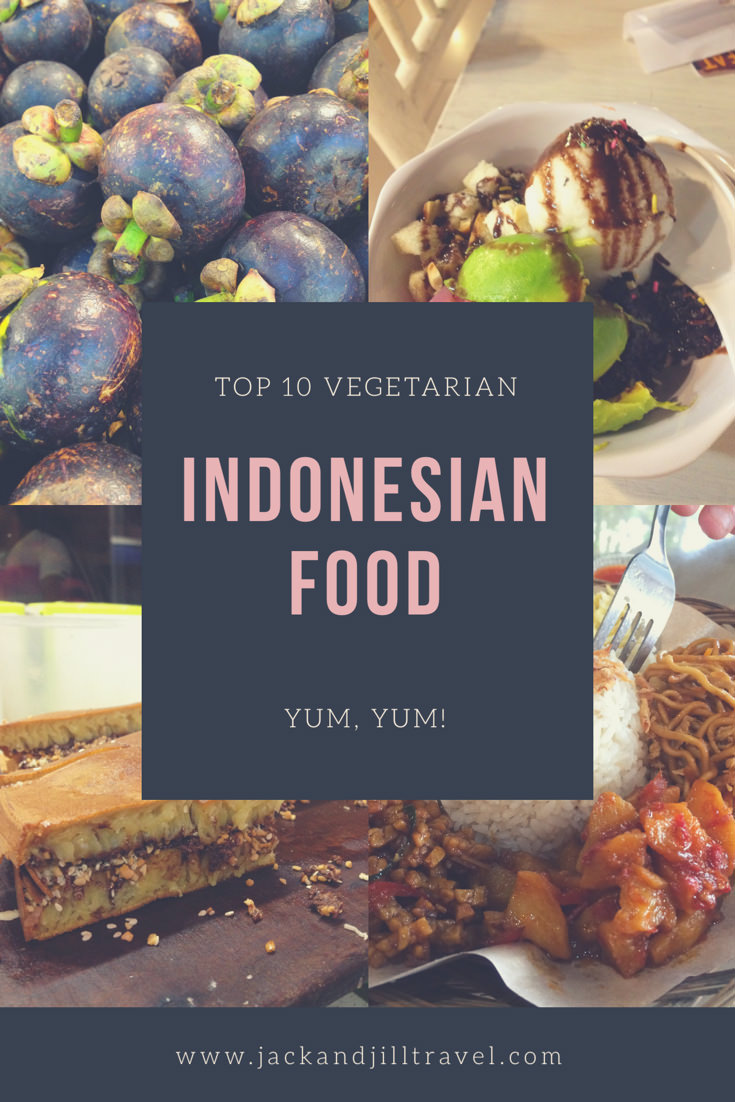 Vegetarian Food in Indonesia
1. Bakwan Jagung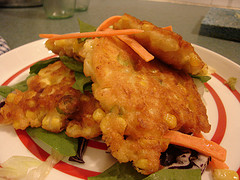 Corn fritter. Deep fried, doughy, corny fritter. Eaten hot with rice, chili sauce on the side. Mom knew to have these waiting for us after she picked us up from the airport. Heavenly!
2. Sayur lodeh
A type of vegetable soup/stew with coconut milk based broth. There are many different varieties, but the one that I'm used to has a type of gourd (labu siam) in it along with other vegetables such as tofu, long bean, egg, and chili sauce. Eaten over rice or rice cakes, this is a staple food during the big Muslim holiday at the end of the fasting month, Idul Fitri.
3. Keripik tempeh pedas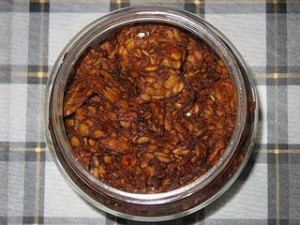 Another favorite. Thinly sliced tempeh, fried, and doused in spicy, sweet sauce. Eaten with hot, white rice, and usually served as a side dish or add-on for many of the soups/stews listed here.
4. Jogja gudeg
Young jackfruit, boiled until soft, and marinated with coconut milk and sugar. The resulting look and texture is just like beef. Slightly sweet and savory. Usually eaten with a bunch of other side dishes like boiled egg, tofu/tempeh, and chicken.
A traditional dish of Yogyakarta, it can be found in many street food stalls lining the city's famous Malioboro Street in big enamel pots.
5. Tahu bacem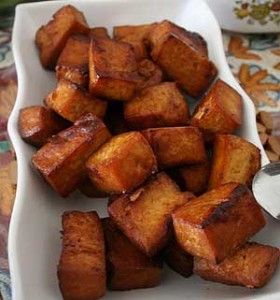 I would eat a whole bucket of this when I was a kid! You get a piece of tofu (or lots of tofu if you're making it for me), then have it sit for hours in a concoction of sugar, coconut milk, and about a dozen spices until the it absorbs all of the flavor.
Fried just before serving, it's a delicious and flavorful surprise especially if you're used the (more) bland way tofu is often prepared in the western world.
6. Lontong Cap Gomeh
Another type of coconut milk based vegetable stew, served with or over rice cakes. I try not to eat too much of it because of the coconut milk, but it's sooo good. You usually get to choose what you have it with. Options include: tofu, egg, crackers and chicken for the non-veggie.
7. Sayur asem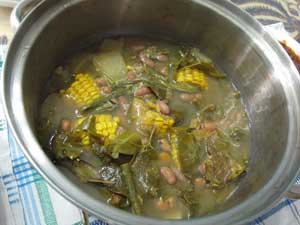 It's the Indonesian's answer to Thai's Tom Yum soup. Translates to roughly "sour vegetables", it's a light vegetable soup that gets its sour taste from tamarind. It usually contains peanuts, corns, 'melinjo', some leafy greens and long beans. By itself, this dish doesn't impress, but eaten with something fried (like corn fritters, for example)… it helps cleanse the palate and adds a little zing to your meal.
8. Telur Belado
Fried boiled eggs covered in sweet chili sauce (balado sauce). Balado sauce often used with other types of meat as well. It's a very flavorful chili sauce made with shallots, garlic, lime, and sometimes shrimp paste.*See note below
9. Mie Tek Tek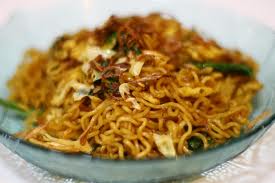 Stir fried noodles with eggs and veggies. It's so simple, yet so delicious. In Jakarta, this is sold by vendors who go around neighborhoods with a cart. To announce their presence, they hit 2 wooden sticks together making "tek tek" sounds, thus the name "mie tek tek" or "tek tek noodles".
10. Gado gado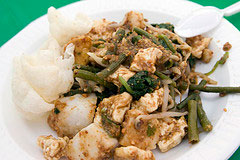 Freshly made peanut sauce poured over assorted boiled vegetables. Sounds simple enough, but the peanut sauce either breaks it or makes it. Recipes call for various spices such as shallots, brown sugar, garlic, and other 'secret' ingredients that make one gado gado establishment different from the other. Eaten with rice cakes, crackers, and fried shallots it can be had either as an appetizer or a main meal.
Like 'Mie tek tek' in #9, Gado Gado has made it to the big league from its humble beginning as peasant food and can easily be found from street card vendors to fine dining establishment.
—
Indonesian snacks and sweets
Whenever you get a chance, I recommend visiting the market and check out Indonesian traditional snacks and cakes. Made usually with rice flour, coconut milk, palm sugar, with bits of cassava, yam, or banana – they're very unique, vegetarian, and delicious.
Vegetarians won't go hungry in Indonesia, that's for sure.
* Strict vegetarians: Be wary of shrimp paste (terasi) that's ubiquitous in Indonesia. It's easily hidden in soups, stews, and other innocent looking vegetable dishes.
I go home to see my family once a year and on each visit, I try to see parts of Indonesia I've never been to. Some of my favorite include Belitung Island, Sumba, and Flores. Although being born in Java, I'm partial to this island as well. See all of my Indonesia posts, here.