Sutton, Quebec
When I first heard about Velo Volant, a newly built attraction located in Quebec Eastern Township, admittedly I was skeptical. The premise sounds intriguing from the start:
"Be one of the first to soar through the treetops on a suspended recumbent bicycle…"
This canopy cycle was such a new concept (there are only 3 in the world so far) there was little information I could find online. I didn't quite know what to expect.
During my Quebec roadtrip, I stopped by Au Diable Vert, a camping resort near Sutton to check out this flying-bike thing.
True enough to its tagline, I learned that VeloVolant allows you to pedal a bike-like contraption through the forest canopy… while being suspended up to 100 ft high above the ground.
I eyed the cable suspiciously. Would it be strong enough to hold my weight? I was assured it's strong enough to hold 5 cars.
From an engineering point of view, the installation of Velo Volant trail system was interesting in itself. Guy-wires attached to trees are used to suspend the cable in place as the it winds through the forest canopy. In places where the trail turns a corner, bent steel plates guide the wire, and in return the bike.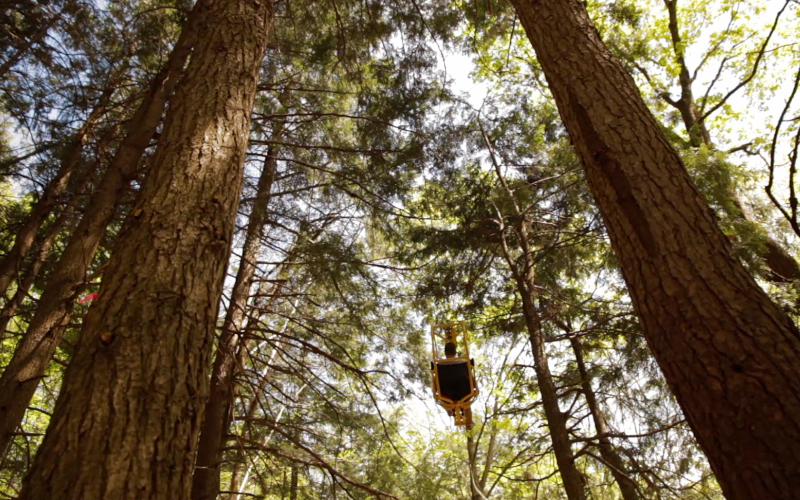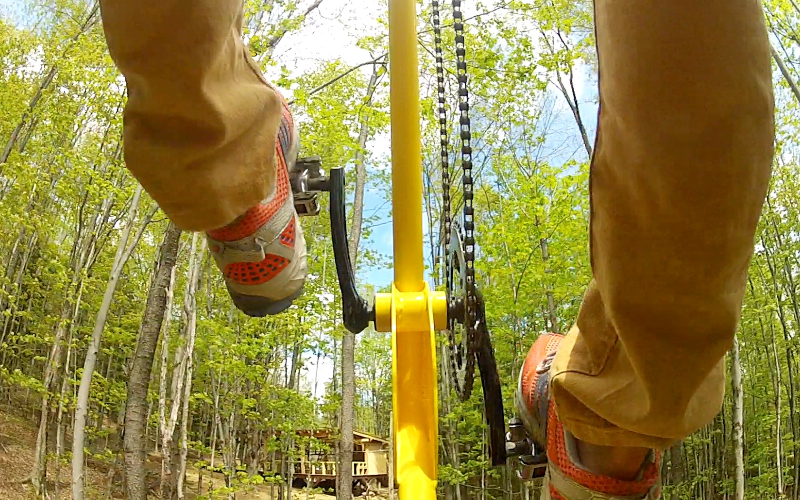 The trail was relatively flat and pedaling was easy.
So easy that many times I found myself racing through the trees, banking corners, and trying to pedal as fast as I could. Branches flew by me in a blur on my left and right. The ground is so far below I stopped worrying about it soon enough. I could hear Jeremy, the owner/guide, shouting at me from behind to slow down, 'It's not a race! You're supposed to relax and enjoy.'
Looking down to the forest floor from such a height was a thrilling experience. Once I get used to the sensation of pedaling through the air (and learned to slow down), I found it completely relaxing.
When I closed my eyes, I could hear the rustling of the leaves, the birds, as I swayed along with the breeze. It felt like being on a hammock. So relaxing the only worry about falling asleep is to fall out of the bike (don't worry, it has a seatbelt).
I had never experienced anything quite like this and was admittedly smitten by its novelty. I couldn't help but thinking that somebody needs to build the skyscraper version where you can bike among tall buildings. It would be really cool.
—
Would you go on a ride on the flying bike?
VeloVolant Info
VeloVolant
Cost:$50
Length: 1km, or 30 min ride
Address: 169 Staines, Glen Sutton, QC
Not recommended for: those who are afraid of height (d'oh)
Note: I was a guest of Au Diable Vert