Eastern Townships, Quebec, Canada
After spending some time in canoeing and kayaking in Ontario's wilderness I headed to Quebec Eastern Townships for a road trip. I love road trips. I was really looking forward to a few days of just me and the open road, driving past cute villages and beautiful scenery.
I wasn't disappointed.
Eastern Townships is a collection of villages an hour east of Montreal. It was originally settled by loyalists fleeing from the United States during the Revolutionary War. Thus the very un-French names of some of the villages: Sherbrook, North Hatley, Sutton, etc.
The landscape here is very different from what I'm used to in the West Coast. There were rolling hills dotted with small, neat farmlands, unlike the never ending fields and the occasional feedlots one would see along I-5. The houses are made of grey stones or red bricks or clapboard siding, and the churches are adorned with tall, white steeples.
At times I felt like I was driving through a Christmas postcard (minus the snow).
The Scenery of the Open Road
What I love most about driving around the Eastern Township is that it doesn't matter which road I take, there will be beautiful sceneries around me. Either rolling hills dotted with vineyards, historic and cute villages, or farmlands with charming barns and grazing cows.
Throughout the trip, I got lost a lot. My iPhone and the Garmin were shouting contradictory directions the minute I left the car rental place. I hated it at first because I had to resort to the old fashioned way of getting around: by stopping and asking for directions. And making a LOT o u-turns. I felt like I was wasting a lot of time.
Then I realised, with scenery like this, why the hurry?
Along with the scenery, here some of my favorite stops I've made during my road trip.
Geeking out at Mont Megantic Astronomy Lab
I saw Saturn for the first time at Mont Megantic Observatory. It was such a cool experience I was grinning like a deranged Cheshire cat for the next 24 hours.
Two nights a year, during the Festival d'astronomie Populaire du Mont-Mégantic, the observatory's large telescope is opened to the general public. Don't you ever want to know what it's like to look at the universe through a research grade telescope? Here's your chance!
If you're there during any other time in the summer, you will have the opportunity to gaze through their smaller (61 cm) telescope during their Astronomy Evenings event. When I got there, there were clouds in the sky, but for a few minutes it opened up enough for us to get a glimpse at Saturn and its rings.
It was so, so very cool!
I absolutely loved my time geeking out over the universe here.
Hiking in Mont Megantic National Park
Mont Megantic Observatory also happens to be located in a national park with the same name. Hiking its trails will take you to the summit of its mountains from which you have an almost 360 degree view of the surrounding area. The photo above is taken from the summit of Mt. Saint Joseph.
Baby Cows and Flying Bike
Near Sutton, there's a place called Au Diable Vert (the Green Devil).
I'm not really sure what to call this place. It's a ranch-slash-farm-campground type thing. It offers tree-houses, cabins, and themed tents for people to stay. It also has its own private network of hiking trails, a collection of Highland cows (only the cutest breed of cow, ever), and a ride that consists of a bike flying through trees.
The last part might be easier to explain with pictures than words.
(Read more about this unique attraction here)
Its owner, Jeremy, is an eclectic businessman that likes to add whatever projects he deems 'cool' to the property. Thus Au Diable Vert became a place that no word can properly define. Whatever Au Diable Vert is, it's a fun place to visit to hike and coo over baby Highland cows. And to ride a flying bike.
The foodie scene at B&B's
B&B's are the place to stay when visiting Quebec Eastern Township. Some B&B owners are actually trained chefs and the meals I've had in Eastern Township B&B's were some of the best I'd had anywhere.
Trying fresh cheese curds for the first time
Audrey is a resident of Lac Megantic, a town of 6000 located by the lake of the same name. She asked me if I'd tried poutine. "Yes, in Toronto," I said. "Did the cheese squeak?" she asked. I answered in negative. None of the cheese I'd eaten ever uttered a single noise, squeak or otherwise.
"Well, it wasn't fresh then. Let's get you some fresh curds."
And friends, fresh cheese curds do squeak (want to learn why?). It was both weird and exciting. I'd never thought I could be that excited about cheese curds before.
(I was told that somewhere out there exist deep fried cheese curds. I've now made it my mission to find and devour them.)
—
I've taken a lot of road trips before. Some with Jack, some alone. Because of the people I've met, the scenery, and how glitch-free everything was (Garmin GPS excluded) – this road trip through the Eastern Townships of Quebec easily ranks up there among some of my fave road trip experiences.
Do you have any memorable road trip experiences? Share them in the comment section below
Editor's note:
Mere hours after I finished writing this post I heard the news that a train carrying crude oil exploded in Lac Megantic – the town where I had my first squeaky cheese experience. The same downtown area I walked in pursuit of fresh cheese curds with Audrey was obliterated in the explosion. 5 dead and more missing. It's such a tragedy I still can't wrap my head around.
Eastern Township Experience Guide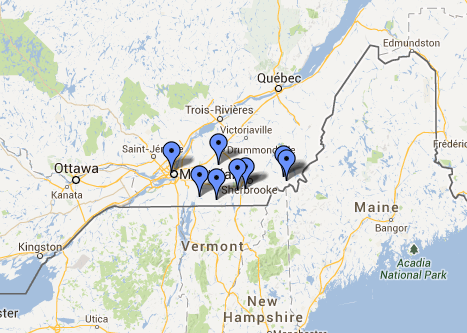 For gourmet experience to go with your accommodation, check out:
Haut Bois Dormant
Notre Dame du Bois (near Mont Megantic Observatory)
www.hautboisdormant.com
La Maison de Ville
Magog, Quebec
www.lamaisondeville.ca
Other places to stay:
Gîte Vert le Mont Bed & Breakfast
Sutton, Quebec
www.bbsutton.com
—
Entrance fee to Au Diable Vert: $5 for day use. Accommodation prices vary.
Entrance fee to Astronomy Evening at Mont Megantic: $22.25
Entrance fee to Mont Megantic National Park: $6.50