Chiang Mai, Thailand
My mom likes to say that I grew up in a car – she used to drive between college, work, and home with me not-quite-so-safely tucked in the backseat (those were the pre-booster-seat days) around Jakarta every day.
As a result, I'm always up for a road trip. Anytime, anywhere.
So when my 18 year old brother with his freshly minted driver license suggested that we rented a car to visit the golden triangle region in northern Thailand AND offered to do the whole drive himself – it took me a split second to decide that it was the most brilliant idea, ever!
See, I knew that taking my brother backpacking around Asia was a good idea.
The route was simple: we're making a loop from Chiang Mai to Mae Salong and back. Taking the freeway up, and through the twisty road in the mountainous region (pass Tha Ton) on the way back.
In retrospect, doing this road trip was the best thing we've done in Thailand
The Golden Triangle in Thailand is a region in northern Thailand where Burma, Vietnam, Laos and Thailand come together. It's green, hilly, and sparsely populated. It is also the largest opium producing region in the world since 1920's – but you won't know it by the look of the place.
I was afraid that the driving was going to be crazy… you know, third world crazy. But surprisingly, once we left Chiang Mai, it was easy driving all the way through. As a matter of fact, we were surprised at how little traffic we saw.
Mae Salong itself proved to be an interesting city with an even more interesting history.
It was established by a group of Chinese soldiers who ran away to Burma to escape persecution. They were then offered citizenship in Thailand in exchange for them becoming mercenaries in Thailand's fight against their own communist regime.
All of this happened about 60 years ago – our hostel's owner was one of the soldiers. He was 10 at that time.
Because of this, Mae Salong looks like a small Chinese village. Everyone speaks Chinese and they eat Chinese food. Chinese lanterns hang from the rafters and everyone looks… well, Chinese (duh).
In terms of attraction, Mae Salong is relatively low key.
The draw of Mae Salong can be found in narrow, empty dirt roads passing through tribal villages of the Akha and Lisu, passing through green hills…
and more green hills.

It can be found by tasting tea sold in the tea market, eating Yunanese food and pretending that you're in China by trying to communicate with broken Chinese with the friendly locals.
We had to leave early on our last day in Mae Salong and we decided to visit the morning market Lonely Planet describes as "interesting". Honestly, the market wasn't much – not really worth waking up before dawn for.
But waking up early that day did bring an unexpected gift. As we were driving away from Mae Salong, passing through villages that were barely awake, we caught this on our rearview mirror.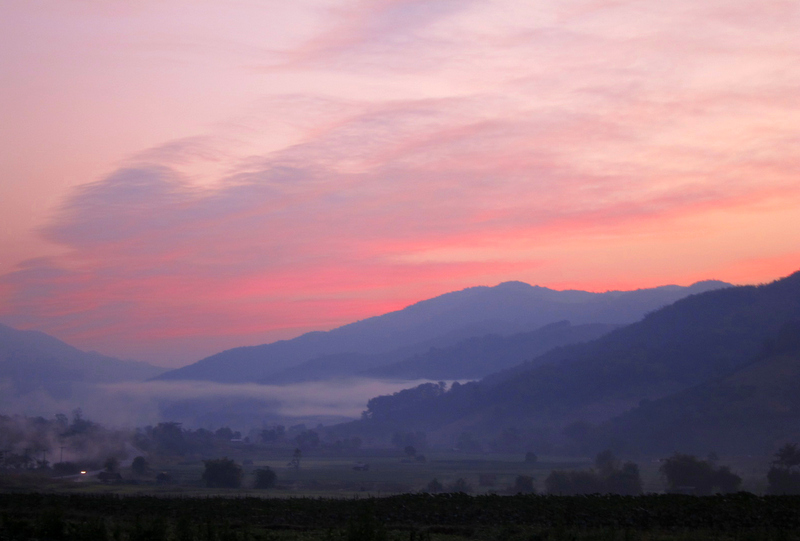 That was when we decided.
Golden Triangle region – the prettiest place in Thailand? We think so.