We didn't have a long list of things to do in Bangkok. My brother and I arrived in Bangkok, the first city in our SE Asia trip, with only one thing in mind:
Eat Thai food
We quickly realised it wasn't an ambitious enough list. Not by a long shot.
The thing is, I sort of underestimated Bangkok: To be honest, I was expecting Bangkok to be your typical Asian capital city: hot and dusty, legendary traffic jams, uninspiring and dusty concrete buildings…
But Bangkok surprised us. (Even though the hot part and the traffic jam parts are also true).
The thing about having an unambitious to-do list is that all the other extra stuff we ended up enjoying about Bangkok was just extra bonus points.
The Grand Palace was a wow-zer in its over the top way – Bonus point!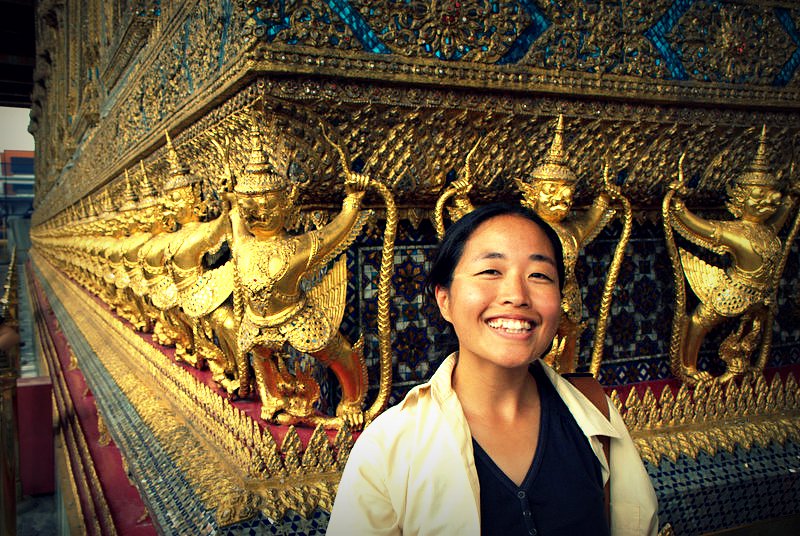 The giant reclining Buddha was well… big and horizontal. Very cool, indeed. Bonus point!
The fact that Buddha has a come-hither look that makes this the sexiest Buddha statue I've ever seen? Double bonus point!
Many of Bangkok's points of interest are located within walking distance from Chao Phraya river. You can jump on a public boat and get on and off at any pier that looks interesting all for 15 Baht (50 cents) a trip – Bonus point!
We took a trip on a long boat tour through the residential part of Bangkok canals. The idea is that you get to see the life of those who live by the river. It would've been interesting, but we must've picked a bad time because we didn't see any 'life' so to speak. The only people we saw on this trip were people in the laughable 'floating market' – 3 boats selling overpriced bananas. This was just ok and does not merit a bonus point.
And then there's the famous Bangkok's nightlife. I took my brother out to a bar on Nana district. We saw men the age of our fathers acting like frat boys: going crazy on the dance floor with beer in one hand and a young Asian girl my brother's age on the other. Rocking it, grinding it, and in general having a grand old time. I found it all very fascinating. My brother found it shocking. I almost can never shock my brother so – Bonus point!
And of course we ate a bunch of Thai food. The wonderful Thai people makes it so easy. Empty sidewalk is considered a disgrace and when not taken by souvenir stalls, it's filled with stands selling fresh fruit, fish cake, grilled fish, grilled meat and other types of deliciousness that makes my mouth water just writing about it – GIANT Bonus point!
My brother and I have adapted a grazing style of eating while we were there. We never sat down to eat, we just kind of… nibbled. A little bit here and there.
So many things about Bangkok came as a pleasant surprise.
The only thing that was NOT a pleasant surprise? The heat and the humidity. My brother and I are probably the only non heat-resistant Asians out there. In Bangkok's relentless humidity, my face turns into an oil slick OPEC would be interested in. My brother sweats so much he often looks like he's just fallen into one of the canals.
People say you'll get used to it. We're still waiting for it to happen. (Our guide at the Grand Palace said that Bangkok has 3 seasons: hot, hotter, and hottest).
Despite the heat, I have to say I kind of like Bangkok. It's a fun city and I never thought I'd say that about any capital city in Asia. As we're traveling through Cambodia and Vietnam (where we're currently at) – we keep saying to each other: "Oh, can't wait to get back to Bangkok!"
---
TLDR: Bangkok
1 hr long boat trip: 300 Baht a person
Bangkok Grand Palace admission fee: 400 Baht
Bangkok Reclining Buddha admission fee: 100 Baht
A tip on which area to stay in Bangkok: We stayed in Sukhumvit district and loved it! Staying close to a BTS station makes a huge difference.