New Orleans, Louisiana
Jack was going to Atlanta for a conference and I decided to join him. I decided last minute to extend my stay because… when else am I going to find myself in this region? So many parts of USA are still unknown to me and this was an opportunity to discover new parts of this adopted country of mine.
Atlanta was a blur, I hardly remember anything about it (other than it was hot), but I remember Savannah (very leafy and romantic), and the Great Smokies (beautiful). Then I decided to take a 10 hour bus ride to visit New Orleans, one of the places I'd wanted to check out for a while, having heard so much about it.
Here are the lowlights and highlights of my New Orleans visit.
The Low – Beignets
Beignet lovers would give me a hard time over this, but I simply don't get beignets. Just like any other tourist in New Orleans, I patiently waited in line at Cafe du Monde for my little paper bag of beignets.
I love fried stuff so I dipped my hand in the bag enthusiastically and pulled a beignet out. I was confused. There was so much powdered sugar it formed a sticky goo all over my fingers. Is there supposed to be that much powdered sugar?
And the taste? I mean, it was good. Then again, it's a fried piece of dough. How can it not be good? But world famous good? Worth the hype good? Eh, I don't know.
(For some reason I really, really wanted to be wowed by beignets, so I came the second time. Same experience. Undeterred, I went to Cafe Beignet to try their version of this New Orleans fried specialty. No go.)
The High – Donuts from District Donuts Sliders Brew
Give me a regular donut piled high with all sorts of sugary goodies (but not too sweet it gives you instant cavities) and I'm your girl. I guess this confirmed that I'm just not a beignet person.
The place's name is a mouthful but it highlights what this place does best. The donuts were creative (I had a Vietnamase Coffee, a Root Beer Float, and a Nutella donut – don't judge), the sliders were delicious (or so I was told), and the coffee was spot on.
I ended up coming here every day, sometimes twice a day.
Location: Lower Garden District
The Low – Bourbon Street
When I first arrived in New Orleans, Bourbon Street was the only familiar name in the French Quarter so that was where I headed first. For someone to whom first impression counts, this proved to be a mistake.
Tacky souvenir shops, 'voodoo emporiums', and an endless line of bars greeted me. There was a lot of noise, a lot of people, and a lot of bright neons. What a sensory overload!
Ugh. This wasn't what I expected to find.
Even when I haven't just gotten off a 10 hour bus ride, this isn't my scene at all. As soon as I got over my initial "Where am I and how do I get out of here?" shock, I quickly fled.
Luckily I found a completely different scene only a block away.
The High – Royal Street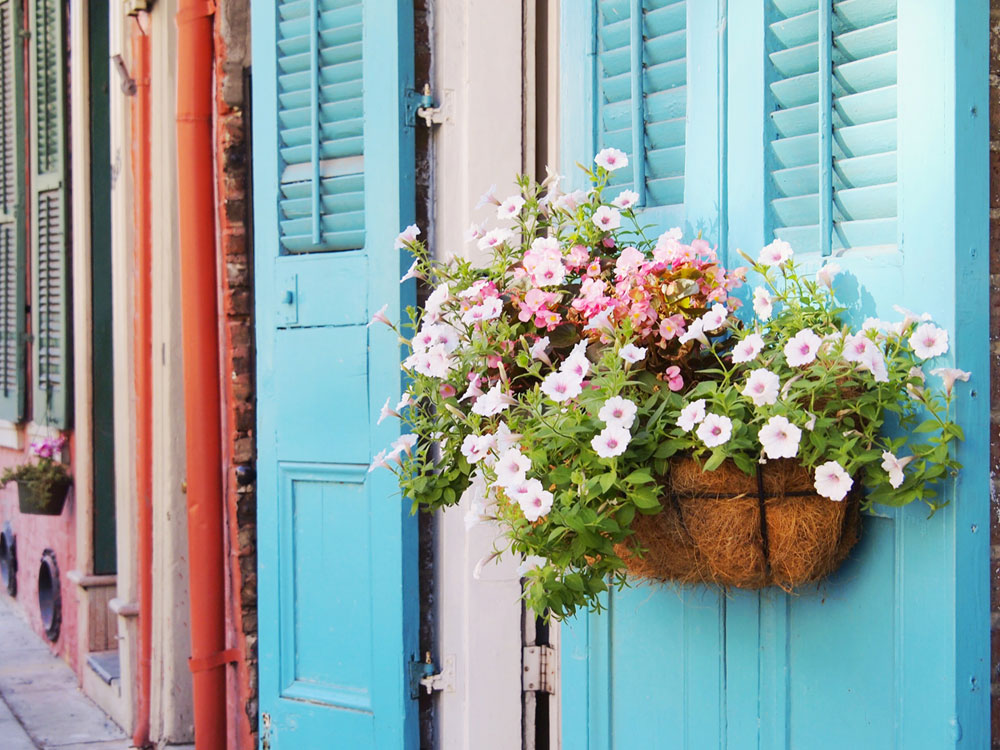 Just one block further on Royal Street, the atmosphere is a world's away. Instead of bars, there were art galleries, coffeeshops, and restaurants. The balconies on Royal Street were so beautiful and intricate, many of which were decorated by flowering potted plants and greeneries.
This was more along the French Quarter that I had in mind.
More highlights of New Orleans
The food
The best meal I had in New Orleans is this crawfish etoufee from Liuzza by the Track, a small joint in the residential neighborhood 10 minute bus ride from the French Quarter.
Would you look at that size of buttery, warm, goodness? It was so delicious I wanted to lick the plate.
The World of Mardi Gras
This was a super fun experience.
If you ever wonder about what goes on behind the scenes of Mardi Gras, this is the place to go. I learned a lot about what goes into the making of the floats and more importantly the wacky, almost unbelievable world of this world famous festival. More on this later.
MORE: The Mardi Gras Museum in New Orleans
The Pharmacy Museum
The best $5 I've ever spent! Try to get on one of their twice a week guided tours (Thursday and Friday at noon) where you get to learn about common medical practices New Orleans in the 19th century.
I can't recommend the tour enough; it was both funny and insightful. It made me wonder how anyone survived that time period considering the stuff they did back then (lead lined baby bottles, anybody?)
(It also made me wonder what current medical practices that will be cringeworthy a hundred years from now.)
Self-guided walking tours of New Orleans
I felt like I lucked out a lot with the weather. I feared the heat and the humidity of New Orleans but what I got was a sunny day with mild weather. It was a perfect walking weather.
In between food and ice cream stops, and occasional bus rides, I had a blast exploring New Orleans highlights on my feet: the leafy mansions of Garden District, the colorful houses of New Orleans residential area, and of course the ever popular cemeteries.
(What's the deal with the this obsession over cemeteries?)
The ultimate, ultimate highlight of my New Orleans exploration? Ending each day with a salted caramel gelatoccino (espresso + gelato) from Angelo Brocato. It's worth hunting this 100 year old Italian bakery (still run by the Brocato family) in Mid-City neighborhood.
Looking for more to do? Check out this alternative 3 day itinerary in New Orleans.
—
Have you been to New Orleans? What do you love most about the city?