Matagalpa, Nicaragua
La Selva Negra is an eco-lodge in the Northern Highlands of Nicaragua. The cooler temperature and the lush surrounding of the region makes for a nice break from the heat of Granada. Here you can go horseback riding, go on a guided nature hikes, or simply wander around and watch the activities on this beautiful eco-friendly coffee-producing farm.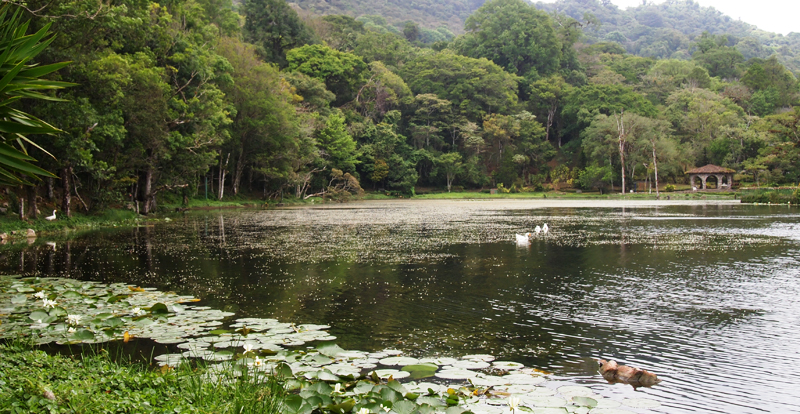 Which was all nice and swell but I came with a different agenda.
I came to hike the cloud forest of La Selva Negra. During my time in northern Nicaragua I learned quite a bit about cloud forests. The difference between a cloud forest and a rain forest is that the former has 2 major sources of water: rain and condensation from low-lying clouds. Clouds form in the forest's canopy when warm moist air is pushed upward, giving the forest its name.
I was assured that even in the dry season, the cloud forest is one of the few spots that is still green.
I followed a loop that starts by the lagoon and climbs up, hoping to find a ridge with an expansive view of the cloud forest. "You won't get lost", the lady behind the counter guaranteed. "The trails are clearly marked."
Along the way I passed a lot of… trees.
(I wish I could tell you what they are. It would make me seem smart. Some are really tall, some are bush like. They're normal looking trees.)
When I get to the top, I couldn't see any further than 50 yards in any direction. I guess I got what I was looking for – the area was so lush and green the trees and the foliage obscured my view.
I was soaking in sweat and mildly disappointed by this development. I tried to cheer myself up by promising myself a big meal at Matagalpa's only Italian restaurant for dinner.
Maybe this is not a good idea
As I was fighting the humidity on the way up, I started thinking, 'Maybe this is not a good idea.' If something happens to me, nobody will know. I tried to remember if Nicaragua has mountain lions. Or poisonous dart frogs. I was alone, breaking my one rule about hiking alone.
In the middle of these cheerful thoughts, I heard a bellowing noise that could be best described as a small, but nasty dinosaur. It sounded so bloody close I slipped and fell out of surprise. I sat on the ground holding my breath, and expecting a pair of reptilian eyes to appear from the nearest bush.
But nothing that exciting happened. The jungle noise continues on and I never heard that noise again.
I know there were a myriad of things in the forest. You could hear them. The noise from the insects and the birds was at times deafening and the forest seemed to buzz and vibrate from it. But I didn't see anything other than normal looking trees.
Not until I was almost back at the lagoon I heard a crashing sound above me. I looked up and saw black faces and black bodies chasing each other among the tree branches above.
Seeing howler monkeys
There was maybe a group of 8 howler monkeys. They were chasing each other among the tree branches, making a big ruckus. One of them spotted me and we stared at each other. He turned his back to me after 5 secs, obviously finding me a lot less interesting than I him.
I've seen monkeys before in a much closer setting, but seeing animals in their natural setting is always exciting.
Despite the lack of view I was hoping for, seeing the monkeys well made up for it.
—
Editor's Note: It finally occurred to me that maybe the noise I heard was of a howler monkey. So I looked it up, and I'm now 99% sure that it was a howler monkey (or three). It sure came as a surprise when you didn't expect it.
Have you ever seen monkeys in the wild?
Getting to La Selva Negra from Matagalpa
How to get to La Selva Negra from Matagalpa
Getting to La Selva Negra from Matagalpa is pretty straightforward. From Terminal Sur in Matagalpa, take the bus heading to Jinotega. Asked to be dropped off at "Puertas Rojas" or simply say "Selva Negra" (12 Cordobas). From where you get dropped off, continue 50 m uphill until you see a tank that marks the entrance to the ecolodge. From there it's 1.5 km of flat gravel road.
Entrance fee for the day: 50 Cordobas
Total cost: 62 Cordobas ($2.50)