Baños, Ecuador
Having stayed in Baños for almost 2 months, both Jack and I have discovered some places that quickly became our favorites. We'd love to share some of them with you.
Best Breakfast Place
This is a tight race between Ricooo Pan and the restaurant at Hostal Plantas y Blanco.
But Plantas y Blanco has a rooftop terrace, free wifi, and more importantly – a double pancake extravaganza covered with fruit salad, yoghurt, and miel de caña.
Bring an extra stomach. It's huge and it's awesome.
On a side note: Ricooo Pan is open at 7 am and Plantas y Blanco opens at 7:30 am – a good thing to know if you're an early riser and looking for a decent coffee in Baños.
I'm beating myself up for not finding out about these places sooner. For the first week here in Baños, I'd find myself in caffeine-deprived state wondering the streets of Baños looking for non-instant coffee at 7 in the morning (the curse of an early riser in an instant-coffee obsessed continent).
Best Place to See Taxidermy Gone Amok – The Basilica Museum
If you're into the weird and the morbid, you want to see this place.
If you have a couple of hours in a rainy afternoon and $1 to spend? This is the place to be.
Read more: The Weird and The Morbid in Baños
Best Place to Hook Up With Your Tour Guides – Leprechaun Bar
(pronounced locally as 'Lepre-cha-oon')
This is where the 'local talents' scour the dance floor in the hunt for gringas. Especially on weekends.
Go here to people watch. Honestly, it has become a favorite past time of mine to go here on weekends to people watch. It's usually too crowded to dance properly anyway. The weekend farras here can get crazy – or so I've been told 😉
On weekdays it's much more 'tranquillo' and the fire-pit in the back is a good place to meet and hang out with the city's long term volunteers and local characters.
Note on drinks: The drinks are notoriously expensive. Go somewhere else for the drinks or have a local friend buy one for you (every bar has two sets of prices – gringos and locals).
Address:
Alfaro entre Oriente y Espejo
Best Place For Happy Hour – Good Bar
The bartenders at Good Bar always look like they're having fun. Dancing and singing along with the music with big grins on their faces. It's always fun watching other people having fun 🙂
They play better music here at Good Bar than at Leprechaun, but the small dancing space can feel a little cramped.
Happy Hour gives you 2 for 1 (so it's $2 ea). And it ends at 11 pm.
Address:
Alfaro y Oriente
Best Place to Avoid After Laundry Day or If You're Trying to Stop Smoking – Jack Rock
Jack Rock is a small, cozy, and ventilation-free bar. The whole room seems to be have a perpetual haze of cloud hovering over the tables and stools. It gets worse the later it gets.
Its redeeming features are a billiard table (free), a foosball table ($1), and cheap(er) beers. Jack (and the other volunteers) luuuve this place. I don't get it.
The smoke there can get pretty bad that I avoid going there unless I really have to. My friends and I joke about having a Jack Rock only outfit to go out because we're sick of doing laundry everyday.
But if you don't mind the smoke, it's a cool place to hang out. There's no dancing so the music is more mellow and conversations are easier to have.
Best (and only) Brewery – La Cascada
This brewery quickly became a favorite hangout for the volunteers, and not only because the brewmaster, Tim, is our friend.
Tired of the ubiquitous Pilsner, Brahmas, and other local beer? This is the place to try something different.
Not to mention that Jason, the chef, is a mean, mean chef. Try the tacos, or the fries (ask for the beer cheese sauce).
Address:
Rocafuerte y Maldonado
Best Viewpoint Over Baños – The Antennas
The quick and dirty ways to get an overview of Baños and its surrounding mountains are by hiking to the Virgen or to the Cross.
But the best view of Baños – IMO – is from a viewpoint called 'the Antennas' on the other side of the mountain. On a clear day, you get an unobstructed view of Tungurahua.
Take a taxi there ($15 return or $8 one-way) or a (very) long hike. Cross the San Francisco bridge and keep going up the mountain.
Best Travel Agent – Geotours
Arguably the biggest and most popular travel agent in Baños, Geotours runs a tight ship. We went rafting with them and other volunteers we knew went canyoning with them and everyone had a great time.
Their specialty seems to be water-related activities and rock climbing.
Not necessarily the cheapest, so if you're looking for something less technical (like jungle trips or waterfall tours) or more specific (such as mountain climbing) – it's worth shopping around.
Jack and I personally went canyoning in Rio Blanco with ExplorSierra and had a great time. We really liked Guido – the owner and our guide.
Side note: And if you're looking to go rock climbing in Banõs, let us know and we can get you in touch with our friend and climber guide. We've been told that he's the best climber on this side of Ecuador – and we believe it.
Address:
Ambato (the main street in Baños) y Halflants.
Best $2 Lunch – the Market
There are a lot of stalls selling cheap almuerzos and local dishes as well. If you pay more than $2 for a typical almuerzo (soup, main dish, and juice), you're paying too much.
Best Day Trip Out of Baños – Puyo
Visiting the monkey reservation in Puyo is a must. I can't recommend it enough. It's an hour by bus to Puyo, and a 15 min ride by taxi from Puyo's bus terminal.
The monkeys are adorable and most of them run around free in the reservation. They like to be held and tickled.
On weekdays, there's less people so you can have more monkeys for yourself. One time I had 3 monkeys on me. 2 on my head – fighting – and a baby on my chest.
I could've died from cuteness overload. And I might or might have not smuggled a couple of those cuties home.
Info:
El Paseo de Los Monos
Volunteering opportunity is available for $100/week (accommodation and food included).
Best Vegetarian Sandwich – Blah Blah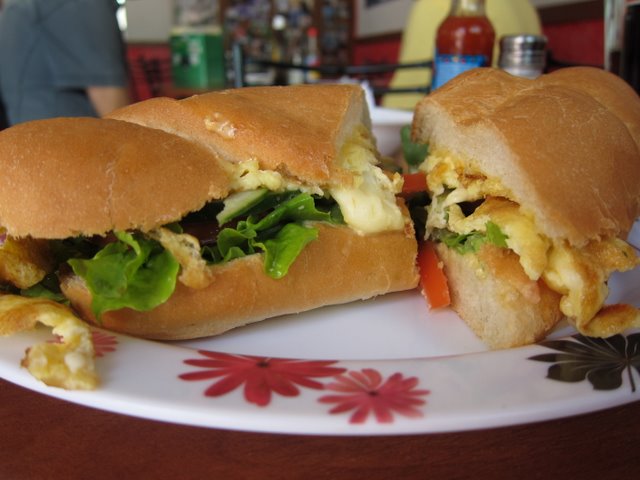 Yes. The name of the place is Blah Blah.
Get the one with the fried egg as an add on. Sooo good. As a matter of fact, I'm craving one right this. very. moment.
Hmm, I wonder if they're open right now.
Address:
Halflants near Ambato, Banos, Ecuador
Best Hangout Place With Wifi – Meeting Point Coffeeshop
We might be a little biased. German is a friend of ours and we saw his cafe came to fruition during our stay there.
We designed and painted his shop's windows and designed his website too.
But really, even without all that – his place is one of the few places that offer free WiFi in Baños (Plantas y Blanco also does). He also makes killer hot chocolate and eggplant bruschetta.
Address:
www.meetingpointcoffee.com
Eloy Alfonso (bar street) entre Oriente y Ambato
Best Local Character and Best Toilet With A View – Marcello
This is Marcello. He works as a jungle guide (rumor has it, the best in Baños) and as a carpenter.
Stay in Baños long enough, you will get to know Marcello. His house, that he built himself, is perched over a river canyon and has a killer view of the volcano and the lush green valley.
If you're lucky, you might get invited to see his house.
First time we were there, he was like, 'Come, I'll show you the toilet.'
'???'
You have to see it to understand. But suffice to say it was amazing, the bathroom is very open (too open for me, personally) but it does have a killer view of the Tungurahua volcano.
Just one of the perks of living underneath an active volcano. Yep, you could watch the Tungurahua erupting while doing your business in the bathroom.
---
If you ever come across Baños, hope you enjoy this city as much as we did. And if you're looking for more insight into Baños, here's a post on Baños that Alisha, a fellow volunteer at the Bib, did:
http://www.smallworldpursuits.com/banos-ecuador-video
Have you ever been to Baños? Let us know what you think!