Ecuador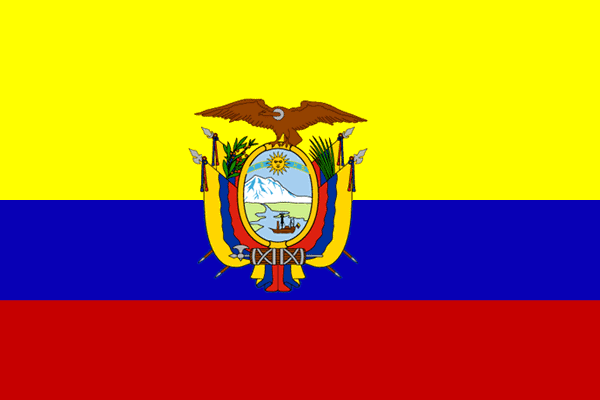 Total days: 69 days
Cost per day: $21 pp – (with Galapagos it's $200 pp)
Cities visited: 6
Days sick: 0/0 (yay!)
Conversion rate: $1 = $1
Adventures in Ecuador
– Being asked to design and paint a local cafe's windows in Baños
– Survived partying ala college days in Baños
– Mountain biking down Cotopaxi, one of the highest active volcano in the world, on a very shitty mountain bike
– Rappelling down waterfalls
– Surviving seasickness on Galapagos
– Face to face with 'boobies', sea lions and penguins in Galapagos
Cost per day in Ecuador – $21 pp
Not counting Galapagos, Ecuador turned out to be surprisingly cheap. Cheaper than Colombia. Part of it is due to our lengthy stay in Baños where we paid about $3.50 – $4 per night in accommodation.
The price even includes the cost of all the activities that we did in Baños: canyoning, rafting, mountain biking, etc. We almost never cooked and ate out all the time. We also went out almost every day.
In a nutshell, what we're trying to say is: it could've been a lot cheaper.
In Ecuador…
– Everytime I think of all the good times we've had in Ecuador, I'm reminded by a conversation I overheard in Colombia, 'There's not much to do in Ecuador, I think we're going to fly directly to Lima from here.' Ouch!
– Ecuador is such a beautiful country with varied landscape. It has more than 30 volcanoes. And those are only the active ones.
– The buses here in Ecuador are so cheap. About $1 per hour.
– The food is slightly better in varieties and qualities than Colombia. It doesn't say much though.
– They play slightly less violent movies on their long buses than they do in Colombia. Again, it doesn't say much.
Border crossing from Colombia
We spent the night in Pasto (CO) Then the next day, we crossed the border in Ipiales. Once in Ecuador, we took a collectivo to Tucan's bus station (EC), then a 3 hour bus to Otavalo ($2.50).
The whole experience was painless (compare that to our recent Ecuador – Peru border crossing). Just don't forget to stamp in and stamp out.
Indonesian passport holders do not need a visa to enter Ecuador.
Here is a very useful breakdown on Colombia – Ecuador border crossing.
Otavalo
During our 4 day stay there we didn't do much other than hanging out by the market every day. The market was impressive in size but the quality ranges from 'Hey, my 12 yo cousin can do that' to 'That's amazing!'
Most of them also sell very similar items. So shop around before plopping down your hard earned cash on stuff here.
Where to stay:
Valle del Amanecer – review. Free Wifi, but no kitchen.
Where to eat:
A good Mexican restaurant (we were pleasantly surprised) is just up the street from the hostal on the way to the plaza. It's on your left hand side.
Quito
We couchsurfed in a farm in small town near Quito, and I have to say it was the most unique couchsurfing experience we've ever had.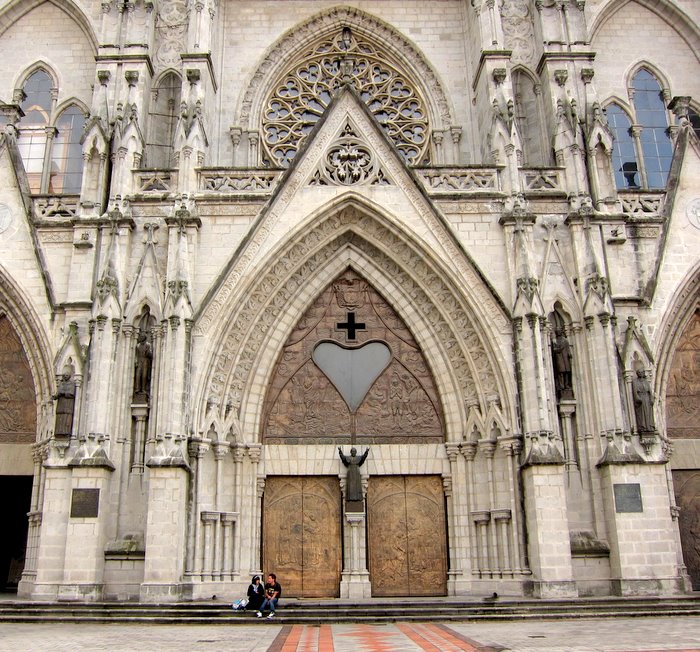 We didn't spend much time in Quito itself other than one day walking around its colonial center. We weren't too impressed. Between Cuenca and Cartagena we thought Quito's colonial center was just, 'meh'. We did, however, spend a miserable 2 hours on a bus, squished like a deodorant in an armpit on our way to Quito's bus terminal.
If you've been following us for awhile, this won't come as a surprise. Big cities are never our things.
Galapagos
We arranged our trip to Galapagos through an agency in Quito, called CarpeDM. It's located in the same building as the Secret Garden hostal. The owner, Paul, was a blast to work with. Very personable and helpful. We can definitely recommend him.
We ended up on a yacht called Fragata and we enjoyed it. The crew was efficient although they could use with more smiling. The naturalist seems to know what he was talking about. The food was better than the average (the vegetarian option was horrible).
You can learn more about our Galapagos experience from the related posts below:
Stories and Photos from Galapagos
Learning to Appreciate Galapagos
Surviving Galapagos
How much does Galapagos cost?
It's painful to talk about the cost of Galapagos, but here it is:
$1100 pp for a 7d/7n cruise.
$100 entrance fee
$275 flight fee
Looking for ways to get to Galapagos cheaply? Here's an article from our friend at GloboTreks that you might find useful.
Baños
Billing itself as Ecuador's adventure capital it lives up to its name. We did pretty much everything the town has to offer: canyoning, rafting, climbing, etc with the exception of going on a chiva bus and renting that very annoying 4 wheel go-cart.
We stayed in Baños for almost 2 months and we could've stayed longer.
We volunteered for an organization called Arte del Mundo who runs a library and after school activities for the kids of Baños. Check them out if you're considering doing any volunteer work in Ecuador.
Where to stay:
We can't recommend any hostal personally because we didn't stay in any. We either stayed at the organization we volunteered with and we rented an apartment afterwards.
However, we did hear a lot of good things about Chimenea Hostal and Santa Cruz Hostal. Hostal Carolina has the cheapest bed we've heard for about $6/pp.
Where to eat:
Baños has a ridiculous number of good restaurants for its size. Check out some of our favorite restaurants and other Baños related stuff: Best of Baños.
Cuenca and Ingapirca
A girlfriend and I visited Cuenca and Ingapirca as a weekend trip from Baños. Totally not recommended (doing it as a weekend trip, not Cuenca itself).
Cuenca seems nice enough. It's cleaner, prettier and overall feels a lot safer than Quito. It has a gorgeous river and riverside walk.
Where to stay:
Turista del Mundo – on Calle Larga – for $6 pp. Very friendly owners, large and bright rooms, but wifi is only available on the 4th floor.
Where to eat:
Many hookah bars along the same road also serve Indian/Middle Eastern snacks such as falafel, pakoras, and shawarmas. Yum!
Ingapirca itself was not too impressive. I guess here I should say that I'm not a big ruin person and lack the imagination it takes to truly appreciate the less intact ruins. The setting was beautiful though. The trip to Ingapirca from Cuenca takes about 2.5 hour one way.
Related post:
Ingapirca – Not Quite Blown Away
Vilcabamba
From Baños, we went to Vilcabamba on our way to Peru. Maybe it was because of our mood, or what, but we didn't care too much about Vilcabamba. It's very popular with American and European retirees, conspiracy theorists, and hippies.
Where to stay:
Accommodation here is expensive and limited. We stayed in Valle Sagrado for $6 pp and it was just ok. Small kitchen and no wifi.
Related post:
Where have all the hippies gone?
Now What?
Now we're in Peru making our way south. First big stop is Huaraz where we expect to do some awesome trekking and climbing. Rumor has it Peru has some impressive mountains and canyons and we can't wait to explore them.
Chau!