Baños, Ecuador
With so many waterfalls and rivers around Baños, it's no wonder that every tour agency in town offers some sorts of water related activities, like canyoning.
Loads of Fun
It was the first time Jack and I went canyoning – which basically is a combination of rappelling and sliding down waterfalls.
Our first choice of river, Cashaurco, was not available due to heavy rain in previous days, so we opted to go on Rio Blanco instead.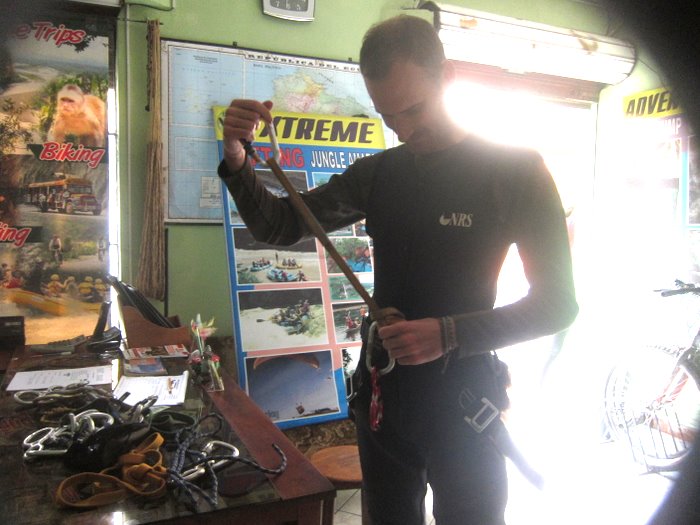 I had my doubt about this whole canyoning thing at first. Rappelling is just a fancy name 'Don't let go of that brake hand or you'll get in serious trouble.' When we go rock climbing, anything that requires rappelling down a cliff is usually a chore I happily relegate to Jack. Chore with capital C.
But as I later found out, if you add waterfalls to the equation it suddenly becomes a lot more exciting.
A lot more.
It was harder than we both expected
The combination of the force of the waterfall, and water spraying in your face (don't look up – always look down) was disorienting. Not to mention how slippery the rock was from the water and the moss.
I'm not going to lie, there were some scary times. We saw a guy from a different group who slipped and got knocked about by one of the waterfalls. Luckily, he didn't let go of his brakehand and came down fine.
Never underestimate the power of waterfalls, however small it seems like.
But it was exciting to feel out of our elements. And who doesn't like playing in water anyway?
My embarrassing moment
On the last part in Rio Blanco, we were supposed to slide down a mini cascade on our butt, with a rope attached to our harness, just in case we start careening out of control.
I asked the guide to keep me tight but not too tight, but somehow I ended up being lowered like a rag doll down the rock.
On my butt. With water pouring down my back and harness cutting into my fleshy hip. Arms open wide and legs spread eagled ready for the thrill that never came.
Down the slope. Inch by bloody inch. Like a claymation movie in slow motion.
I was laughing/screaming and yet with every jerk of the rope, I involuntarily warbled something like 'Hoack!'
I'd never felt so ridiculous. I'd never seen anything more ridiculous. I've seen the video. Jack, being the kind loving husband that he is, was laughing his arse off the whole time and videotaping the whole thing.
I wish I could show you the video, but I do have an image to protect 🙂
But for a consolation price, you get to see the ridiculous harness/diaper we both got to wear. Can anybody seriously look good with this on?
I don't think so.
Other than that, it was serious fun
I ended up with a rope burn on my finger (hurts like hell) and Jack ended up with a video he could probably blackmail me with, but I already can't wait for our next canyoning adventure.
---
Info box
– We went with ExplorSierra and had a great experience.
– The cost of canyoning Rio Blanco was $20 pp, compared to our
volcanic mud bath in Colombia
(that costs about the same), this is a much better deal.
– Don't forget (like we did) to bring towels and dry clothes.