As an American traveling to Iran, I had to plan my Iran itinerary and had it approved before I could even apply for Iran visa. I had to make a decision what to do and where to go in Iran months before my departure. Once approved, no changes to the itinerary are allowed either. A big change from how I usually travel (I usually change my mind about 1000 times during a trip). However, I was just happy that at the time Americans were still allowed to travel to Iran. Who knows if/when things are going change.
Most first-time visitors to Iran follow "classic Iran itinerary": Shiraz, Yazd, Persepolis, etc. It's a popular route where you'll bound to come across other foreigners. Its popularity has good reasons. The classic itinerary highlights the best of Persia's architecture. Iran's mosques, gardens, and palaces are after all some of most famous places to visit in Iran. I decided to loosely follow this itinerary, swapping certain things for activities that I was more interested in.
However Iran also has diverse natural landscapes that shouldn't be missed if you have the extra time. Gilan province in the north of Tehran is lush and almost tropical. Qeshm island is full of canyons and swimming holes. Lut desert's moon-like landscape is spectacular. I didn't visit all of these places while I was in Iran due to time constraint, but I included them here because you should consider them when planning your trip to Iran.
When it comes time to plan your Iran itinerary, here are some of the best places to visit in Iran to include in your itinerary.
Gilan Province
If you'd like to do some trekking or hiking in Iran, Gilan Province is where you must head to. With its subtropical climate and forests, it's a part of Iran you don't often associate with the country. This region north of Tehran has beautiful lush mountains and valleys suitable for outdoor activities: hiking, multi-day trekking, and even rock climbing. I would've definitely spent more time in Gilan if I had known about this area.
The Assassin Castle/Alamut Castle
What an awesome name, right? Even though the castle is in mere ruins now, its spectacular location in Alamut Valley makes this a place worth visiting. The best way to visit the Assassin Castle is by hiring a taxi for the day (~$70/car) from the nearest town, Qazvin.
Masuleh
Masuleh is an ochre-colored village, perched high on a steep cliff. Surrounded by lush jungle on all sides and often shrouded in fog, Masuleh is world's away in climate and appearance from Iran's other cities. A popular holiday destination for wealthy Iranian urbanites, it's not on most foreigners' radar just yet but it might change soon.
Tehran
Tehran reminded me a bit of my native hometown, Jakarta. Just like Jakarta, it's not an easy city to love. It's chaotic and busy. Crossing its streets is the most dangerous thing a visitor can do. I'm glad we only stayed one day in Tehran – one day was enough to see everything of interest to me in Tehran.
National Jewelry Museum
I did enjoy visiting the National Jewelry Museum. As you can expect, you can see a lot of glittery things here. My favorite item though is the jewel-encrusted, giant globe that's as tall as a person. The line was long since the number of people inside the one-room museum is limited.
Tehran Grand Bazaar
Large and chaotic especially after work hours. Even though the bazaar might carry anything and everything under the sun, the tricky part is finding them.
Azadi Tower
Worth a quick stop for a photo op. Tehran's most recognizable landmark marks the west entrance to the city. It's a lot more impressive up close.

If you have more time in Iran:
Milad Tower – At over 430 meters tall, Milad Tower is the 6th tallest tower in the world. Located on the outskirt of Tehran, it's a perfect place to admire Tehran cityscape during sunset.
Golestan Palace – Built in the 16th century, the Golestan Palace is one of Tehran's most visited attractions. It's a complex of various royal buildings, gardens, and museums housing Iranian craft-works as well as gifts from European dignitaries.
Qom
Shrine of Fatima Masumeh
Fatimah tomb is considered to be one of the most sacred religious sites by Shia Muslims. Women visitors are required to wear chador (on top of Iran's already strict dress code) which are available to borrow at the entrance. Iranian women had mastered the art of wrapping and gripping the extra fabric around their body (even holding it in their mouth) so it doesn't get in the way. Me, on the other hand, not so much.
Tripping all over the chador, I made my way through the complex and gawked shamelessly at the dazzling gold and silver encased honeycomb vaulting (or muqarnas).
What to Eat: Sohan
While in Qom, you have to try sohan, a local toffee brittle flavored heavily with saffron as well as cardamom, rose water, and pistachios. Literally a desert made of all of my favorite things! It's soooo heavenly. Iranian desserts is very regional specific and I got to try all sorts of different Iranian sweets, but sohan is my favorite. Be careful, because of its high butter content, it tends to "melt" in high temperature and will make a mess in your backpack (yep, totally speaking from experience).
Kashan
Kashan is known for its collection of beautiful historical houses built by the rich merchants of Kashan. Some of these are now open to the public. While in Kashan, you should try to get to the rooftop (ask your guesthouse owner). The rooftops of Kashan houses often connect and you can go from one to the other. I had fun exploring the city from above, peering into secluded courtyards, and enjoying the skyline at sunset.
Tabatabai and Boroojerdiha houses
Are some examples of fine residential houses in Kashani.
If you have more time in Kashan:
Fin Gardens
Persian gardens were once renowned around the world for their designs, especially its irrigation system; pools and fountains that utilize underground canals, powered by gravity instead of pump.
Abyaneh Village
The houses in Abyaneh are of a unique reddish hue, a color that comes from the local soil. The village is one of the oldest in Iran and still relatively traditional. Local Abyunaki woman typically wears a white scarf with floral pattern. Walking around the village I got a sense that it's a dying town with only the older population remaining. I'm guessing that the young generation has left to bigger towns for work.
Isfahan
Many of Isfahan's landmarks are some of the most photographed sights in Iran. The 2 mosques around the Royal Square (Shah Mosque and Sheikh Lotfollah Mosque) are often considered to be the most beautiful mosques not just in Iran, but the world. There aren't enough superlatives, really. The architecture and the tile works are simply stunning.
Isfahan is also known for their carpets and their miniature paintings – you can find these at the bazaar. I ordered a custom miniature painting of our beloved orange tabby (and paid a king's ransom for it) and was really pleased with the result.
Naqsh-e Jahan/Royal Square
Listed as world heritage site by UNESCO in 1979, the royal square is the center of activities of Isfahan and home to some of Iran's best known landmarks. The square is lined with mosques, the royal palace, and connected by a covered bazaar that has been around since the Middle Ages. On Friday and holiday evenings you'll find local residents picnicking, playing soccer, and families having a stroll around the beautifully landscaped garden and fountains.

Shah Mosque
Shah Mosque is a widely considered to be one of the masterpieces of Persian Architecture. Beautifully decorated with 7-colored tiles and calligraphies, it is deservedly one of Iran's most beautiful places to visit.

Sheikh Lotfollah Mosque
Also called the "Queen Mosque", this smaller mosque was actually built by the ruling family as a private mosque and therefore has no minarets. A tunnel connects this mosque to the Ali Qapu, the royal palace across the square. See if you can spot the peacock at the center of the dome.
Ali Qapu Palace
The unusual architecture of the music room definitely makes Ali Qapu one the most unique places to visit in Iran. Overlooking Imam Square and facing Sheikh Lotfollah Mosque, Ali Qapu was built in the 16th century as a residence of the royal family. It looks pretty unassuming from the outside. But if you go the top floor, you'll find the "music room" – a room with honeycomb vaulted ceiling with deep circular niches shaped like musical instruments.
What to Eat: Gaz
No visit to Isfahan is complete without trying gaz. Gaz is Persian nougat made with pistachios and rosewater, using the sap of the angebin plant which is native to the Isfahan region. It's softer and gooey-er than regular nougats.
If you have more time in Isfahan:
Armenian Vank Church
Having been to Georgia and Armenia, I didn't find this Armenian church to be particularly interesting. However, the paintings inside are worth checking out. They depict the various tortures that Armenian saints had to endure and oh boy, these people got creative. The admission ticket is quite high (220,000 tomans).
Yazd
Even though Yazd doesn't have the kind of major architecture wonders like Shiraz or Isfahan, I enjoyed my time in Yazd immensely. I had a lot of fun exploring Yazd's attractive old town. Yazd's skyline is dominated badgir or windcatchers while the old town itself is a labyrinth of narrow alleys meandering through traditional mud-and-straw houses. One of these houses includes a working, public hammam (Mirza Reza Traditional Hamam).
Yazd was the center of Zoroastrian during Sassanid empire and still has a sizable Zoroastrian population. I knew nothing about Zoroastrian before my visit to Yazd and I'm always happy to learn something new. Morbid by nature, I found Zoroastrian burial rites absolutely fascinating (see Towers of Silence below).
Yazd Old Town
The best thing to do in Yazd is simply exploring its old town on your own feet. Head over to the rooftop of Art House or the Tourist Library – both located in Yazd historic old town – during sunset to find the best view of Yazd skyline.
My favorite thing to do in Yazd: End the day with some creative cocktails (sans alcohol of course – this is Iran after all) and a slice of homemade cake at one of the many rooftop bars in Yazd.
Yazd Grand Mosque
Eventually you'll find your way to Yazd Grand Mosque. Not the grandest mosque I've seen in Iran, but its facade with the twin minarets is a striking sight indeed.
Towers of Silence
The circular structure on top of the rise is an ancient burial site of the Zoroastrian religion. Tradition dictates that the bodies of the dead are placed here, exposed to animals and the weather. Once picked clean, the bones were then collected in the ossuary pit at the center.
Even though this burial ritual is no longer practiced, you can still visit the complex and see where this used to take place. The Towers of Silence is a taxi-ride away from Yazd.
Amir Chakhmak Complex
The 15th century complex is especially stunning in the evening when each of its arched alcoves is lit by orange lighting. It's one of the most beautiful places to visit in Yazd.
Haj Khalifa Confectionery
While in Yazd, you have to visit Haj Khalifa Confectionery in Amir Chakhmaq Square. It's a popular institution among sweet-loving Iranians. You can try the famous Iranian baklava pastries, ghotab, loze nârgil, and pashmak (candy floss). To be honest, I found every single thing I tasted here tooth-achingly sweet (generally I find Iranian desserts too sweet).
Shiraz
Shiraz is one of Iran's highlights for many visitors due to its treasures of Persian architecture. It's the birthplace of Iran's most celebrated poet: Hafez. It's also the birthplace of one the world's most celebrated red wine: Syrah.
Pink Mosque
The sunlight filtering through the stained windows of the Nasir al-Mulk Mosque or Pink Mosque casts colorful patterns on the ground and makes this one of the most Instagrammed spots in Iran. Make sure you look up and appreciate the details and colors of the tileworks that gave the mosque its nickname.
It was beautiful for sure, but the vibe was definitely different here than with the other mosques. The scene could be chaotic at times with guards yelling at visitors to keep their headscarves on and Instagram would-be stars fighting over the best spots. It distracted from the beauty of the room.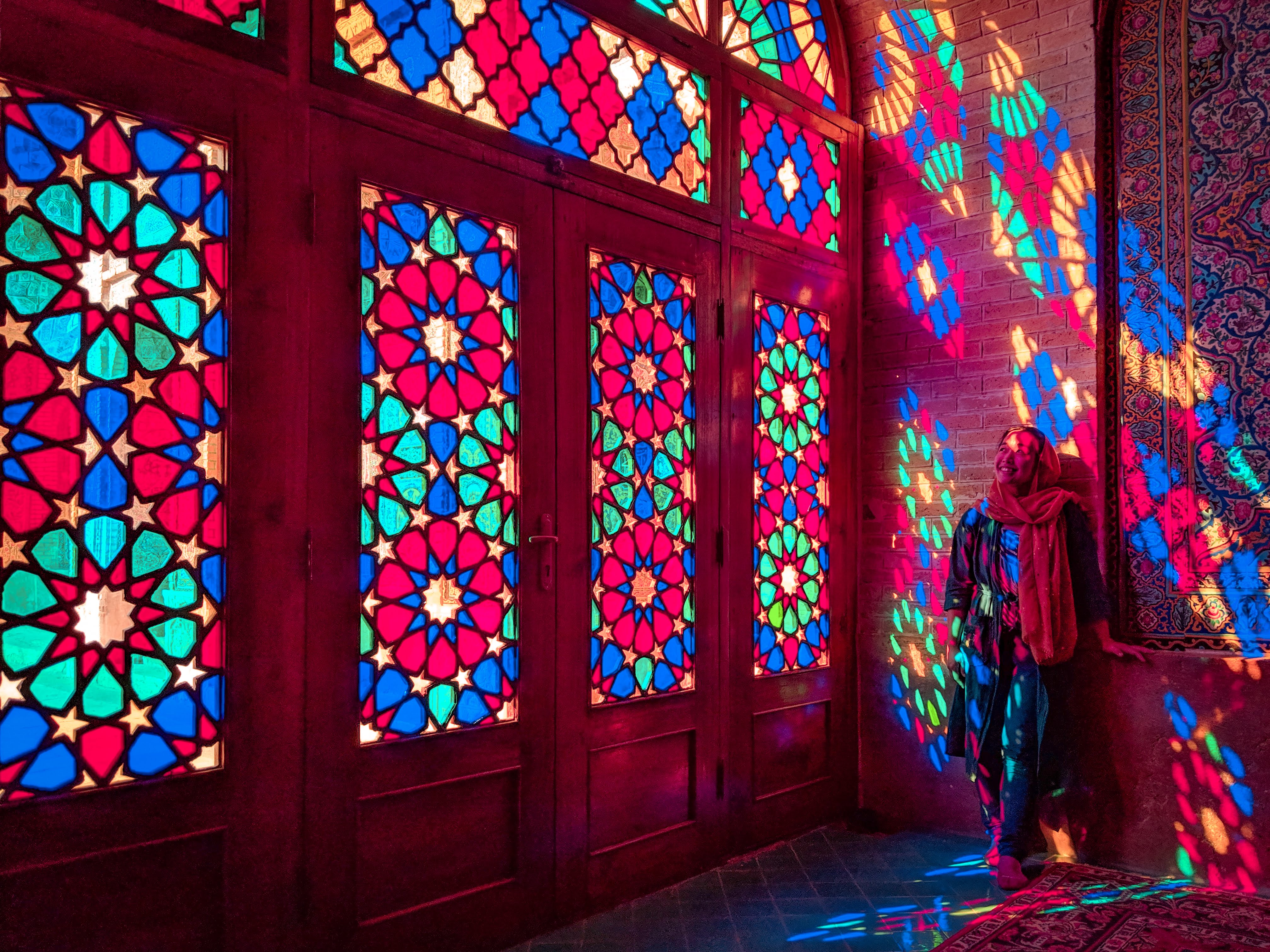 Vakil Bazaar and Vakil Mosque
The main bazaar in Shiraz has beautiful courtyards, caravanserais, and hundreds of old shops selling all kinds of Persian rugs, spices, copper handicrafts, and antiques. One of the best spots to shop for souvenirs. Vakil Mosque that's attached to the bazaar is also worth visiting for the interior decorations. The room with the arched ceilings and spiral columns was particularly photogenic.
Tomb of Shah Cheragh
One of my travel mates in Turkmenistan said that the Shah Cheragh's tomb was so beautiful she was moved to tears. The exquisite mirror work that covers every inch of the walls and ceiling of the tomb are the handicrafts of artisans of Shiraz. This place was simply stunning and must be seen to believe. Add it immediately to your list of places must visit in Iran. Entrance is free and english speaking guide is available for foreigners.
Persepolis
Often visited as a daytrip from Shiraz, Persepolis was the ceremonial capital of Achaemenid Empire (500 BC). Great Persian kings such as Darius and Xerxes built palaces here. Alexander the Great attacked it. Nearby is Naqsh-e Rostam, the necropolis of the Achaemenid empire where you'll find massive tombs cut high into the cliff face. This where the great kings of the empire were buried.
For architecture and history buffs, Persepolis should be on your list of Iran's must see places.
(I decided to skip it in exchange for a visit to the nomads instead).

Pink Lake
Marhaloo Lake is a seasonal pink salt lake near Shiraz. The intensity of the color varies on the water level. I was told that in the spring time, close to summer it's at its pinkest. During the summer and after a prolonged drought, there might not even be any water. We got lucky. This lake isn't on our itinerary, but we drove past it and asked our driver if we could stop for a closer look. I've been to a pink beach in Indonesia, but this was the first pink lake I'd ever been to. So surreal!
If you have more time in Shiraz:
Hafez Tomb and Eram Garden
These two sites are often included in Shiraz itinerary. These places are quite nice but in my opinion are not worth the hefty admission price for foreigners. But your mileage might vary.
Margoon Waterfall
One hour from Shiraz, you can find this 60m tall waterfall that lives up to its name (margoon means "snake" in Persian), slithering down the rocky walls in snake-like fashion.
Lut Desert
Dasht-e Lut, is a large salt desert near Kerman. Here you'll find giant alien-like formations formed by wind erosion, some of the tallest sand dunes in the world, and forgotten castles. It can be unbearably hot in the summer.
How to Visit:
Plenty of 4×4 tours from Kerman, the nearest major town.
Other Notable Spots of Interests in Iran
Badab-e Surt
Travertine pools that's not unlike Pamukkale in Turkey. Located in northern Iran in Mazandaran Province.
Qeshm Island
Qeshm is the largest island in Iran, located in the Strait of Hormuz. My guide kept telling me that I need to visit Qeshm island on my next trip to Iran. It's a destination to visit in Iran for nature lovers because of its incredible landscapes. Sculpted canyons and swimming holes can be found in its interior while traditional Bandari villages dot its shores. Namakdan salt cave and Chahkouh Valley are a couple of the island's most famous landmarks worth visiting.
Hormuz Island
Small and lightly inhabited (there's only one village here: Hormuz), you'll find pristine beaches and sleepy, laidback attitude. The island is known for its red-ochre colored sand that's currently being mined and exported (sigh). The interior is full of colorful geological formations.
Planning a Trip to Iran
Know Before You Go
Is it safe to visit Iran?
As a woman, I felt really safe walking the streets of Iran. Much safer than I do in San Francisco. I didn't have to worry about petty crimes or unwanted attention. It was very liberating in a way. I wrote a long guide on visiting Iran as an American (with tips on how to dress, etc). Go check it out here.
Visa to Iran
Not to sugarcoat it, but getting a visa to Iran as an American was a long and tedious process. You will need to contact a travel agency to apply to the Ministry on your behalf. A day-by-day itinerary needs to be approved. A licensed guide is compulsory. Independent travels is strictly impossible. Don't even think about it. Read the application process I had to go through here.
Recommended Pre-Trip Reading