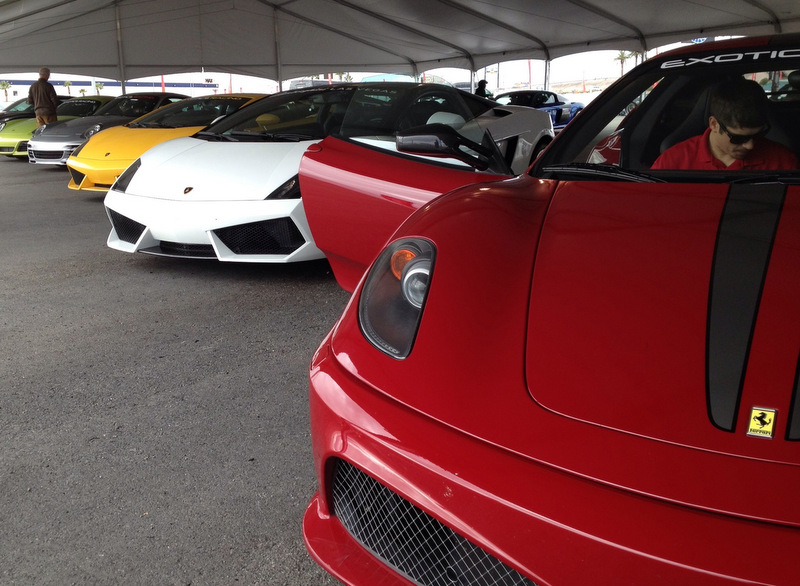 Despite being a non-gambler, I love Vegas. That's love with capital L. Vegas offers so much more than slot machines and over-the-top opulence, which is great news for those non-gamblers in Vegas like me. There are the fabulous shows, of course ("Absinthe" is one our favorites). But there are also plenty of outdoor opportunities in nearby Red Rock State Park and Valley of Fire (check out some amazing photos from Valley of Fire here).
Not a gambler and not an outdoor lover? How about racing some fancy cars on a racetrack?
Last time we were in Vegas, we had the opportunity to drive some really, really expensive cars. Not just drive, mind you. We were allowed to race these expensive cars at Exotic Racing's private racetrack.
While Jack could barely contain his glee, I was nervous about this. Visions of a scratch or a dent on these 300k cars were making me sweat. We don't own a car so we don't even drive on a daily basis. And I'm pretty sure that a certain stereotype about Asian women and driving is based on me.
But the people at Exotic Racing convinced me that everything was going to be fine. And more importantly, that it was going to be fun.
After a brief driving instructions: how to take corners, what's not allowed to do on the track, what's allowed to do, and what not we got into a Porche Cayenne in groups of 4 to get to know the track up close. Afterwards, we met with our personal driving instructions and were directed to our cars.
You're allowed to choose from an array of exotic cars. Jack got himself a Ferrari Scuderia while I found myself behind the wheels of Lamborghini Superleggera.
When I managed to get the car out of its parking spot without hitting anything, I felt like letting out a 'whoop!' But there was no time for celebrating. My instructor told me to hit the gas to join the other cars on the track. 'Faster! Hit it!', he kept repeating.
Each time I thought we were going fast enough, he'd yell 'Go faster!'
The corners are the tricky parts. I slowed down when we get to the orange cones in the corner, pointed the car to the first green cone, the 2nd green cone, and hit the gas again as I release the steering wheel post-turn.
That was the key part of the instruction: how to take turns without losing speed.
I felt like I was going fast but I must not have been the slowest car on the track because other cars kept passing me. What the heck?
On subsequent laps I started to relax and to have fun. I got faster and faster after each lap. I started to feel how smooth the Lamborghini handles the turns and how eager it was to go even faster. After particularly smooth executions of a turn, I'd have a huge grin on my face. This is fun!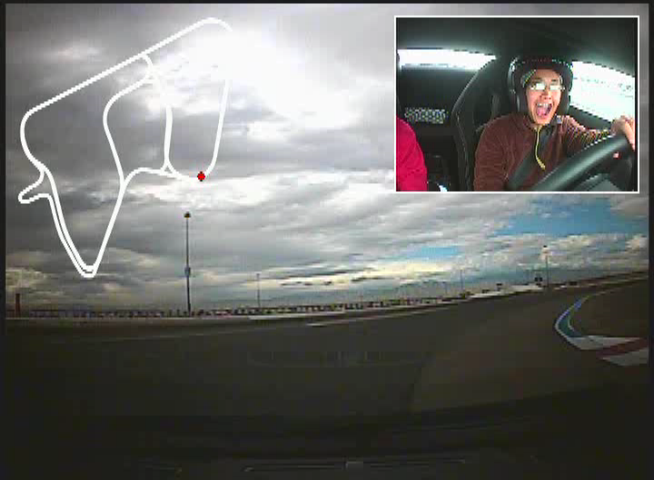 Ooooweeeee!! I'm unstoppable!! Adrenaline was pumping and I wanted to keep on going.
But 5 laps were quickly over and my instructor signaled to pull over to the pit.
Noooooo!
Afterwards on Jack bragged about he was going so fast he was passing other cars. I wanted to point out that since he's obviously the better driver then he should be doing all of the driving on our future road trips.
But I didn't really care. Even though I might've been the slowest on track I was still flushed with excitement for having driven faster than ever (and for not having crashed the Lamborghini).
This whole experience changed my opinion about this whole… car thing: I get it now. The whole fascination with these cars: why people buy them, why they like driving them, why their ads often include gorgeous female models.
Driving these cars felt sexy. I can see the appeal of owning these cars. But until I had 300k lying around to spend on these cars, I can only relive the experience.
Other things to do in Las Vegas for non-gamblers
Neon Museum: a cant-miss Vegas experience. Guided tours are available and advanced booking is required.
Red Rock State Park: beautiful red canyons with plenty of hiking trails. It's also a popular destination for rock climbers.
The Valley of Fire State Park: a 30 minute drive from Vegas is a little-known park full of colorful sandstone formations. I recommend going with a tour from Vegas (like this guided hike one) since some of the best formations are not obvious.
Jack and I tire easily of the gambling scene in Las Vegas. We go to Vegas at least once a year but mainly for the shows, for the desert scene, and for the climbing. Now we have another reason to go back to Vegas. Racing these fancy sports cars was definitely one of funnest things to do in Vegas for non-gamblers.
So if you're a non-gambler in Las Vegas (or even if you are one), consider getting behind these exotic beasts and give them a whirl. It might end up being the highlight of your Vegas trip, just like it did to ours.
Thanks to
Exotic Racing
for providing us with this experience. Thoughts, opinions, and bad puns are all our own.