You can spot a picture from Antelope Canyon a mile away: the gentle curving lines, the rich colors of purple, red, and orange. The contrast of light and shadow. It's the one that always catches and holds your eyes.
I fell in love with Antelope Canyon just from the pictures alone. So when planning the itinerary of this Texas – California roadtrip with the 2 people I met on ThornTree, I made it clear: I don't really care about the other places, but we have to stop by Antelope Canyon.
Later I learned that there are hundreds of these slot canyons throughout the area, but the 2 main ones that are open to the public are Lower and Upper Canyons. Separated by the freeway, they're literally across the road from each other.
The main tip about visiting Antelope Canyon is timing your visits with position of the sun.
You want to visit Lower Canyon in the morning or late afternoon – when low angle of the sun hits the canyon walls brings out the deep blue and purple hues.
You want to visit Upper Canyon in midday (that's why they double and often triple the price during these popular hours) because the slot canyon is a lot narrower here. Even when the sun is right above us, the canyon is still only dimly lit.
Lower Antelope Canyon
You can only get the tickets for Lower Antelope Canyon directly on-site and no reservations are taken. Because most tour groups find this a big inconvenient, Lower Antelope Canyon tend to be less crowded.
Lower Antelope Canyon is called Hazdistazí by the Navajo, or "spiral rock arches". You can see where the name came about from the pictures.
The entrance fee for Lower Antelope Canyon is not cheap. $20 gets you in a guided tour group. For twice the price you can enter the canyon alone, that is sans guide. I was considering this option when I learned that only those with DSLR and a tripod can choose this option.
This rule didn't make sense at all to me, doesn't matter how hard I try to wrap my head around it. I would've LOVED the extra time just to explore on my own. I mean if they're trying to limit the number of people to enter the canyon without a guide, why not just limit the number of tickets per hour?
Anyway, Carrie and Mark paid extra and went on the non-guided tour. In the end, we came to the conclusion that you don't really need the extra time unless you're making money off your photos (or super into photography). There was plenty of time to stick around at the back at the regular tour group to take pictures and see the canyon. We weren't rushed at all.
Upper Antelope Canyon
The Navajo name for Upper Antelope Canyon is Tsé bighánílíní, which means "the place where water runs through rocks." This is in reference to how these slot canyons are formed: by seasonal flash floods that slowly erodes the soft sandstone.
The crazy play of light and shadow in Upper Canyon
Unlike the privately owned Lower Antelope Canyon, the Upper Canyon is located on a tribal land. At least 7 tour operators have permits to bring visitors here.
Like a well oiled machine they work together to shuttle groups of visitors on a truck and through the canyon. They made sure nobody lingered behind too long as to block the canyon.
Because of this cooperation, we managed to go through the canyon at a relative comfort despite the crowd. Along the way they pointed out the best spots to photograph the canyon. And reminded people that sometimes the best views are above us.
So don't forget to look up!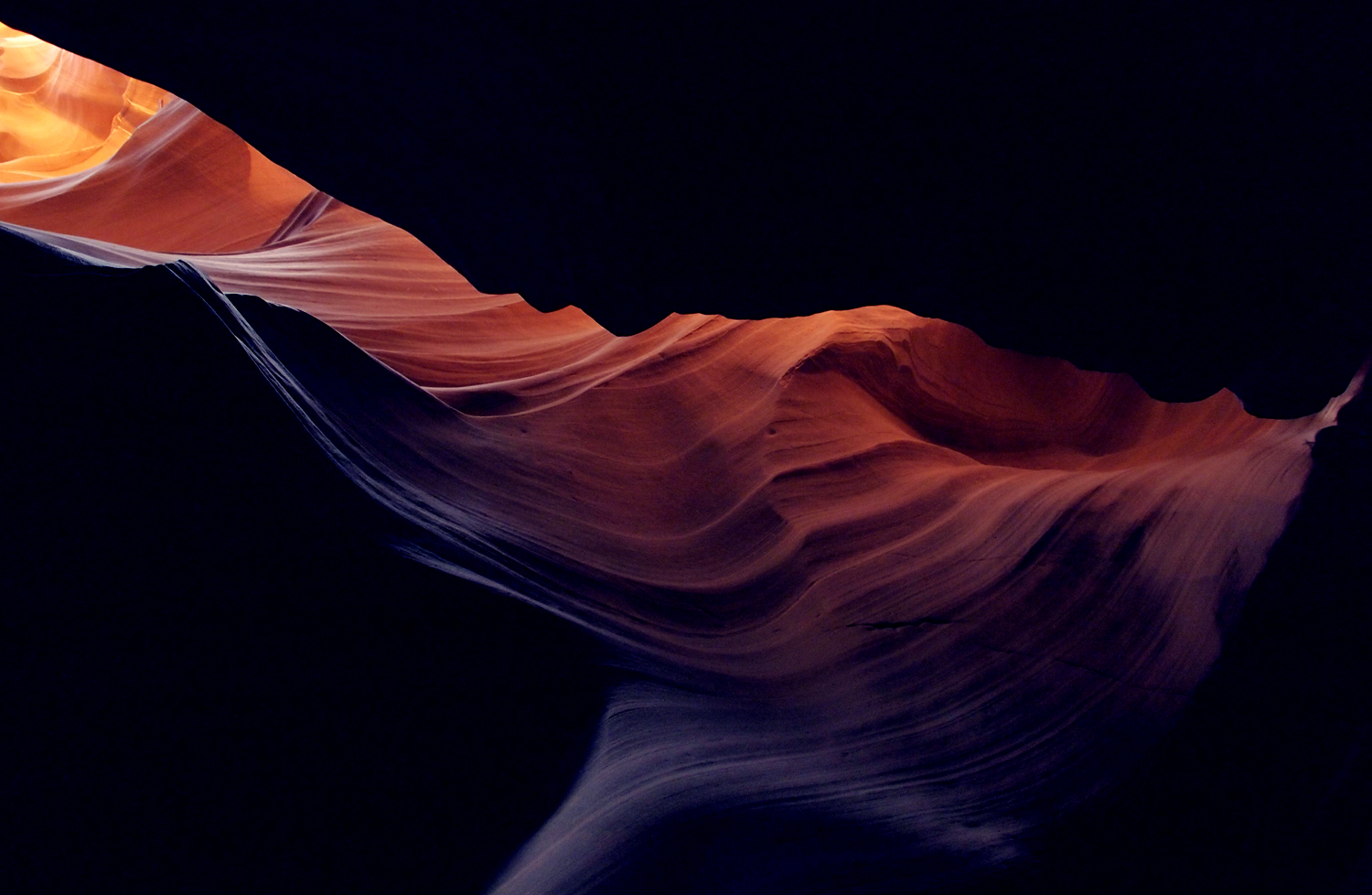 No tripod is allowed in Upper Antelope Canyon unless you go with a special photography group. But using the canyon walls as an impromptu tripod and a delayed shutter seem to work quite well.
Everybody wanted to a shot of the famous beam of light coming from the sky. This beam of light only appeared during a narrow window of the day, when the light hits the canyon opening just right. What you don't see here in the picture is a group of people being told to wait behind me and ahead of me, and the guide hiding around the corner after throwing a fistful of sand onto the light.
It was all very organized and civilized and we all had enough time for pictures. But there was not enough time to actually "see" the canyon, you know?
Everybody had their camera glued to their face, including me. Because of guides' constant urging not to linger (understandably) we all knew we had limited time in the canyon and we all wanted those pictures. You know, the one that initially caught and held our eyes that made us first fall in love with Antelope Canyon.
Afterthoughts
Antelope Canyon is truly remarkable and lived up to my high expectation.
I'm glad I went to see both canyons. It would seem silly to have come this far and not to see both. But if I ever go back, I know I'll be going back to the Lower Canyon. Less crowd, less rushed, and you get to experience what is truly special about these once-sacred canyons.
—
Have you ever visited a slot canyon before?
Visiting Antelope Canyons
Do you need a reservation?
If you want to see the the Upper Canyon during popular tour hours, a reservation is recommended. No reservations were taken at the Lower Canyon. It was first come first served.
What we did
We got there early and made a reservation for the 11am tour for the Upper Canyon, drove across the street and went on the 9 o'clock tour for the Lower Canyon. This gave us enough time to drive across the street again to make our 11 am tour.
Cost
Lower Canyon
Regular (guided): $20
Photography Tour (non-guided): $42
More information: Ken's Tour (the only tour provider for Lower Antelope)
Upper Canyon
Regular: $25
High time (11am, 12pm, 1pm): $40
There are plenty of tour providers you can choose from in Page, AZ the closest city to Antelope Canyons. Or you can go directly to the entrance and book your tour there.
+$8 Tribal fee that can be used for both canyons.