Danakil Depression, Ethiopia
How and where do I begin to describe the things I saw when I visited Danakil Depression, 'the hottest place on Earth'?
"Amazing" or "breath taking" doesn't seem to cut it. "I must be dreaming because I can't quite possibly see what I'm seeing right now" is more like it.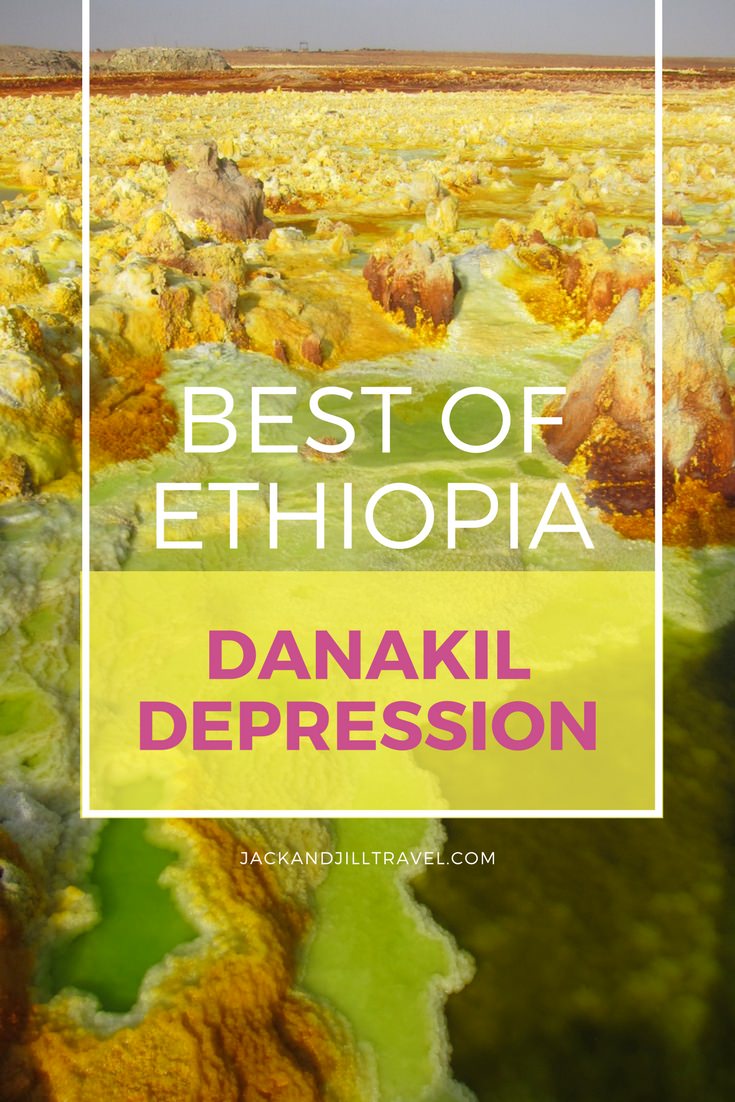 Danakil Depression is known for the 'hottest place on earth' but that title does the place so much injustice. The Danakil region (also called "the Afar Depression") is so much more than its record setting temperature – its unique geological features are the ones that draw visitors to visit despite the cost, the many hours of off road driving, and barebone accommodation (still recovering from the flea bites).
Visiting Danakil Depression is without a doubt, the absolute highlight of Ethiopia. A brave claim considering that I haven't seen everything Ethiopia has to offer. But I'm standing firm by my claim and looking forward to be proven wrong.
As of a matter of fact, the Danakil Depression has been the highlight of this around the world trip, if not my life. (Yet another bold claim, but just look at these photos!).
Where is Danakil Depression?
It's located in Northern Ethiopia, in the Afar department – close to the Eritrea border. Only the first hour of the drive from Mekele was on an asphalt road, the rest was a dusty, bumpy, ride on dirt tracks – if even that. When we got to the desert, we were following faint tire marks it was a wonder our drivers knew where we needed to go without a GPS or a compass.
Where do you start the tour to Danakil
Danakil tours start from a town called Mekele. I flew here from Addis because the flight was reasonably priced. The alternative: hours of dusty and bumpy road in a crowded minivan.
How Much Does It Cost to Visit Danakil?
It cost me $550 for a 4D/3N tour from Makele with Ethiopia Travel and Tours (info@ethiotravelandtours.com)
Visiting Danakil Depression doesn't come cheap. You need to have 2 jeeps in your group (even if it's just you and 2 drivers), armed guards, and local Afar guides. Expect to spend upwards from $400. Different tour companies can give such a wild range in prices (we've been quoted anywhere from $550 to $1300 per person for similar itineraries) – it's scary.

The trip was the only thing I had organized before coming to Ethiopia since finding a group to share the cost is critical.
Finding a reputable company is even more so considering the harsh condition of the area. The Afar government requires a minimum of 2 jeeps per convoy – the reason for which became obvious when we were out there. Getting your car stuck in the loose sand seems to be the norm rather than the exception. Then, you'll need the other jeep to pull you out.
Each time we did get stuck, out of nowhere people of the Afar tribes -adults and children alike – would show up and watch us struggle to get the jeeps out. And we would be in the middle of this barren desert and we'd wonder – 'Where did these people come from and how do they live?'
What is the typical Danakil Itinerary?
Day 1 Mekele – Hamed Ela
Some people in our tour were worried they wouldn't see the 'camel caravans' – well, they felt silly after this first day because camels are so ubiquitous along this stretch that after awhile you think, 'Eh, another camel?'
What's interesting is the story behind these camel caravans. The camels carry salt blocks mined in the Danakil region to be sold in Mekele, a town 150 km away. They've been doing this since forever. The camels and their drivers walk in soaring heat for 3 days just so they can get 15 Birr per kilo of salt. That's less than $1 per kilo.
Day 2 Hamed Ela – Erta Ale
Erta Ale's volcano is one of those places that leave you wordless – except for a string of curses and swearwords, because you just have to say something in the face of it, but can't seem find the right words. The spectacle might just make a believer out of you. Read more about my experience in front of Erta Ale, the lava lake.
Day 3 Descend from Erta Ale
This day is a wash since we basically spent the day driving back from Erta Ale, but that's probably a good thing. We needed the time to digest what we just saw the night before.
Day 4 Morning tour of Dallol then back to Makele
Dallol competes with Erta Ale in trying to blow your mind with its multi-colored alien world. If it weren't for the quickly rising temperature, we could've stayed there for much longer. See my best pictures from Dallol.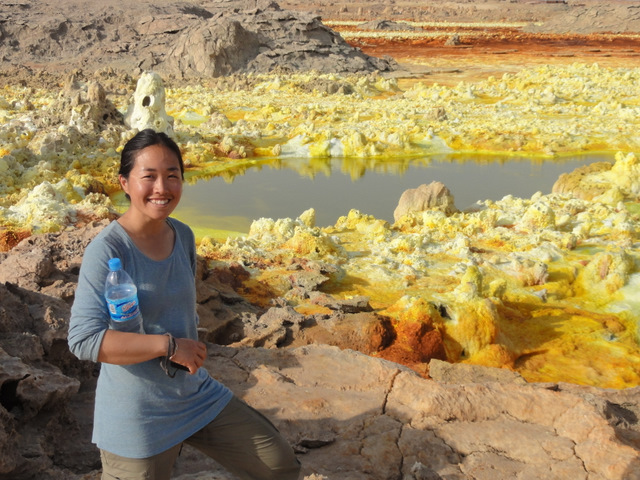 After, Dallol we saw bubbly lakes, unique rock formations, and a 'lake' over the salt flat that's so surreal but we barely had time for these because we had to drive back to Mekele on that very same day.
$550 and 21 flea bites later and I can safely say that it's worth every dollar, and every single flea bite.

Practical tips on visiting Danakil Depression
Best time to visit Danakil is in the winter November – February. It will get too hot otherwise. It was hot when we went and it was supposed to be in dead winter.
Most tours leave from Mekele even if you arrange it with a company in Addis Ababa. Flight to Mekele from Addis is $60. Yordanos and Atse Yohannes Hotel in Makele seem to be your best bet to find other travelers, but it would probably be easier to form a group in Addis Ababa.
Confirm that your 4×4 will have a working air-con. Can not imagine how miserable the trip would be if the air con didn't work. And since the road is so dusty, opening the window is not possible all the time.
Bring a good headlamp and a scarf for the Erta Ale volcano hike. Not all of us had headlamp when we did the hike and when we got to the crater. VERY dangerous as you can easily stumble and fall into the lava. The scarf is needed for the sulphurous fume that can be very irritating to eyes and throats at times.
Our agency was Ethiopia Tour and Travels. I had some reservation when I found out some negative reviews about the company (after committing myself to the group) but went ahead anyway despite my initial reservation. Glad to say that everything went well. A little chaotic at times and we're not really sure who this 'university professor' guide is supposed to be, but we had plenty of food, plenty of water, and everyone was so friendly and helpful.
More general tips on visiting Ethiopia
More posts on Danakil Depression trip:
– Danakil in Pictures
– Erta Ale, Ethiopia's Lava Lake